6-Banner Sunday: Juwan Morgan declares for NBA draft and Romeo Langford sets decision date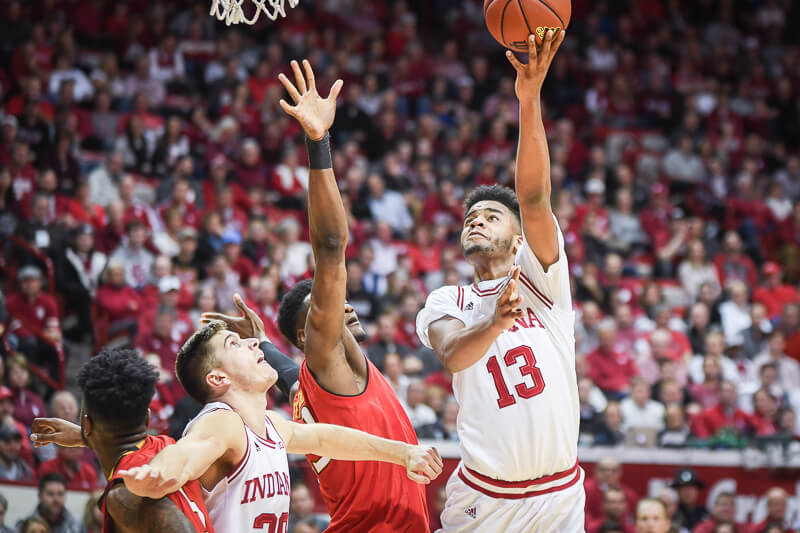 6-Banner Sunday is Inside the Hall's weekly newsletter in partnership with The Assembly Call. In addition to appearing each week on the site, you can also opt to receive 6-Banner Sunday by email. A form to subscribe via email is available at the bottom of this week's 6-Banner Sunday.
Welcome to another edition of 6-Banner Sunday, a joint production between The Assembly Call and Inside the Hall, where we highlight the six most essential IU basketball stories of the past week.
After a breakout junior campaign, Juwan Morgan has decided to test the NBA waters, but could still return to Bloomington for one final go-round. More on that, plus the information regarding Romeo Langford's impending decision, in this week's 6-Banner Sunday.
In this week's edition:
· Juwan Morgan declares for NBA Draft
· Romeo sets date, location of commitment
· Rob Phinisee's drive to succeed
· Hoosiers in the NBA Playoffs
· Bob Knight's last days at IU
· Best of the rest
Banner #1
Juwan Morgan declares for NBA draft, doesn't hire agent
There was no player as important to the Hoosiers this past season as Juwan Morgan. The junior managed to stay healthy and improve his game in nearly every aspect, helping the Hoosiers to a 6th place finish in the Big Ten and receiving All-Conference second team honors.
Morgan led the 2017-18 Hoosiers in both scoring (16.5 ppg) and rebounding (7.4 rpg) while posting career-highs in assists (1.5), blocks (1.4), steals (1.2) and field goal percentage (57.9).
Now, Morgan is looking to possibly become the next Hoosier to head to the NBA. Because of a rule implemented in 2016, a collegiate basketball player can declare for the NBA draft without losing their eligibility if they do not hire an agent.
Here's what Morgan said about his decision in a statement (via IU Athletics):
"I want to gather as much information as possible and see what opportunities may be out there," said Morgan in a statement. "It has always been a goal of mine to play basketball at the highest level and this is the first step. It's important to get an honest evaluation and that is what I am looking for."
Morgan will have the opportunity to work out for NBA teams over the several weeks before having to make a final decision on whether he will return for a senior season. The deadline to withdraw from the NBA Draft is May 30.
More on Morgan's decision:
· Juwan Morgan has declared for the NBA Draft, and that's OK (Hoosier Network)
Banner #2
Romeo sets date, location of commitment
Romeo Langford is just 15 days away from announcing his college choice.
This week, we learned the date and location for the commitment announcement of the five-star guard from New Albany. On the evening of Monday, April 30, Langford will make his collegiate decision known. The event will take place inside New Albany Gymnasium and be open to the public.
Langford is currently deciding between three finalists: Indiana, Vanderbilt, and Kansas. Over the last few weeks, the scale seems to have tipped in Indiana's favor. The 247 predictions now have Indiana as a 71 percent favorite to land Langford.
Once Langford makes his commitment official, he'll have time to do what he's best at: hooping. Mirin Fader of Bleacher Report wrote a fascinating profile of this generational talent, who has spent countless hours signing autographs for fans and posing for pictures:
Kolkin Coffee Co.'s owner, Gary Almon, calls him "New Albany's No. 1 son." Alan Butts, Coffee Crossing's owner, runs through his favorite Romeo moments: Romeo draining an unthinkable 70-footer against Providence. Romeo, 6'5″, throwing down a thunderous one-handed dunk over 6'11" Jaren Jackson Jr., who just declared for the NBA draft. Romeo pouring in 46 against Southport in the state semifinals as a sophomore.

"You can't guard him," Butts says.

Linda Morgan, owner of Make the Cut, a men's hair salon, tells me how Romeo says "yes, ma'am" and "yes, sir." She points to a wall with a portrait of PGA Tour star and New Albany native Fuzzy Zoeller. Then she points to a blank wall. "I've been saving this side for Romeo," she says.

Folks here—and across the country—are anxiously waiting for the shooting guard to reveal his college decision
Banner #3
Rob Phinisee's drive to succeed
One player that is a lock to be a Hoosier next season is Rob Phinisee. The four-star point guard led McCutcheon to an incredible 93 wins over his three years, finishing his high school career in the top-50 in scoring in Indiana history.
Phinisee has become a highly touted player by showcasing his drive to succeed no matter what stands in front of him.
"I wanted to do everything I could to win for my teammates," Phinisee said. "Create, score, defense, whatever."

Eventually, he did it all, many times in the same game, which is how McCutcheon won 85 percent of its games the last four years.

The real payoff of all those years playing basketball year round came this winter, as a senior and with a team some thought would have a significant drop off after three other college-bound players had graduated in the past two years.

Early on, Phinisee carried the load. When others found their niche, he let them shine, too.

"Even if he was less talented, he would be easy to root for because of his personality and work ethic," McCutcheon athletic director Ryan Walden said. "He is driven and he knows what he wants to do. He has goals and stays focused on those goals."
Banner #4
Hoosiers in the NBA playoffs
The sixth-month long NBA regular season has come to an end, which means the playoffs are finally upon us.
Three Hoosiers will be competing in this year's NBA post-season: OG Anunoby of the Toronto Raptors, Victor Oladipo of the Indiana Pacers, and Eric Gordon of the Houston Rockets.
Anunoby made his playoff debut Saturday afternoon and caught the attention of all that watched. Not only did the rookie play solid defense when he was matched up on John Wall and Bradley Beal, but he also added 12 points in the Game 1 win over the Washington Wizards. Two of Anunoby's 12 points via this smooth reverse jam. In part because of Anunoby, the Raptors ended their disastrous streak of 10 straight Game 1 losses.
Game 2 of Raptors-Wizards is scheduled for Tuesday at 7 pm eastern on NBA TV. Meanwhile, Oladipo's Pacers tip-off their series with the Cavaliers today at 3:30 pm eastern on ABC, while Gordon and the Rockets face the Timberwolves this evening at 9 eastern on TNT.
More on Hoosiers in the NBA:
· IU alum and Sports Illustrated NBA editor Matt Dollinger joined this week's Podcast on the Brink to discuss the season how the Hoosiers in the NBA fared this season
· For a statistical look at how they fared, check out this post from The Daily Hoosier
Banner #5
Bob Knight's last days at IU
With the release of the new subscription service ESPN+, the long-awaited 30 for 30 The Last Days of Knight was unveiled. The documentary can be viewed for free by ordering a free trial of the service.
Accompanying the documentary was a just-as-good profile of Knight's last days written by Heather Dinich:
As unique as Knight's polarizing personality was, his stubbornness and arrogance remain among the most common characteristics of successful college coaches past and present — traits that are simultaneously their biggest strength and, ultimately, their greatest weakness.

Both college football and college basketball have produced coaches who overstay their welcome and punctuate otherwise Hall of Fame careers with disappointing exits. Their power and egos grow alongside their winning percentages and salaries. Failure and conflict bring out the inherent competitive drive to fix problems their way, not walk away from them. There's also the human concern of quitting on everyone involved with the program, and the fear of stepping into a different life or a life without it.

"I think we all leave on different circumstances, but we all fight that battle. When? Now? No? Yes?" said 75-year-old former UConn coach Jim Calhoun, who missed the sport enough after retiring to return as head coach at Division III St. Joseph's. "It's not just a job. We don't do it, we live it."

And they become it.

Nick Saban, Urban Meyer, Jim Harbaugh, Mike Krzyzewski, Jim Boeheim, Roy Williams — they all own their programs and their towns, their identities indistinguishable from the campuses where they work. They, along with past coaches such as Woody Hayes, Bobby Bowden and Joe Paterno, are more recognizable than their own university presidents, more popular than their state officials. That fame and pride in what they built elicits a sense of entitlement that This Is Mine.
Banner #6
Best of the rest
There was plenty of other news surrounding IU sports this week that couldn't fit in the first five banners. Here is the best of the rest.
Before you go:
· The greatest collegiate race is less than a week away, and The Hoosier Network has you covered with everything you need to know about next Saturday's big race
· The Big Lead ranked the top 15 coaches in college basketball, and Archie Miller made the cut
· Speaking of Archie Miller, an impressive youngster created this report on the Indiana coach
· No. 10 IU baseball continued its domination of Big Ten competition by sweeping a doubleheader over Northwestern
· The IU football spring game was held indoors because of inclement weather. It was not open to the public, but Mike Miller of the Herald-Times has you covered with everything you need to know
· IU women's basketball star Tyra Buss was not selected in the WNBA Draft but will likely earn a training camp invite
And with that, the joy of hanging Banner #6 is now one week closer.
Thanks for your continued support for The Assembly Call and Inside the Hall. We'll be back next weekend with a new roundup.
Now go enjoy yourself a 6-banner Sunday. If you'd like to receive this newsletter in your inbox each Sunday, please enter your email address below:
Filed to: