Anderson, Langford fall short in quest for state finals bid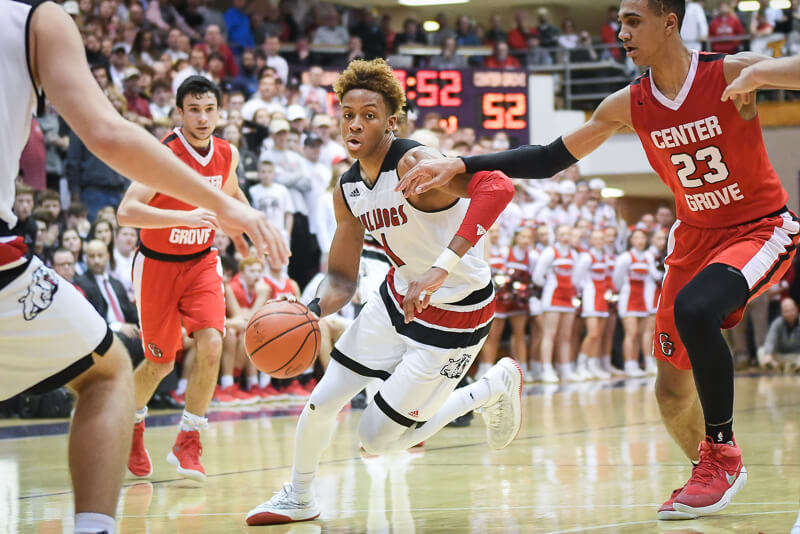 Only two teams remain in each class following semi-state play on Saturday in the 108th annual IHSAA boys basketball tournament. IU signee Damezi Anderson and South Bend Riley were eliminated by Carmel at Lafayette Jeff. New Albany and Romeo Langford were also eliminated by Warren Central at Seymour.
Here's a recap of Saturday's action across the state:
· Class 4A at Lafayette Jeff: South Bend Riley's unbeaten season came to a disappointing end as the Wildcats fell to Carmel, 63-44. IU signee Damezi Anderson scored just six points in the loss, but finished with 2,210 points over his four-year career. The Wildcats finished the season 26-1.
· Class 4A at Seymour: After leading throughout the game, New Albany couldn't hold off Warren Central late as the Bulldogs fell 64-62 on a buzzer-beater by David Bell. IU recruiting target and five-star guard Romeo Langford finished with 35 points in the loss and finished his career with 3,002 points. That number is fourth on the state's all-time scoring list behind Damon Bailey, Marion Pierce and Deshaun Thomas.
· Class 3A at Lafayette Jeff: IU recruiting target Trey Galloway and Culver Academy advanced to the 3A state championship game with a 65-60 win over Mason Gillis and New Castle. Gallway, a class of 2020 guard, finished with 16 points, 10 rebounds and five assists in the win. Gillis had 23 points, nine rebounds and two blocks for New Castle in the loss.
Saturday's state finals games at Bankers Life Fieldhouse are as follows:
Class A: Southwood (25-3) vs. Morristown (27-2)
Class 2A: Oak Hill (25-5) vs. Forest Park (25-4)
Class 3A: Culver Academy (22-6) vs. Evansville Bosse (25-4)
Class 4A: Warren Central (31-0) vs. Carmel (21-7)
Filed to: Damezi Anderson, Mason Gillis, Romeo Langford, Trey Galloway