Bracketology: NCAA tournament projection as of February 27, 2018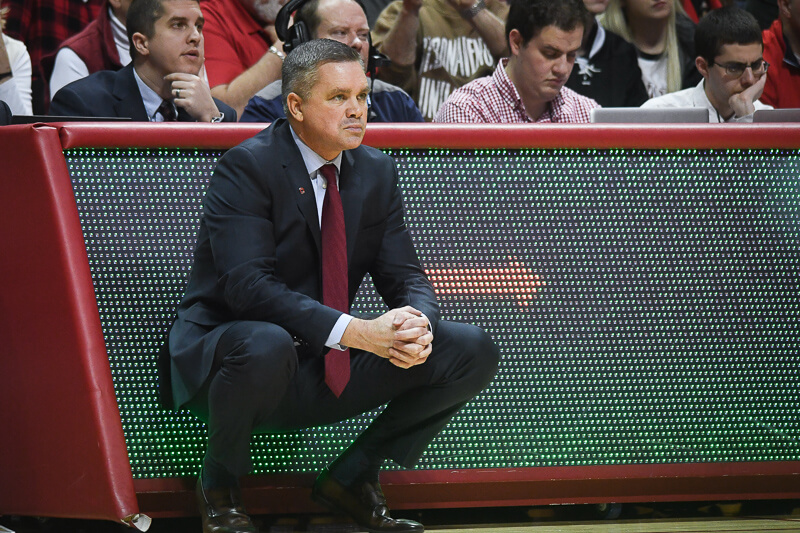 Given last week's news off the court, it's reasonable to wonder how (if at all) it might impact the work of the selection committee. To this point, most teams seem determined to ride it out with any implicated players on the floor, so there's really no choice but to assume the players will continue to suit up.
The committee does consider injuries and suspensions when seeding teams, but the level of that impact isn't a one size fits all approach and depends on the sample size of games they've been able to see without the injured or suspended players.
For instance, we've now seen Clemson play nine games since Donte Grantham went down with a season-ending injury. The Tigers are 5-4 in those games, but only one of those wins (home against North Carolina) came against a team in the at-large conversation. At this point we have a relatively clear picture of what Clemson looks like without him.
On the other hand, Auburn has played just two games since losing Anfernee McLemore, blowing out Alabama at home and losing by six at Florida, so at this point it's unclear just how much his absence will effect Auburn moving forward.
And then you have Texas Tech, who has now lost four straight with star guard Keenan Evans either hobbled or sidelined completely. We have a good idea of what the Red Raiders look like when at full strength, but it's unknown whether Evans will be healed enough to get them back to that point again before the end of the season.
The Arizona situation is particularly interesting, less because of the uncertainty surrounding who will be coaching the team and moreso due to the suspension of Allonzo Trier. In the first two games without Trier, the Wildcats split games at the Oregon schools with both games going to overtime. Ultimately losing at Oregon in that fashion could have happened anyway, but needing OT to beat Oregon State is a bit of a red flag. Home games against Stanford and Cal this weekend should be winnable either way, but the committee will be watching to gather information on what this Arizona team will look like if Trier's suspension isn't overturned.
With a number of evenly matched teams in the middle of the at-large field and a crowded bubble, these injuries and suspensions provide additional variables that need to be accounted for when projecting the field.
Here's your weekly reminder of how the NCAA selection committee is now classifying games:
· Quadrant 1: Home vs. teams ranked 1-30 / Neutral vs. teams ranked 1-50 / Road vs. teams ranked 1-75
· Quadrant 2: Home vs. teams ranked 31-75 / Neutral vs. teams ranked 51-100 / Road vs. teams ranked 76-135
· Quadrant 3: Home vs. teams ranked 76-160 / Neutral vs. teams ranked 101-200 / Road vs. teams ranked 136-240
· Quadrant 4: Home vs. teams ranked 161-351 / Neutral vs. teams ranked 201-351 / Road vs. teams ranked 241-351
The Bracket
The projections below are based on all games played through February 26, 2018. Following the bracket, I included a few thoughts on the last four in and first five out.
| | | |
| --- | --- | --- |
| SOUTH (ATLANTA) |   | EAST (BOSTON) |
| Charlotte – March 16/18 | | Pittsburgh – March 15/17 |
| 1) Virginia | | 1) Villanova |
| 16) Nicholls St. / AR-Pine Bluff | | 16) Florida Gulf Coast / Hampton |
| 8) Creighton | | 8) NC State |
| 9) Arizona St. | | 9) Alabama |
| | | |
| Boise – March 15/17 | | San Diego – March 16/18 |
| 5) Rhode Island | | 5) Ohio St. |
| 12) Louisville / Washington | | 12) New Mexico St. |
| 4) Wichita St. | | 4) Texas Tech |
| 13) Buffalo | | 13) Vermont |
| | | |
| Dallas – March 15/17 | | Dallas – March 15/17 |
| 6) Michigan | | 6) Seton Hall |
| 11) Saint Mary's | | 11) Middle Tennessee |
| 3) West Virginia | | 3) Tennessee |
| 14) Charleston | | 14) Rider |
| | | |
| Nashville – March 16/18 | | Charlotte – March 16/18 |
| 7) Virginia Tech | | 7) Butler |
| 10) Providence | | 10) Kansas St. |
| 2) Auburn | | 2) North Carolina |
| 15) Northern Kentucky | | 15) Wagner |
| | | |
| WEST (LOS ANGELES) |   | MIDWEST (OMAHA) |
|  Nashville – March 16/18 | |  Wichita – March 15/17 |
| 1) Xavier | | 1) Kansas |
| 16) Penn | | 16) UNC-Asheville |
| 8) Florida | | 8) Texas A&M |
| 9) Nevada | | 9) Florida St. |
| | | |
| Boise – March 15/17 | | San Diego – March 16/18 |
| 5) Gonzaga | | 5) Arizona |
| 12) Loyola (IL) | | 12) Louisiana |
| 4) Kentucky | | 4) Clemson |
| 13) South Dakota St. | | 13) Murray St. |
| | | |
| Detroit – March 16/18 | | Wichita – March 15/17 |
| 6) Houston | | 6) Arkansas |
| 11) Texas / USC | | 11) St. Bonaventure |
| 3) Michigan St. | | 3) Cincinnati |
| 14) UNC Greensboro | | 14) Bucknell |
| | | |
| Pittsburgh – March 15/17 | | Detroit – March 16/18 |
| 7) TCU | | 7) Oklahoma |
| 10) Missouri | | 10) Miami (FL) |
| 2) Duke | | 2) Purdue |
| 15) UC Davis | | 15) Montana |
Last Four In:
Texas – After losing at Kansas on Monday night without Mo Bamba and Eric Davis, the Longhorns' regular season finale against West Virginia is essentially a must-win game. Texas does have five quadrant 1 wins and six victories against teams in the at-large discussion, and even their worst loss, which came at Oklahoma State, isn't that bad. Still, the Longhorns haven't strung together three straight victories since mid-December. If they can manage to do that again, they will be breathing much easier on Selection Sunday.
USC – Despite losing Bennie Boatwright, the Trojans have won four straight, including a sweep of last week's road trip to Utah and Colorado. Their RPI is in the Top 30, but there aren't many marquee wins on their profile with their two best RPI wins coming in Hawaii against Middle Tennessee and New Mexico State. A 6-5 mark in true road games certainly helps USC's case, but Saturday's date with UCLA looms large for both teams and the bubble picture in general.
Louisville – The Cardinals picked up a huge road win at Virginia Tech on Saturday, giving them a season sweep of the Hokies. Outside of those victories, Louisville's only other notable wins have come at Florida State and Notre Dame. Perhaps the most impressive thing for the Cardinals is their lack of bad losses. That could – and probably needs to – change this week with games at home against ACC leader Virginia and on the road at NC State.
Washington – Once again, the weekend was a mixed bag for the Huskies, who split games at Stanford and Cal. For now, wins over Kansas in Kansas City and both Arizona schools at home are keeping Washington in the field, but I wouldn't argue if they finished on the outside looking in. The Huskies can solidify their position with home wins over the Oregon schools this weekend, as the predictive metrics certainly aren't doing them any favors.
First Five Out:
Baylor – The Bears had won five straight to earn a spot in last week's field, but they dropped games at home against West Virginia and on the road against TCU. Outside of a road defeat at Iowa State, Baylor doesn't have any bad losses to go with four quadrant 1 wins. With nearly half of their wins against teams ranked 200th or lower in the RPI, the Bears need to bounce back this week at home against Oklahoma and on the road versus Kansas State.
Mississippi State – A sub-300 non-conference strength of schedule doesn't help matters, but the Bulldogs had a solid week with wins on the road at Texas A&M and home against South Carolina. They do have seven wins that fall in quadrants 1 and 2, but none of those wins have come against RPI Top 25 teams. Throw in sub-100 road losses to Ole Miss and Vanderbilt, and there is still work to do heading into the final week of the regular season where Mississippi State faces Tennessee at home before a road date at LSU.
Syracuse – The Orange missed opportunities to enhance their tournament resume by losing to both Duke and North Carolina last week. They have a pair of quadrant 1 victories but just three wins over teams in the at-large conversation to go with sub-100 losses at Wake Forest and Georgia Tech. Syracuse has to avoid another road slip-up at Boston College on Wednesday before Clemson visits the Carrier Dome over the weekend.
UCLA – Wins at Arizona and on a neutral floor against Kentucky are UCLA's only victories against teams firmly in the field, although a trio of home wins over Washington, USC, and Utah are also helpful. Still, they are just 2-7 in true road games after falling at Utah and Colorado last week. With that as backdrop, Saturday's road game at USC is a virtual must-win.
Marquette – If not for a road loss at DePaul, the Golden Eagles would have won their last four games. Outside of that misstep, there isn't another bad loss on their profile, but at some point the sheer volume of losses has to matter. Marquette has four quadrant 1 wins, three of which came on the road, but they still rank outside the Top 50 in most of the additional metrics used by the committee. The Golden Eagles certainly need to beat Creighton at home to close out the regular season and then tack on another win or two over at-large caliber teams in the Big East Tournament to have a legitimate shot.
Conference Breakdown:
ACC (9): Clemson, Duke, Florida State, Louisville, Miami (FL), North Carolina, North Carolina State, Virginia, Virginia Tech
SEC (8): Alabama, Arkansas, Auburn, Florida, Kentucky, Missouri, Tennessee, Texas A&M
Big 12 (7): Kansas, Kansas State, Oklahoma, TCU, Texas, Texas Tech, West Virginia
Big East (6): Butler, Creighton, Providence, Seton Hall, Villanova, Xavier
Big Ten (4): Michigan, Michigan State, Ohio State, Purdue
Pac-12 (4): Arizona, Arizona State, USC, Washington
American (3): Cincinnati, Houston, Wichita State
Atlantic 10 (2): Rhode Island, St. Bonaventure
West Coast (2): Gonzaga, Saint Mary's
America East: Vermont
Atlantic Sun: Florida Gulf Coast
Big Sky: Montana
Big South: UNC-Asheville
Big West: UC Davis
Colonial: Charleston
Conference USA: Middle Tennessee
Horizon: Northern Kentucky
Ivy: Penn
MAAC: Rider
MAC: Buffalo
MEAC: Hampton
Missouri Valley: Loyola (IL)
Mountain West: Nevada
Northeast: Wagner
Ohio Valley: Murray St.
Patriot: Bucknell
Southern: UNC Greensboro
Southland: Nicholls State
SWAC: AR-Pine Bluff
Summit: South Dakota State
Sun Belt: Louisiana
WAC: New Mexico State
Filed to: Bracketology