Notebook: Turnovers doom Indiana in loss at Nebraska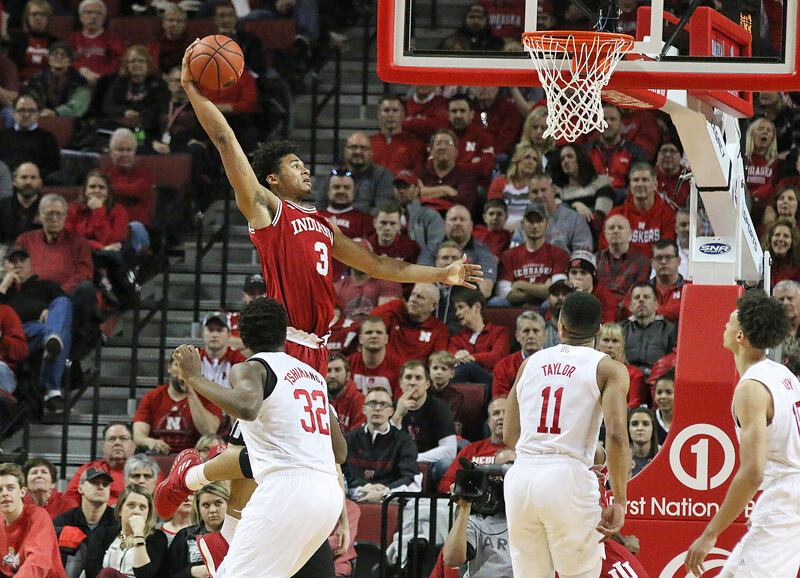 In a winnable game, Indiana couldn't get out of its own way on Tuesday night, falling to Nebraska 66-57 at Pinnacle Bank Arena.
The Hoosiers (16-13, 9-8 Big Ten) had a bevy of opportunities, but a season-high tying 19 turnovers made victory nearly impossible.
"Lack of toughness, lack of confidence, I don't know what it was," Archie Miller said postgame. "Maybe the road environment scared them a little bit. I'm not sure. But some of them just didn't make a whole lotta sense."
Despite a subpar performance, Indiana was well within range of the Cornhuskers (21-9, 12-5) until the final minutes. With 4:30 to play, Indiana was down 56-53 before it all came crashing down. Over the final stretch, the Hoosiers turned it over three times and scored a total of four points.
"It's very frustrating, I feel," Robert Johnson said. "To go through all that and still have a chance to win and then to self-destruct like that at the end. We have a blueprint we usually follow throughout the game and we got away from it."
Needing to win out and receive help from Penn State to obtain the No. 5 seed in the Big Ten Tournament, the Hoosiers looked flat for the majority of the night. Passes were well off their mark, players settled for ill-advised shots and key contributors were saddled with foul trouble early on.
The backcourt, which had played well in recent weeks, reverted back to the play of early in the season. Johnson, Devonte Green and Josh Newkirk combined for 12 of Indiana's 19 turnovers.
Junior Juwan Morgan, who has played at an all-conference level for much of the season, was held in check throughout the night. Morgan ended the night with 13 points and nine rebounds, but scored just five points over the game's final 15 minutes.
"What I didn't know is if we were going to be able to handle Morgan one-on-one," said Nebraska head coach Tim Miles. "When we saw that we could, I think that's when I felt like we could do this."
Smith shines again
A bright spot for the Hoosiers was the play of freshman Justin Smith, who reached double figures for the third consecutive game. Smith was aggressive from the moment he was subbed in, trying to dunk on opponents early and often, with limited success.
The freshman provided an energy and awareness on the court that was lacking from others, recording 16 points and eight rebounds for the night.
"(Smith) played well," Miller said. "Was all over the glass. Did a great job finishing some dump downs. Defensively, for the most part, did a really good job of doing what we asked him to do. Guarded the ball probably as well as he has all year."
Nebraska's bench mob
One of the most talked about aspects of the game wasn't the play on the court. It was the actions of the Nebraska bench.
Seemingly after every Cornhusker basket, the Big Ten Network broadcast would pan over to the Nebraska bench, which was engaging in a pre-planned celebration.
The @HuskerHoops bench mob never rests, and they've been at it all night once again: pic.twitter.com/tWaOX4mkDX

— Nebraska On BTN (@NebraskaOnBTN) February 21, 2018
Filed to: Justin Smith, Nebraska Cornhuskers