Five takeaways from Indiana's loss at Nebraska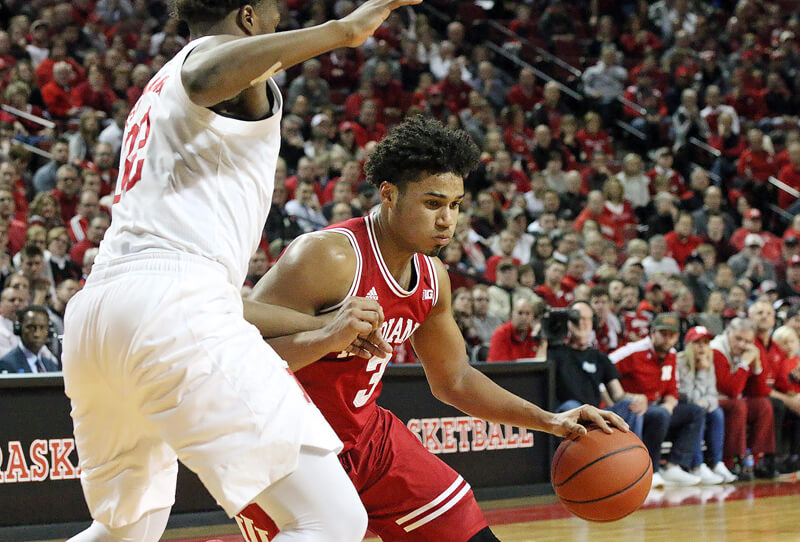 Indiana's four-game winning streak was snapped on Tuesday night as the Hoosiers fell 66-57 to Nebraska at Pinnacle Bank Arena. The loss dropped Indiana to 16-13 overall and 9-8 in Big Ten play.
Here's a look at five takeaways from the loss to the Cornhuskers:
· Turnovers sink IU's chances at fifth straight win: When Indiana reviews Tuesday's loss, turnovers will stand out as the most glaring issue.
The Hoosiers had 19 miscues that Nebraska turned into 26 points. In reality, the points off of turnovers could have been much worse, but it was a befuddling performance from a team that has done a solid job of taking care of the ball this season.
"Some of the plays just didn't make a whole lot of sense," Archie Miller said. "Coming out of halftime trying to get it regrouped, we had four more turnovers right away so we couldn't take care of it tonight. Give their defense credit. I'm sure they had a lot to do with it, but there were some unforced ones that made no sense."
Indiana's guards were responsible for 13 of the 19 turnovers and starting point guard Devonte Green had six.
· Justin Smith provides spark off of the bench: Freshman Justin Smith has been up and down in his first season, but Tuesday's performance was easily one of his best to-date.
Smith tied for a team-high with 16 points and also had eight rebounds in 25 minutes. He was an efficient 7-of-11 from the field and only had one turnover.
Over IU's last four contests, Smith is averaging 13.3 points and 4.5 rebounds in 18.8 minutes per game.
"I think if you look at his numbers here the last three or four games, I think he's given us an added dimension," Miller said. "So it's good to see him finish strong down the stretch and I thought he looked the part out there tonight."
· Johnson's stellar play continues: Indiana senior guard Robert Johnson scored in double figures for the fifth straight game and it is safe to say that he's peaking as the season hits its final stretch.
Johnson had 16 points in the loss and was 6-of-13 from the field in 36 minutes.
The senior guard from Richmond (Va.) is now up to 39.8 percent from behind the 3-point line in Big Ten play, which ranks 14th in the conference.
He also did a very good job on Nebraska's James Palmer, who was held well below his season average. Palmer finished with 15 points, but had to work hard for everything.
"I think in the half court, I thought Rob in particular did a good job keeping him in front," Miller said. "Our team kind of contained the paint for the most part. It's hard, though. It's hard to contain him. He's big, he's strong, he can score and he's probably a first team all-conference player."
· Point guard play regresses: With the exception of Johnson, Indiana's guard play on Tuesday night took a major step back in the loss.
Devonte Green had more turnovers (six) than points (four). Josh Newkirk had three turnovers that led to five Nebraska points. Al Durham played 17 minutes, but was 0-of-3 from the field with a turnover.
Miller credited Indiana's guard play for the win at Iowa, but in this loss, its poor point guard play was too much to overcome.
· Quietly, Nebraska has built one of the league's best homecourt advantages: Nebraska basketball doesn't get any coverage outside of the Big Ten footprint, but the Cornhuskers have one of the league's best home records.
With a win on Sunday over Penn State, Nebraska could finish a perfect 9-0 in Big Ten games at Pinnacle Bank Arena.
The Cornhuskers are 15-1 overall at home and the lone loss came by one to Kansas on Dec. 16.
Filed to: Nebraska Cornhuskers