The Minute After: Nebraska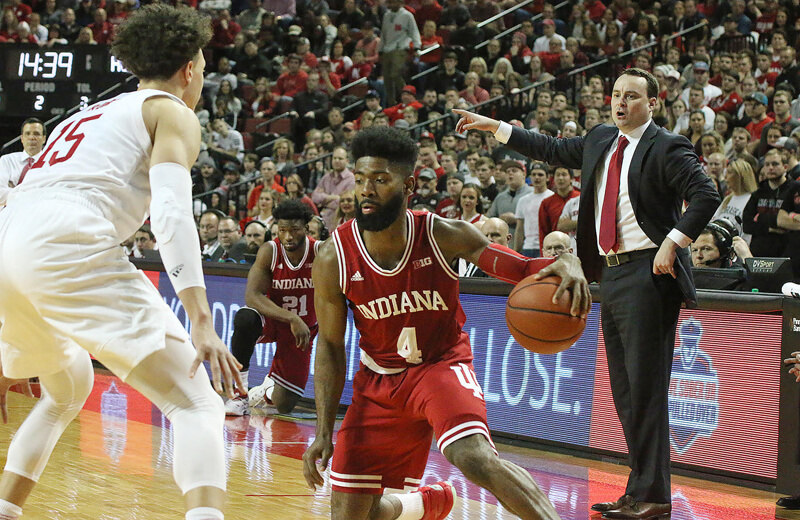 Thoughts on a 66-57 loss to the Cornhuskers:
Despite a sloppy, ugly, lackadaisical night for the Hoosiers, they remained in striking distance of Nebraska in the final minutes.
But down five with 3:22 to go in the contest, Josh Newkirk got up in the air near the paint and made a terrible pass out to the perimeter. Evan Taylor stole the ball and laid it in on the other end to put Nebraska up seven. On Indiana's ensuing possession, Robert Johnson stepped out of bounds for another Indiana turnover. After that, the Cornhuskers got a dunk from James Palmer Jr. to put them up nine. After a Devonte Green missed layup on a drive, Isaiah Roby splashed a jumper to give Nebraska an 11-point cushion with 1:51 to and essentially put the Hoosiers away for good.
So despite leading at half and for a decent chunk of the second half, Indiana saved its worst for last, scoring just six points in the final 6:47 of the contest and turing the ball over four times during that stretch as well.
"We didn't take care of the ball from the opening tip," Archie Miller said after the game and he was right. The Hoosiers had a number of horrific turnovers at the start of the contest and they could never quite keep away from them for long, turning the ball over 29 percent of their possession this evening. The Cornhuskers turned those miscues into 26 points, accounting for 39.3 percent of their entire scoring output.
Devonte Green had a forgettable performance as he racked up six of Indiana's 19 turnovers, a number of them of the head-scratching variety. Miller was unhappy with his team and he let it be known on several occasions.
Indiana didn't do itself a ton of favors otherwise. After shooting over 50 percent from 3-point range over the weekend in Iowa City, it hit just 3-of-14 (21.4 percent) tonight. The Hoosiers got to the line just nine times as well. After it looked like Juwan Morgan would have an advantage in this one, Nebraska did a solid job of keeping the ball out of his hands or having him catch further away from the rim. Morgan scored 13 points tonight, which marked just the fifth time he's scored under 15 points in conference play. Zach McRoberts couldn't stay on the court and fouled out in only 12 minutes of action. The Hoosiers only mustered .87 points per possession.
It's never easy winning on the road in conference play, but Indiana's absolute and utter lack of care for the ball made it that much harder tonight. After picking up its 12th conference win in this one, Nebraska is now 15-1 at home this season. Pinnacle Bank Arena remains one of the better atmospheres in the Big Ten.
Indiana entered this contest playing some of its best basketball of the season, but leaves Lincoln with its tail between its legs thanks to a disjointed mess of a game.
Slip ups like this can happen, even to the best of teams. But it makes it no less frustrating to a coach, his players and the fans.
Filed to: Nebraska Cornhuskers