Five takeaways from Indiana's win at Iowa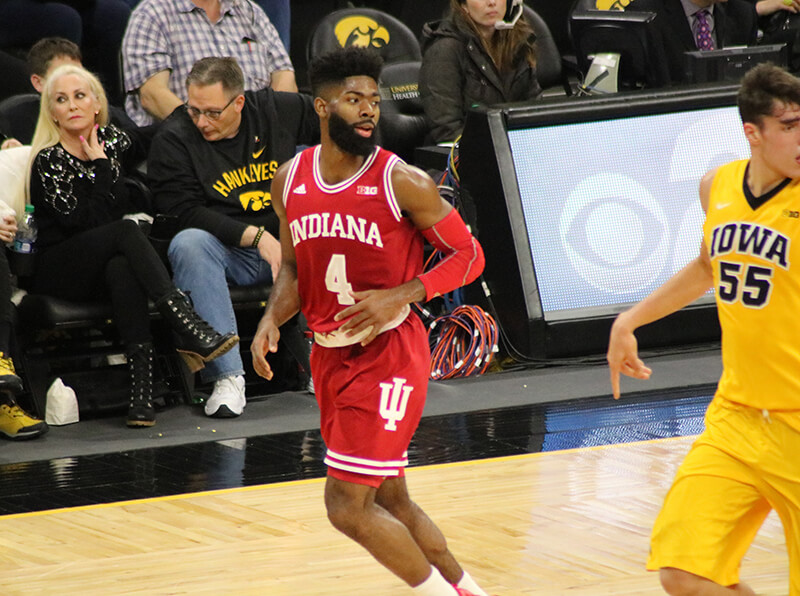 Indiana won its third road game of the season on Saturday afternoon as the Hoosiers beat Iowa, 84-82, at Carver-Hawkeye Arena. The victory improved Indiana to 16-12 overall and 9-7 in Big Ten play.
Here's a look at five takeaways from the win over the Hawkeyes:
· Johnson catches fire in Iowa City: Juwan Morgan has carried the load offensively for Indiana for most of the season. But as foul trouble limited Morgan to just 27 minutes on Saturday, an IU senior stepped up with a huge offensive effort.
Robert Johnson, one of just six players in IU history with more than 200 made 3-pointers, tied a school record with nine made 3s in the victory.
"I didn't realize he made nine 3s," IU coach Archie Miller said postgame. "I realize that he made some, but I wasn't up to speed on exactly how many. I knew he made some really big ones. He made a big one right in front of our bench to put us up four. Then during that run in the second half, he made some big ones. I've been waiting for him to step up and have one of these nights."
While his shooting has been up and down this season, Johnson's 3-point shooting percentage this season (37.3) has edged ahead of his junior season (37). He's also 18th in the conference in 3-point shooting percentage in league games at 39.8.
· McSwain buckles down late defensively: Indiana didn't have an answer defensively for Tyler Cook, but the Hoosiers were able to contain him when it mattered most.
A major reason the Hoosiers were able to muster up stops in the game's final minutes was senior Freddie McSwain, who stood his ground against Cook.
"I think the big thing about Freddie is he's giving us consistent effort," Miller said. "He's another guy that can rebound. We got manhandled on the glass, especially in the second half. He was able to help us defensively."
Not only did McSwain score the game winning layup, he also held Cook, who finished with 28 points, scoreless in the game's final minutes.
· Iowa's defense is historically bad: How bad are the Hawkeyes defensively?
If the season ended today, Iowa would have the worst Big Ten defense of the Ken Pomeroy era, which dates back to 2002. Here are the ten worst Big Ten defenses since the 2001-02 season: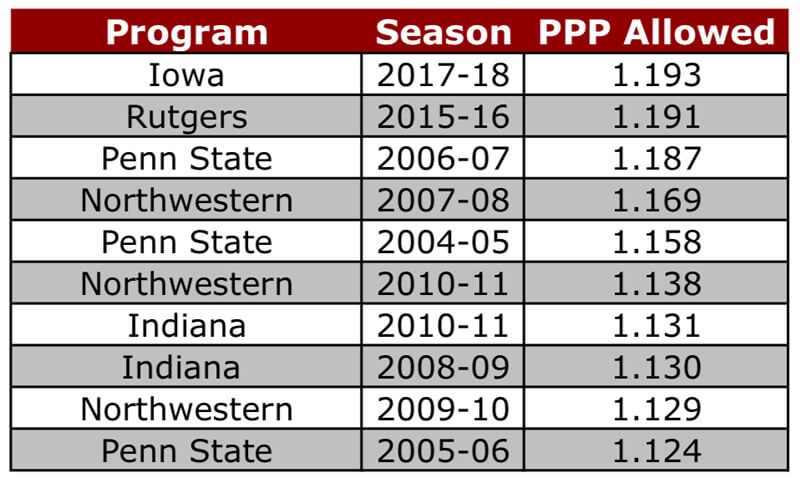 With remaining games against Minnesota and Northwestern, the Hawkeyes may avoid finishing with a number worse than Rutgers did in 2015-16.
But for a team that was picked by many to finish in the top half of the league, it's been an embarrassingly bad season in Iowa City.
· Indiana shoots better than 50 percent on 3s for first time in Big Ten play: On an afternoon in which its defense didn't travel, Indiana won in large part because of hot perimeter shooting.
Aided by Johnson's record tying day, Indiana hit 14 of its 24 shots from distance in the win. It was the first time the Hoosiers have shot better than 50 percent on 3s in conference play.
The 1.256 points per possession were also a Big Ten best this season for Indiana.
· Win secures a top seven seed in Big Ten tournament: In addition to securing at least a .500 record in conference play, Indiana has now secured a top seven seed in the Big Ten tournament.
There's still plenty to play out with a week remaining in the regular season, but Indiana has a legitimate chance at the No. 6 seed if it can win one of its final two games.
That would require Penn State to finish 1-2 over its final three games. The Nittany Lions play today at Purdue, host Michigan on Wednesday and travel to Nebraska to close out the regular season.
Filed to: Iowa Hawkeyes