Notebook: Johnson's 3-point barrage lifts Hoosiers to victory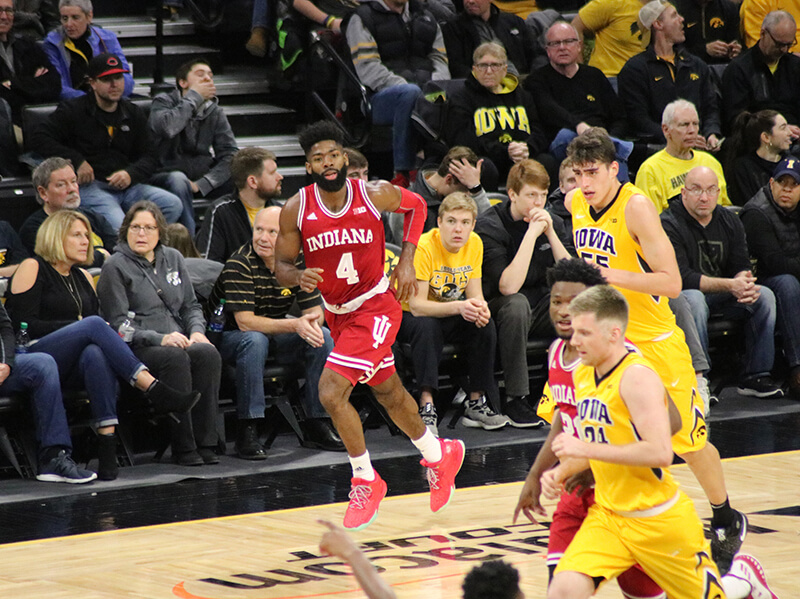 IOWA CITY, Iowa – Behind a record-tying performance from senior Robert Johnson, Indiana overcame an early 13-point deficit to topple Iowa 84-82 on Saturday afternoon at Carver-Hawkeye Arena.
In the 114th start of his Indiana career, Johnson had his best offensive performance as a Hoosier. Not only did he put up a career-high 29 points, but he tied a program-record with nine made 3-pointers.
"It just felt good," Johnson said after the game. "The coaches and the team never (lost) confidence in me. So I just have to always have that in my mind. I think it really worked for me today."
Although the nine 3-pointers stand out most, Johnson had a sensational all-around game. Besides the 29 points, the senior dished out four assists, grabbed a clutch rebound in the final seconds and only turned it over once.
The Hoosiers(16-12, 9-7 Big Ten) needed every bit of what Johnson gave them to earn the victory in Iowa City, especially because of their dreadful start.
After a series of brief delays in the opening seconds due to a faulty PA microphone and an errant horn, the Hawkeyes (12-17, 3-13) came out firing. Iowa hit its first 10 shots, jumping out to a double-digit lead before the first media timeout. Of the 10 makes, five were layups or dunks, two were two-point jump-shots and three were three-pointers.
"We (were) in big trouble," Archie Miller said of Iowa's hot start. "They shot 71 percent for the half. You couldn't shoot 71 percent in shoot-around. It was forceful the way they were playing. They were manhandling us around the rim in the first four minutes. They used their frontcourt to really space us out."
Iowa's first missed shot came with 13:17 to go in the first half when Hawkeyes held a 23-10 lead. Indiana responded with a barrage of buckets to trim the deficit to a single possession going into the break, including two 3-pointers from Johnson in the last 80 seconds of the half.
The Hoosiers comeback set up a thrilling ending, as there were six ties and three lead changes in the second half. Indiana looked to have the game in hand with 11:06 to play and a 13-point lead, but unforced errors, including a 2:14 span where they had three turnovers, allowed Iowa to tie the score at 82 with just 1:50 left.
Green sets up McSwain for game-winning layup
The winning play for Indiana didn't come from Johnson. Rather, it was two other starters, senior Freddie McSwain and sophomore Devonte Green, that were behind the game-winning bucket.
With 50 seconds left and the game still even at 82, the duo executed a flawless pick-and-roll, with Green feeding McSwain with a bounce pass for an easy layup.
"Being able to get a little bit of space, (McSwain) got a nice little break when Devonte made a heck of a pass to him on the roll late in the game," Miller said of the play.
After the game, McSwain thanked Green on Twitter for the dish. Green, who finished with a team-high six assists. responded with a gif of an insurance ad titled 'Droppin' Dimes' featuring NBA players Kevin Love and Damian Lillard as children.
— Devonté Green (@ChefBoyArGreen) February 17, 2018
Smith gives Indiana a bench boost
Not to be forgotten in Indiana's win was the play of Justin Smith. With Juwan Morgan, Freddie McSwain and Zach McRoberts all picking up two first-half fouls, the freshman was called upon to produce inside.
That's exactly what Smith did in his 12 first-half minutes, scoring 10 points, grabbing two boards and recording an assist.
The freshman also showed resiliency, throwing down a furious slam 29 seconds after being blocked by Iowa's Jack Nunge on the previous possession. Smith finished with 15 points.
Justin Smith redeems himself after getting rejected with a nasty jam #iubb pic.twitter.com/W8KqXdDCRR

— Josh Margolis (@MargolisNews) February 17, 2018
Filed to: Iowa Hawkeyes, Justin Smith, Robert Johnson