What to watch for: Iowa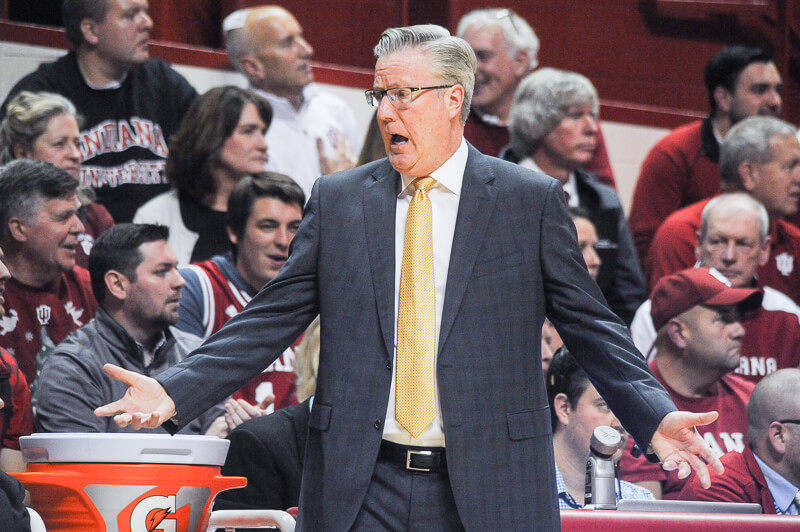 Indiana's second matchup this season against Iowa tips on Saturday afternoon and we're taking a look at three things to watch for in the rematch in lieu of our traditional game preview.
The matchup with the Hawkeyes will be broadcast on ESPN at 2:00 p.m. ET with Jason Benetti and Dan Dakich on the call:
· Will Indiana be able to slow down Iowa's offense? Indiana's turnaround defensively this season has been remarkable. The Hoosiers enter Saturday's matinee in Iowa City with the league's best defense in terms of points per possession allowed, according to Ken Pomeroy, at .983.
Indiana's adjusted defensive efficiency, another Pomeroy stat, is 51st nationally. After setting a preseason goal of getting that number into the top 100 nationally, Archie Miller said on Thursday's radio show that top 50 is now the goal.
Saturday's opponent, Iowa, will be a challenge. The Hawkeyes have the Big Ten's seventh best offense and are 29th nationally in adjusted offensive efficiency, according to Pomeroy. However, Iowa has struggled offensively as of late as it has registered more than a point per possession just once in its last four games.
The challenge for Indiana will be keeping Iowa off of the offensive glass. Iowa is the Big Ten's best offensive rebounding team, but ranks in the bottom four in terms of turning the ball over and getting to the foul line. The Hawkeyes also play the Big Ten's fastest tempo, but that could play into Indiana's hands because the uptempo style also comes with plenty of turnovers.
· Will Iowa be able to stop Indiana? The Hawkeyes have a historically bad defense.
If the season ended today, Iowa's Big Ten only defense (1.189 PPP allowed) would be the second worst in the KenPom era, which dates back to 2002. Only Rutgers, which allowed 1.191 in the 2015-16 season, was worse.
A look through Iowa's defensive numbers in conference play tells a bleak story.
The Hawkeyes are 13th in effective field goal percentage, 13th in defensive turnover percentage, 10th in defensive rebounding percentage, 14th in 3-point field goal percentage defense, 13th in 2-point field goal percentage defense, 10th in block percentage and 12th in steal percentage.
Indiana will have opportunities, but will they be able to capitalize? The Hoosiers have scored more than a point per possession just twice in Big Ten road games (1.03 at Minnesota, 1.01 at Rutgers).
· Which Iowa team will show up? The Hawkeyes have been one of the Big Ten's most disappointing teams, but are just a week and a half removed from taking Michigan State to the wire in Carver-Hawkeye Arena.
But with a 3-12 conference mark and little to play for, it's also fair to wonder if the Hawkeyes have checked out on the season. The frustration of Fran McCaffery has been visible on the sidelines and Iowa has given up less than 1.1 points per possession just once in its last 13 games.
The other troubling stat for the Hawkeyes is how often they've been beaten badly in league play. Ten of Iowa's 12 Big Ten losses have come by double digits. Five of the 12 have been by 15 or more.
After being picked to finish eighth in the preseason league media poll, Iowa will finish in the bottom four of the league and play on Wednesday in the Big Ten tournament.
Filed to: Iowa Hawkeyes