News and notes from Archie Miller's radio show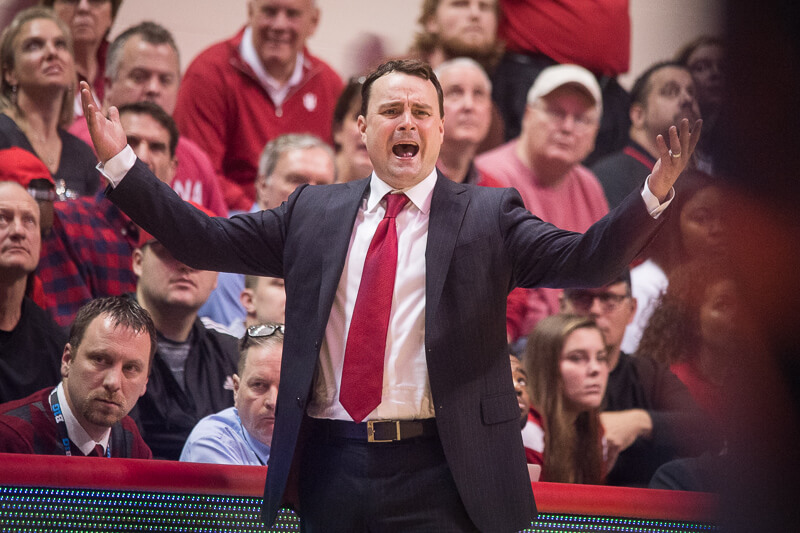 Inside IU basketball with Archie Miller was live on Thursday evening at the Holiday Inn in Bloomington. Al Durham was the player guest in the show's final segment.
Below are news and notes (all quotes from Miller unless otherwise noted):
· On Illinois: "Very, very hard to operate (against) on offense. Defensively, they just do things you don't see. For us to be able to play them twice this year, I think it's a good thing going forward, to learn how our system can be better against them. As they get more talent, they're going to be a bear to deal with."
· Players understand their role and are playing within the system: "We've had very little slippage in terms of our attitude."
· Miller said the win over Minnesota was one of the team's best performances of the season when it comes to both sides of the ball.
· On the improved offense: "We're trying to approach more of an assist mentality than a scoring mentality. Just having more guys be willing to take a good shot but get a great one. One less challenged layup at the basket and one more kick out pass. I think you've seen a lot of plays, whether it be last night or a couple games ago, where there's some really good ball movement and guys are starting to share. When that happens, you get more confidence on offense because guys are getting better shots. You're not ball dominant, so to speak. We're trying to be a team that moves the ball a little bit."
· Devonte Green won't miss any time after leaving the Illinois game late in the second half with an apparent ankle issue. Miller said it "looked worse than it was" and Green was a full participant in team activities on Thursday.
· On Juwan Morgan, "It's unheard of in terms of what he's doing. He hits every statistical category on the sheet, and then he does the things that you don't see on the stat sheet. Which is the effort level that he's giving us on defense, guarding different positions, his load on offense – although at one time I think was more about scoring – he's now distributing. He's doing all kinds of things. I said today, if there was a guy in the Big Ten that means more to his team than him, I'd like to see him."
· At the beginning of the season, the team's goal was to finish the season in the top-100 in the country of defensive efficiency KenPom. Miller noted that after the first Iowa game, they were ranked 197th. Now, they're 51st. The goal for the rest of the season is to finish top 50.
· A fan in the building noted that earlier in the season, Miller called the team "soft." Asked what he would refer to them now, he answered "hard-playing."
"They play hard. The one thing this group has done here for a long stretch is playing harder and harder for longer stretches every game. Playing smarter, too, defensively. Being more disciplined. We have more discipline to us in terms of what we're trying to do. But even through some of our losses, they made a big deal about out four-game losing streak, it never felt like we were in a four-game losing streak during that stretch. You saw us getting better even through some of the performances where we came up short, and we've responded almost every game in a positive way. So it's a good tribute to this team has just been their coachability and their character level."
· Next year's non-conference schedule is already in the works. With 20 Big Ten games next season, there will be, at most, 11 non-conference games. Indiana is already locked into a home date with Louisville, B1G/ACC Challenge, Crossroads Classic and a potential Gavitt Games matchup. With the longer Big Ten schedule, Miller said that it may take until his third or fourth season until they figure out exactly how they want to schedule.
· On whether officials should be able to review goaltending calls: "Yes. I thought it got goaltended last night on the breakaway. They're tough calls on the run, the officials sometimes, especially in the breakaways, they're behind and can't see it."
· On whether a fourth official should be added to games: "No. I think that's just one more guy to screw up the game. Without question, we don't need any more of those guys running around out there."
· Practices are shorter than earlier in the season, and the team is working on the same things every day when it comes to the defensive end: transition defense, man-to-man halfcourt positioning, rebounding, and ball screen defense.
· On playing Iowa on Saturday, "They play extremely fast and their offense has really, really improved as the course of the season has gone on…When we played them the first time, I think they were really struggling taking care of the ball, which is not an issue for them right now. But offensively, they've really, really improved. They've played more multiple defenses of late. A lot of zone. I think we could see a lot of zone. But their team, in general, has great size. But the biggest thing with them the second time around is how fast they play and how good offensively they are at home."
· Al Durham is majoring in Sports Marketing and wants to be an agent.
· Durham, on recommitting to Indiana after Miller was hired, "I always loved the environment of Indiana so that played a big part to me because it always felt like home to me. So when Tom Crean got fired, I wasn't sure, because I didn't know who they were going to hire. Once I met Archie, I really liked him, so it was a no-brainer for me to come back."
· Durham, on how he got out of his shooting funk: "Just sticking to my routine, coming in every day working. Getting extra shots, extra shots, always. Coming in at night shooting. In the morning, shooting. And once I (saw) one fall down, I felt like it was a good feeling. Once one went down, it just carried the momentum on."
· Durham said Josh Newkirk, Robert Johnson and Devonte Green were the teammates that really helped him adjust to the college game.
Filed to: Aljami Durham, Archie Miller