What to watch for: Minnesota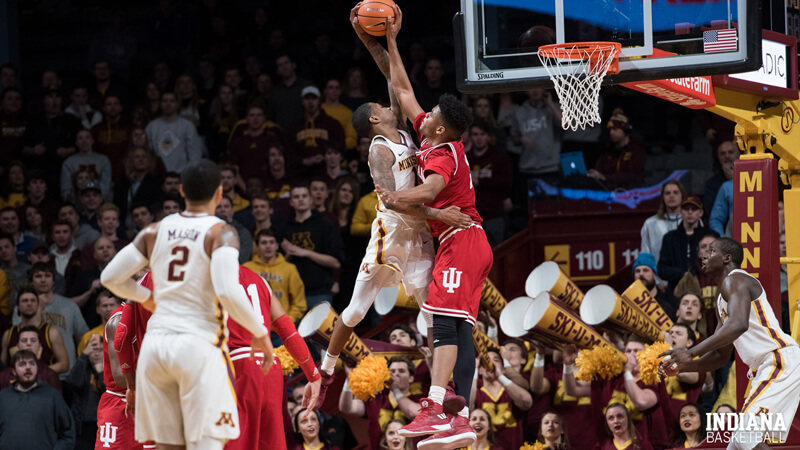 With Indiana's second matchup this season against Minnesota tipping later today, we're taking a look at three things to watch for in the rematch in lieu of our traditional game preview.
The matchup with the Gophers will be broadcast on FS1 at 7:30 p.m. ET with Rich Waltz and Donny Marshall on the call:
· Who will Minnesota have available? No team in the Big Ten has been more decimated by injuries and off the court issues than Minnesota.
An NCAA tournament team last year, the Gophers were picked to finish in the top four of the league, but look destined for a Wednesday appearance in the Big Ten tournament.
Reggie Lynch is inexplicably still on Minnesota's roster, but will clearly never play again for the program. Amir Coffey, one of the league's best sophomores, has played just two times in the last 10 games because of a shoulder injury and has not practiced, according to Richard Pitino. And a third starter, Dupree McBrayer is considered day-to-day because of a stress reaction in his left shin. McBrayer played just 14 minutes in Minnesota's most recent game.
Minnesota is 1-9 over its last 10 games and breaking a six-game losing streak becomes even tough if Coffey and McBrayer are unavailable in Bloomington.
· Who wins the battle between Jordan Murphy and Juwan Morgan? Murphy and Morgan are two of the best power forwards in the league and both will likely claim a spot on one of the All-Big Ten teams.
Morgan won the first matchup in Minneapolis as he went for 20 points and 12 rebounds in 38 minutes as the Hoosiers prevailed, 75-71.
Murphy battled foul trouble, but still managed to finish with 18 points and 10 rebounds in 30 minutes. However, he was visibly frustrated at times around the basket as Morgan blocked four shots. He shot just 4-of-11 on 2s in Minnesota's loss.
· Can Indiana do a better job on Nate Mason? Mason is in the midst of his best season yet in Minneapolis, but nobody is talking about him because of the lack of team success.
But dive into the numbers and it's clear that Mason is one of the best point guards in the league. In conference play, he's shooting 40.5 percent on 3s and is seventh in assist rate with the fifth lowest turnover percentage. And that's with opposing defenses putting a ton of attention on him with Coffey sidelined.
In the first meeting in Minneapolis, Indiana struggled to contain Mason. The Georgia native went for 22 points, nine assists and just one turnover in 35 minutes. He's coming off of a monster performance (34 points) in Tuesday's 91-85 loss to Nebraska.
As a senior and Minnesota's leader, Mason is still battling despite just one win in the team's last 10 games.
"We still have a chance to win — we're not just counting this season out," Mason told The Star-Tribune recently. "We have five regular-season games ahead of us and the Big Ten tournament. So I feel like we're in good shape and getting better every game."
Filed to: Minnesota Golden Gophers