News and notes from Archie Miller's radio show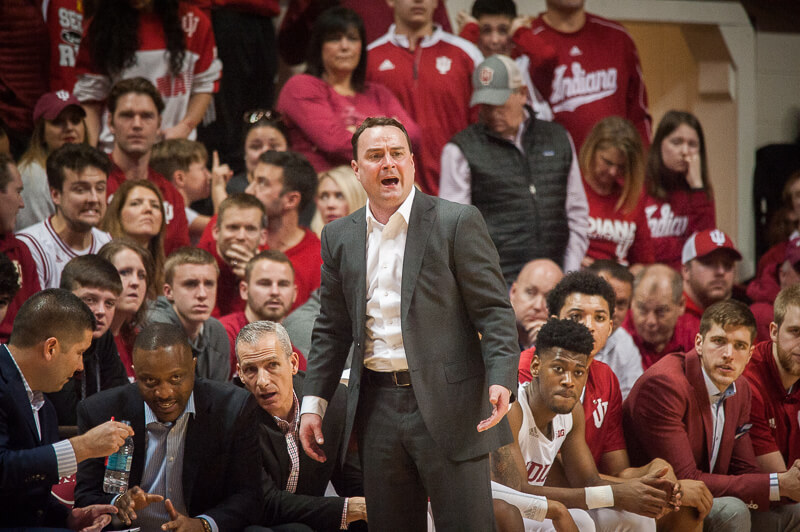 Inside IU Basketball was live on Thursday evening at the Holiday Inn in Bloomington. Race Thompson was the player guest.
Below are news and notes from Miller (all quotes from Miller unless otherwise noted):
· On the defensive performance against Rutgers: "On looking at (Corey) Sanders and looking at their guard play, kind of figured that those guys were going to have to be passers. They were going to have to make more distributing plays. I thought our frontcourt, Juwan (Morgan), but Freddie (McSwain) in particular, did a great job in just containing two on the ball situations and sort of making life a little bit hard. I thought most of the shots (Rutgers) took were either off the dribble challenged or weren't very good. Our frontcourt did a really nice job on the perimeter."
· More on the win over Rutgers: "We're still learning on offense how to become a more unselfish team in terms of taking less selfish shots and challenged twos and trying to maybe deliver more assists on the drives, more kick-outs…We had some good possessions against Rutgers where we really moved the ball, guys made extra passes…We shot a better percentage. (The team) understands how we want to play. Defensively is probably where we've made the most ground up, just in terms of guys really starting to understand this is how we do it. This is where we're going to hang our hat in terms of being able to compete. We definitely have a harder group playing defensively that's more connected, for sure."
· On coming up short against Purdue and Michigan State: "Our guys understand that if we win the last four minutes, most of the time, you're going to have a chance to win the game. Purdue came down to turnovers and our inability to get key rebounds and stops. Michigan State was more along the lines of being able to convert at the free throw line in the last couple minutes… If you look at the last possession, which was a backbreaking three from (Matt McQuaid), he hit a dagger with about 80 seconds to go in the game. Really, it was just about our on-ball defense, keeping the guy in front of you and not having to rotate at the end of the clock where they were able to spring one out and get a big basket. So it's winning plays, it's tough-mindedness, it's concentration in those big moments."
· Miller said the physicality of the Big Ten has surprised him: "On a given night, you play against Michigan State and Ohio State, you start to play the Purdue's of the world, you're really into what I call tackle basketball… Where you have to be ready every night and guys are knocking it down and it's a physical league."
· On Freddie McSwain's ability to grab offensive boards: "He's got a quick jump. He's one of the quickest jumpers that you'll see, and he doesn't need a lot of room to run and get off the ground. He's straight up right off the floor. He does a really good job of pursuing the ball. He goes after it every time and he's clearly, in our last two games, really established a better rebounding team for Indiana because he's out there."
· Miller said he has played and coached at Madison Square Garden, although not while he was at Dayton: "It's a unique place to be in, to play there and to win in that building is always fun. But I think it'll be really, really interesting – the attendance (at the Big Ten Tournament). That'll be the one thing that I would see. I think IU will really attend. From what I've heard, we have a heavy fanbase obviously in the northeast. So I think we'll always be ok there, but it'll be interesting to see how many of the midwest schools actually bring the following that they usually have."
· Miller then suggested that the Big Ten Tournament should always be in Indianapolis: "I always thought that the Big Ten Tournament was always unbelievable at Bankers Life (Fieldhouse)."
· Collin Hartman is spending lots of time in practice on shooting, less on more strenuous reps: "What he really needs is to get some confidence back in his shot, because that can really help us."
· Regarding a potential out-of-country team trip over a future summer, Miller said he'd prefer having a younger team for that experience: "It can really benefit you with some extra time. But I was always leery having an older team of really making the season drag on. They don't want to hear you coaching them in August, September."
· On Justin Smith: "An unbelievable athlete. He's a guy that has to grow his game to more of a basketball player, not just an athlete. He's working hard on that. His jump shot has gotten a lot better, his feel for the game of basketball, in general, has gotten better, but he's got to continue to learn how to play through contact and finish around the basket a little bit more. He's got to become a little bit more skilled with his ball handling, which, he's a very committed kid. I think you'll see really good things from him down the line."
· On Al Durham: "Really intelligent player. (High) IQ, can really think the game. He's struggled with his shot, which sometimes can really take your confidence away. He's starting to get that back for us here as he's playing. But he's a smart guy, he plays hard. Over the course of his career, he's going to win us a lot of basketball games."
· On Devonte Green, "He's shown moments all season long where he's been terrific, and he's shown moments where his concentration hasn't been as good in certain areas – whether it's taking care of the ball, or defensively, just not being locked in. For whatever reason here, in late January, early February, he's started to really try his hardest to be more of a playmaker. To be more of a guy that has the ball in his hands and is looking for others. That's really helped our team and he's playing probably the best he's played consecutive games in a long time. If he plays well, if we have another guy out there contributing, more so of all the stat sheets, not just scoring, that helps us. He's gotta be detailed defensively and he's gotta take care of the ball. I think everyone has seen, though, that he can make a lot of plays."
· On what will end the free throw woes: "You just have to have a couple games in a row where you make them. It's like anything else. You have to have some success and we're practicing them every day. I promise you that. Nothing is more frustrating to us then when you're missing free throws. Good shooters are missing them right now. It's one of those things, you've got to step up to the line, you've got to make a couple. That's contagious. Over the course of the season, the next five or six games, can we shoot our best percentage of the season? That's what we're trying to do."
· On defensive improvement: "We went from probably, a team that counted on about 1 1/2 players in November and December – like you could count on those guys playing really hard, you knew you were going to get from an effort level standpoint – and now, I think we've emerged, maybe at one time, 4 1/2 on the floor at all times that are giving max effort. If you can get all 5 every single time out there playing as hard as they possibly can, that's when you have a team that's getting better."
· When asked how he can get the whole team to play as hard as Zach McRoberts: "If I had that answer, we would be really good. Zach is an impressive, an impressive kid. He's an impressive player. I told those guys the other day… I don't feel that there are three or four guys in the league that should be on the all-defensive team (over him) compared to what he's been doing and has been asked to do. His hustle, his effort-level, how he impacts the game, is incredible. He's just a good teammate, too. He's really one of the bright spots in terms of our team's improvement kind of correlates with him. (I) trust him as much as anybody out there right now."
· Rotations will be handled based on feel and recent play. Devonte Green has earned more minutes, but if a guy is playing well, they will stay in the game.
· Thompson, on what drew him to IU: "I liked the coaches. When I visited, it felt like home. The fans showed so much love and I liked that a lot. Not all the schools showed that much love. When you have that much love you can just succeed."
· Thompson, on the decision to reclassify to 2017: "Going back to high school, I would get double-teamed every game and my game wasn't growing. It was just kind of hitting a flat point. Coming here, practicing against Juwan, Freddie, Collin, Justin every single day is helping my game grow. Also just getting into better shape so I can play the best game I can."
· Thompson said what he's working on most currently is "getting my body as healthy as possible and shooting."
· Thompson has lost around eight pounds since enrolling at Indiana, and admits his diet while playing AAU ball wasn't great: "But (director of athletic performance) Clif (Marshall) has definitely gotten me right in the weight room and my body, so I feel better now."
· On game days, after shoot-around and walk-throughs, Thompson heads to the weight room and lift and/or use the elliptical. "It's a benefit to me, honestly. I think it's made me a way better player."
· Thompson, on the negative side of redshirting, "It's really hard. You've gotta come to practice every day, do everything that everybody else does, but when it comes to game day. You go there and you sit on the bench. Of course, I'm cheering guys on, I want them to do good, but on the inside, it burns a little bit. I feel like I can go out there and make an impact. But next year I'll be ready to go."
Filed to: Archie Miller, Race Thompson