The Minute After: Maryland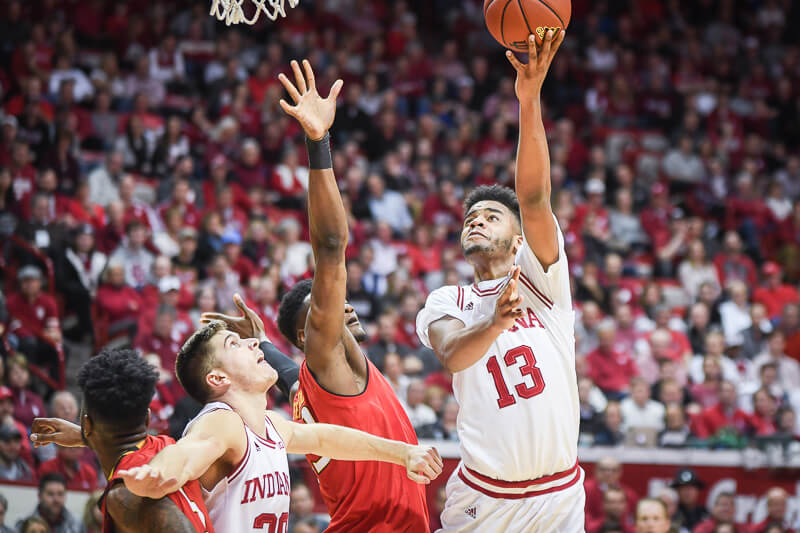 Thoughts on a 71-68 win against Maryland:
The first half played clean.
There was little in the way of fouling as each team dropped in buckets with relative ease. Both the Hoosiers and Terrapins shot an effective field goal percentage over 60 and scored over a point per possession (Indiana: 1.21, Maryland: 1.13). Indiana turned the ball over just three times and got strong offensive performances from Robert Johnson (10 points, 4-of-7), Juwan Morgan (11 points, 5-of-11) and Justin Smith (eight points, 4-of-4). The Hoosiers knocked down 5-of-12 from distance.
Offensively, it was about as strong a half as Indiana's put together this season.
But for as smooth as the first 20 minutes went by, the second 20 were anything but, as both teams wrestled for control, struggling to score, trading leads and fumbling along — all leading to a frantic close to the game. Neither team led by more than five in the second half. The refs made calls that sent the Assembly Hall faithful into a tizzy and rightfully so. One sequence was so bizarre, the ball bouncing around and players all over the floor, that Johnson got caught trying to call a timeout in the lane without the Hoosiers having possession, allowing an advantage at the bucket for Maryland. Indiana missed four free throws in the final 38 seconds of the contest.
The first two from Josh Newkirk were saved by — who else? — Morgan, who grabbed the rare offensive rebound on a missed free throw for a putback to give the Hoosiers a three-point advantage at 69-66 with 36 seconds to go. Zach McRoberts' two missed attempts with 15 seconds left gave the Terrapins a shot to tie the game at the buzzer, but Kevin Huerter's halfcourt heave came after the final horn and didn't fall.
Morgan's performance, coming off Friday's ankle injury that sidelined him for the remainder of the Michigan State game, was one to celebrate. His final bucket off the Newkirk missed free throws was his most important. But he also scored in a variety of ways this evening inside the perimeter, besting his defender time and again, en route to a game-high 25 points. Morgan also had five rebounds, four assists, two blocks and two steals in the win. He played a whopping 36 minutes, the Hoosiers riding him once again to victory. Johnson had just one bucket after the break, but had a team-high eight rebounds. McRoberts got back in the scoring mix tonight with seven points, including a 3-pointer.
As Alex noted in At The Buzzer, Indiana has now held its opponent under a point per possession in half of its Big Ten contests. Not bad. And the Hoosiers also still sit in the top half of the conference standings after tonight's win pulled them to 5-3 on the season. A win against a struggling Illini team on the road this Wednesday would be helpful for the Hoosiers to try and stay at .500 or above.
Because its next three after Illinois are a brutal stretch of games featuring undefeated Ohio State (9-0), undefeated Purdue (8-0) and a Michigan State team that just destroyed them.
Filed to: Maryland Terrapins