The Minute After: Penn State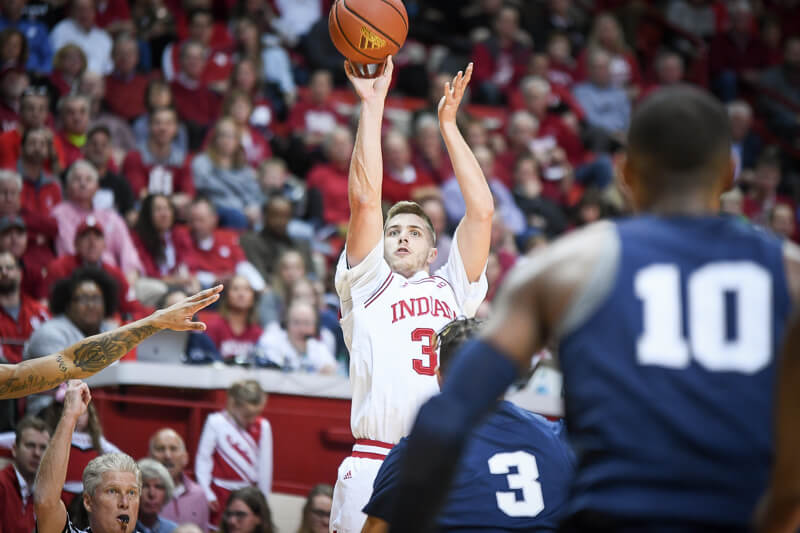 Thoughts on a 74-70 win against the Nittany Lions:
Playing in front of its home crowd for the first time in 11 days, the Hoosiers fed off the Assembly Hall faithful early.
Indiana came out with an effort, focus and energy it's lacked too often this season, jumping out to an eight-point lead near the midway point of the first half against what looks to be the best team of the Pat Cambers era. The Hoosiers' offensive execution was on point, as they moved the ball well and most scores came off assists.
But the 3-point shooting had returned to its woeful regularity after an uptick against Minnesota on Saturday. Indiana hoisted up 17 3-point shots in the first half — many good looks in the flow of the offense — but only managed to connect on three of them as they carried a 17.6 percentage into half. Indiana wasn't great from inside the arc either and had just a 40 percent effective field goal percentage at the break. Such bad shooting could have seen them down after the first 20 minutes most games. But against a Nittany Lions team skilled at turning teams over, the Hoosiers had just two turnovers. Couple that with an 8-of-9 performance from the line and it allowed Indiana a 35-31 lead, despite its difficulty containing Tony Carr and Lamar Stevens.
As the second half began, the Hoosiers heated up, missing just one shot over the first five minutes. A Robert Johnson 3-pointer gave them an 11-point cushion (47-36) at the 15:16 mark. While Penn State was able to make a game of it late and it got a little too close for comfort, the Hoosiers led the entire second half and only trailed once in the first half. It was by one point for just 59 seconds of game action.
In a season where nothing seems sure with this team, this was a solid performance from the Hoosiers against a Penn State squad ranked No. 41 on KenPom heading into the contest.
Juwan Morgan posted another double-double this evening (21 points, 11 boards). Morgan's consistency in this department is almost starting to make us take his leap this season for granted. Morgan also hit two 3-pointers tonight, building off his long distance shooting performance up in Minnesota over the weekend. Indiana got help on offense from Josh Newkirk and Devonte Green. Newkirk chipped in 16 points, including a 7-of-8 performance from the line. Green had 13 points on 4-of-9 shooting, adding a 4-of-4 mark from the line. All four came in the final 10 seconds of the game to seal the contest.
Overall, Indiana hit 18-of-22 from the line, one of the deciding factors in a game it won by only four points. Indiana's defense also held Penn State to 1.01 points per possession, which is under the Nittany Lions' conference average so far (1.06). And while the Hoosiers coughed it up more in the second half, they still only turned it over on just 13 percent of their possessions.
It was all enough to hold off the late Penn State run and seal the victory.
With a two-game conference winning streak under its belt and an underachieving Northwestern squad on deck this weekend, the Hoosiers have a shot at making it three straight.
Filed to: Penn State Nittany Lions