The Minute After: Notre Dame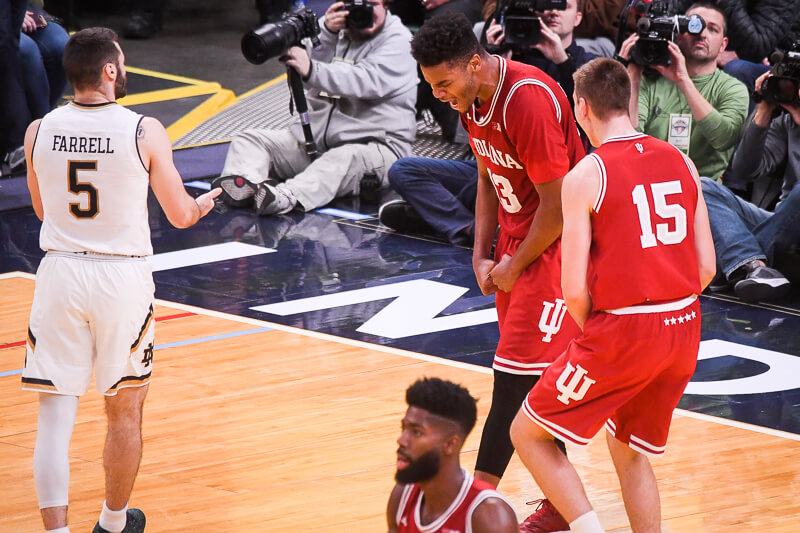 Thought on an 80-77 win against Notre Dame:
Down eight with just 2:01 to go, the Hoosiers looked just about sunk.
Sure, they'd rallied from a 14-point deficient in the first half to draw within one early in the second half. And they'd rebounded from another big hole — this time 13 points at the 16:50 mark in the second half — to pull within two (51-49) with 10:16 to go.
But unless something big happened, someone really caught fire, Notre Dame seemed destined to run out the clock on the Hoosiers, another chance to beat a marquee team slipping through the hands of the Hoosiers.
That something big happened.
Juwan Morgan, who with each game puts Indiana on his back as he asserts himself as the alpha of this squad, went on an absolute tear to close out the contest. Morgan's dominance was a sight to behold, one of the greatest individual performance from a Hoosier in the Inside the Hall era. The junior closed out the second half scoring the team's final 12 points to put this thing into overtime tied up at 65-all. Morgan knew he had the hot hand and played with a supreme confidence. He simply wouldn't be denied.
Morgan wound up scoring 22 of Indiana's final 27 points en route to a career-high 34 on a hyper-efficient 13-of-17 performance from the floor. The junior added 11 boards to boot in 40 minutes of action.
But Indiana's come-from-behind victory had another hero as well: Zach McRoberts. McRoberts did his typical dirty work, keeping possessions alive and defending with vigor. He also snagged nine rebounds this afternoon, none more key than his final of the contest. Down one at 77-76 with 11 seconds remaining in overtime, Morgan stepped to the line for an and-1 opportunity. He missed, failing to tie the contest. But despite not having position, McRoberts was able to snag the offensive rebound. He quickly found Morgan who'd run down to the open right block with a pass. Morgan dunked it home to put Indiana up for good.
It was a remarkable play you almost never see. But it couldn't be more indicative of these two as players. McRoberts making the hustle play, Morgan seemingly everywhere down the stretch to bring this one home for the Hoosiers.
Morgan's performance was particularly important on an afternoon Indiana got no-show performances from De'Ron Davis (two points) and Josh Newkirk (zero points, fouled out). Robert Johnson came to life in the second half on his way to 20 points and a 5-of-10 performance from distance. But the senior had six turnovers — including two where he lacked court awareness and stepped out of bounds beyond the 3-point line. Indiana just can't have that from him.
Johnson's six turnovers contributed to an Indiana turnover percentage of 22 percent, which Notre Dame converted into 21 points. If not for Morgan, this could have been the difference, as Indiana's cold start turned around into 1.09 points per possession, besting Notre Dame's 1.05 PPP which was below the Irish's season average. While Bonzi Colson did score 29 points (9-of-21), the Hoosiers really made him work for them as he had to find other ways to score. Indiana consistently harassed Colson with double teams. The Hoosiers also flashed strong team defense, often making Notre Dame take less-than-ideal attempts late in the shot clock.
Indiana is through its brutal five-game stretch with a 2-3 record and a win over a ranked opponent on its resume. This was a hard-fought, impressive win, one this evolving team in its first year under Archie Miller was bound to get at some point.
Filed to: Notre Dame Fighting Irish