Notebook: Juwan Morgan dominates down the stretch in win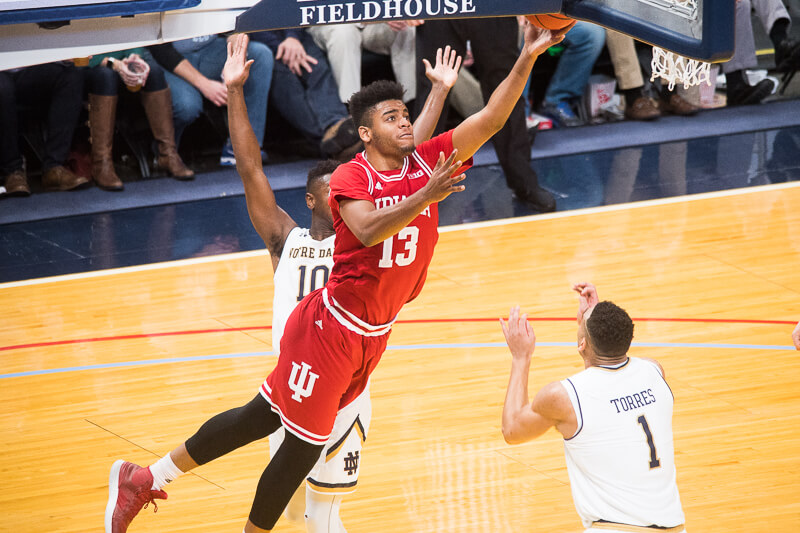 INDIANAPOLIS — Behind a heroic 34-point, 11-rebound effort from junior Juwan Morgan, Indiana overcame a 14-point deficit to defeat No. 18 Notre Dame in overtime, 80-77.
The victory came despite a rather forgettable first half in which the Hoosiers (6-5) shot just 37 percent, turned the ball over seven times and were impacted by foul trouble. Both senior Josh Newkirk and sophomore De'Ron Davis recorded two personal fouls in the games first 10 minutes.
Indiana's shooting struggles in Louisville last Saturday continued for much of the first half in Indianapolis. After an 0-of-12 showing from three in the second half against the Cardinals, the Hoosiers missed their first seven 3s against the Fighing Irish (8-3).
The streak of misses finally came to an end at the 8:43 mark of the first half, when senior Robert Johnson, who went scoreless in the Louisville loss, nailed a corner triple. In the week since Johnson's scoreless performance, the senior worked tirelessly to ensure he'd bounce back.
"(Johnson is) giving everything he has," Miller said. "And to watch him sort of try really hard to make a shot — every player goes through it where you want it to go in so bad it just won't. He was almost going three-a-days this week. Finals with no classes, you see him every morning shooting, then practice, then you see him after practice shooting."
The game nearly got out of hand late in the first half, but hustle plays kept Indiana in close range.
With just under three minutes left in the half and the Hoosiers down 12, Juwan Morgan turned what should have been a turnover into a 3-point play. In a precursor of what was to come late in the second half, Juwan sprinted into the backcourt to grab a loose ball, somehow managed to drive straight through a double team, and took the ball all the way to the other end of the floor, where he found sophomore Devonte Green in the post. Green hit the shot after being fouled and converted on the ensuing free throw to trim the deficit to single digits. The extraordinary effort from Morgan started a key rally, as Indiana went on a 6-0 run to head into the half down just six.
"The first half deficit should have been more, to be honest with you," Archie Miller said after the game. "We were able to get a couple 3s to go down late in the first half to make it workable."
The Hoosiers would again find themselves playing from behind for much of the second half, but each time Notre Dame went on a run, Indiana had an answer.
"We never went away. Once we made mistakes, I don't think we consecutively made the same ones," Johnson said. "It still wasn't a clean game. You always can get better, but I think the encouraging thing was we never went away as far as our defense. Down the stretch, we started to execute better."
In the final moments of regulation and overtime, Juwan Morgan took over. During a stretch that spanned from the 4:24 mark of regulation through the first 3:40 of overtime, Morgan scored all 16 of Indiana's points, grabbed five rebounds and blocked a shot. It was a transcendent performance from Morgan, and it came while often being matched up with Notre Dame star Bonzie Colson.
"Today was the first time I actually got a play to just drive it, but other than that, I was just getting on the offensive glass and just posting up in the middle of the floor in random possessions," Morgan said. "When you do that just randomly, people usually aren't ready for it."
After enduring a disappointing 2016-17 season on a team that struggled to find leadership, Morgan has taken it upon himself to lead by example.
"Every day in practice (I bring) it as hard as I can and just showing everybody this is how we have to play in order to get these wins," Morgan said. "And then just everybody on the team just follows suit."
Quick turnaround
For the third time this season, Indiana will have to play a second game in the span of three days.
The Hoosiers begin a three-game homestand on Monday evening, with a matchup with Fort Wayne.
"As soon as we get out of here, we're on the bus back, but we're moving on to Fort Wayne," Miller said. "That's a very, very big game for us and our team."
13 months ago, the Mastodons humbled then-No. 3 Indiana, pulling off a 71-68 overtime upset at the Fort Wayne Coliseum.
"Last year, obviously, it wasn't a good feeling," Johnson said. "You never really forget what it feels like to feel like that. So we'll definitely be prepared."
Filed to: Juwan Morgan, Notre Dame Fighting Irish