What to expect: Eastern Michigan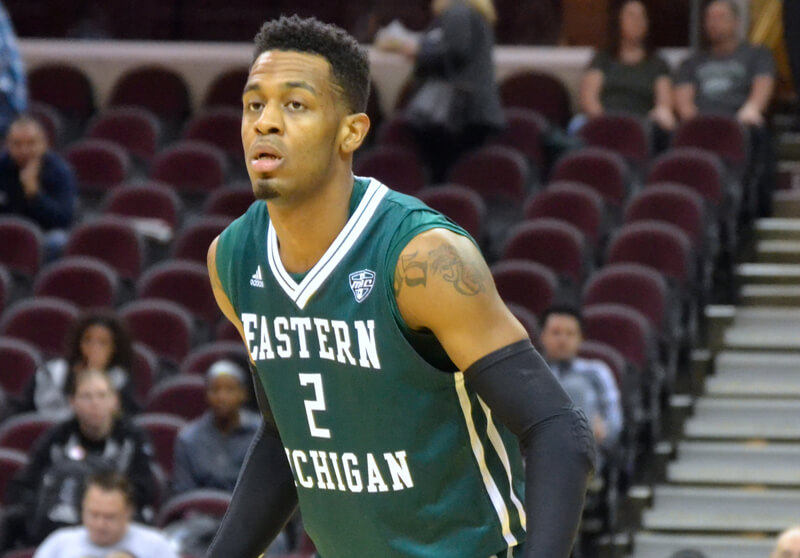 With less than 48 hours to prepare, Indiana will host Eastern Michigan on Friday afternoon in the final game of the Hoosier Tipoff Classic. The Eagles are 4-0 with wins over Arkansas State and Howard and two wins over non-Division I competition.
The game will be broadcast at 4:30 p.m. ET on BTN with Greg Amsinger and Shon Morris on the call:
One day turnarounds are a staple of this year's Big Ten schedule which makes Friday's matchup with Eastern Michigan at Simon Skjodt Assembly Hall an opportunity for Indiana to prepare for what's coming in league play.
The matchup is especially intriguing because Eastern Michigan is a top 150 team in several computer rankings and plays what Archie Miller calls the "best zone" Indiana will see this season.
Eastern Michigan is the first of seven straight opponents for the Hoosiers currently ranked in the top 152 of the KenPom ratings. It's a stretch where Indiana will be a significant underdog in four of the seven contests.
MEET THE EAGLES
Eastern Michigan has several new faces following last season's disappointing 16-17 record. The Eagles have two new assistant coaches and only three scholarship players return. Their 2-3 zone is very similar to that of Syracuse as coach Rob Murphy was an assistant for the Orange from 2004 through 2011.
The headlining returnee for the Eagles is junior James Thompson, a 6-foot-10 forward. Thompson is averaging 16.3 points and 13 rebounds through four games and is shooting 63.2 percent from the field.
He's joined up front by 6-foot-9 junior Elijah Minnie, a transfer from Robert Morris. Minnie is the team's leading scorer through four games at 18 points per game. Minnie likes to step out and shoot 3s (6-of-20 this season) and is 20-of-21 from the free throw line.
Tim Bond, a 6-foot-7 forward, also starts and averages 10 points per game. Bond has 13 steals and six blocked shots in four games.
Paul Jackson, a 6-foot-2 guard who transferred from Eastern Kentucky, is Eastern Michigan's best guard. Jackson is third on the team in scoring at 15.3 points per game, but is just 1-of-11 on 3s through four games.
Terry Harris, who previously played at Houston Baptist, is another transfer making an impact for the Eagles. The 6-foot-6 junior has the length to be effective in the 2-3 zone and is 5-of-13 on 3s.
Two others to watch are 6-foot-7 junior Ty Groce and Kevin McAdoo, a 6-foot-2 freshman. McAdoo could see backup minutes at point guard and Groce has nine steals in four games.
TEMPO-FREE AND MATCHUP THOUGHTS
Indiana torched the zone of Arkansas State for a season-best 1.23 points per possession, but Eastern Michigan will present a much stiffer challenge. The Eagles play an aggressive 2-3 zone and have solid defensive numbers through their first two games against Division I competition.
The key for Indiana will be finding ways to get the ball inside to finish at the rim as Howard and Arkansas State shot a combined 54.8 percent on 2s against Eastern Michigan. With Juwan Morgan and De'Ron Davis both shooting 65 percent on 2s, finding ways to get both players paint touches in the zone will be a key to success.
Defensively, Indiana has to mark Thompson at all times in the paint as he'll present a significant challenge for De'Ron Davis. A member of the MAC west division preseason team, Thompson has taken 30 free throws in four games. Eastern Michigan is a poor shooting team from the perimeter (31.5 percent) and also has 52 turnovers in four games.
WHAT IT COMES DOWN TO
The Pomeroy projection is Indiana by 7 with a 75 percent chance of victory and Sagarin also likes the Hoosiers by 7.
Indiana has started slow in nearly all of its games, which is a trend that the Hoosiers are going to need to reverse as the competition level ramps up significantly beginning Friday.
If Indiana can take care of the ball – and that's proven to be a big if so far this season – and also get the ball inside against the zone, the Hoosiers should be able to find some success against an Eastern Michigan team that is still adjusting to plenty of new faces.
Filed to: Eastern Michigan Eagles