Five takeaways from Indiana's win over Arkansas State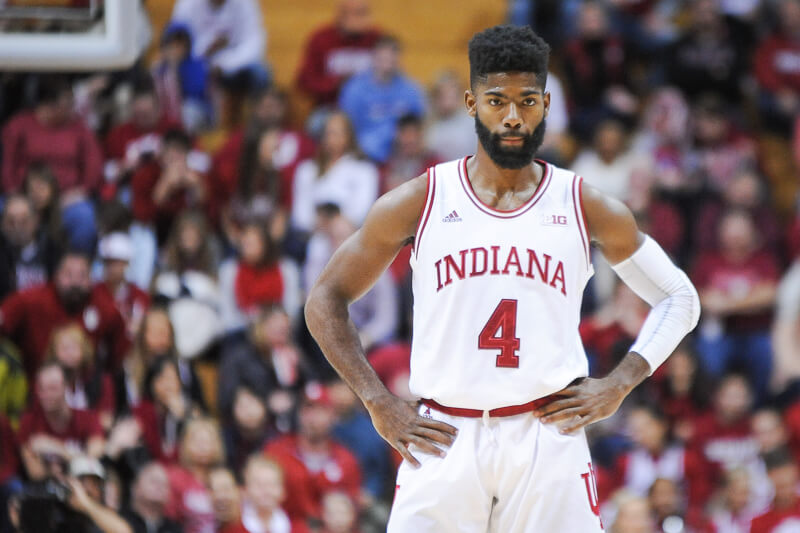 Indiana improved to 3-2 on Wednesday night with an 87-70 win over Arkansas State at Simon Skjodt Assembly Hall.
Here's a look at five takeaways from the win over the Red Wolves:
· No answer for Juwan Morgan: Indiana had difficulty early attacking the zone of Arkansas State, but once the Hoosiers were able to find Juwan Morgan consistently, the offense took off.
Morgan scored 15 of his career-high 28 points in the first half as Indiana built a 13-point lead. When Morgan wasn't finishing at the rim, he was drawing fouls and converting at the free throw line. He finished 9-of-11 from the field and 10-of-10 from the free throw line.
The 6-foot-7 junior has been relentless on the glass this season and through five games, he's in the top 100 nationally in offensive rebounding percentage according to Ken Pomeroy. Hustle has been a staple of Morgan's career in Bloomington thus far and he's taken it up a notch in his third season.
"I've always taken pride in it," Morgan said postgame. "Coming from my high school to here, I knew right away I wasn't going to be the man playing with Yogi (Ferrell) and Troy (Williams). And then the year after, James (Blackmon), Rob (Johnson), OG (Anunoby), Thomas (Bryant). I knew I was going to be in the background, but that's just fine with me.
"If I can get us extra possessions and everybody else shines, as long as the team is winning I'm fine with that."
· Taking care of the ball leads to efficient offensive performance: Turnovers were a major issue for Indiana in losses to Indiana State and Seton Hall. But the Hoosiers have shown that they're capable of taking care of the ball at times, which typically leads to good things.
Wednesday night, Indiana turned it over just eight times and had its lowest turnover percentage (11) of the season. The Hoosiers didn't have a turnover in the final 11:41. It was a major reason Indiana was able to post a season-best 1.23 points per possession.
Indiana's guards had just three of the eight turnovers and freshman Al Durham played his third straight game without a miscue. Durham has just two turnovers this season.
"He's probably one of the more poised people I've seen at such a young age," Morgan said. "Especially coming in playing in the big games. He's not rattled at all. I think that's a credit to who he is as a person."
· Shot blocking appears to be a strength for this team: The sample size is small, but one of Indiana's strengths through five games is shot blocking.
The Hoosiers had nine blocks on Wednesday and currently rank 16th nationally in block percentage, according to Pomeroy.
Sophomore De'Ron Davis is still struggling to avoid fouls, but his block percentage is currently up by over two percent over last season and his fouls per 40 minutes are down by 1.3.
· Johnson delivers big plays late: Robert Johnson struggled with his perimeter shooting in the win, but made key plays when it mattered most down the stretch.
Johnson finished with 10 points, but was just 4-of-12 from the field and 1-of-6 from behind the 3-point line. The poor shooting performance didn't affect the rest of Johnson's game as he added eight rebounds and two assists in 31 minutes.
"He made big, timely plays in the last four minutes, which is what you want your best players to do regardless of how tey're playing," Archie Miller said. "He did a good job. Played a lot of minutes. We're asking him to do a lot. He's a better shooter than he's shooting right now. That's the one thing. I think the law of averages will hopefully will come back around."
· Hoosiers still struggling to come up with 50-50 balls: Archie Miller got a technical in the win over South Florida after he threw down his towel when Indiana didn't grab a rebound.
Wednesday night brought a few more plays that Miller called "mind boggling" as Indiana failed to come up with loose balls.
"The ones that are really getting us right now that drive you crazy is when there's a loose ball on the ground and you have it and for whatever reason it ends up back in their hands and they shoot it," Miller said. "You reach, they don't, and you foul. First-to-the-floor type of plays. Loose balls, stuff like that that, we're not coming up with them. Whether that's a long rebound that bounces and they're just faster to it. But that's how you win tough games. You're able to get those 50-50 plays every time. You're able to tie the guy up on the floor and he doesn't get a foul on you or he doesn't shoot it.
"And that's just the identity and some of the things that we have to keep working on."
Filed to: Arkansas State Red Wolves