Five takeaways from Indiana's exhibition win over UIndy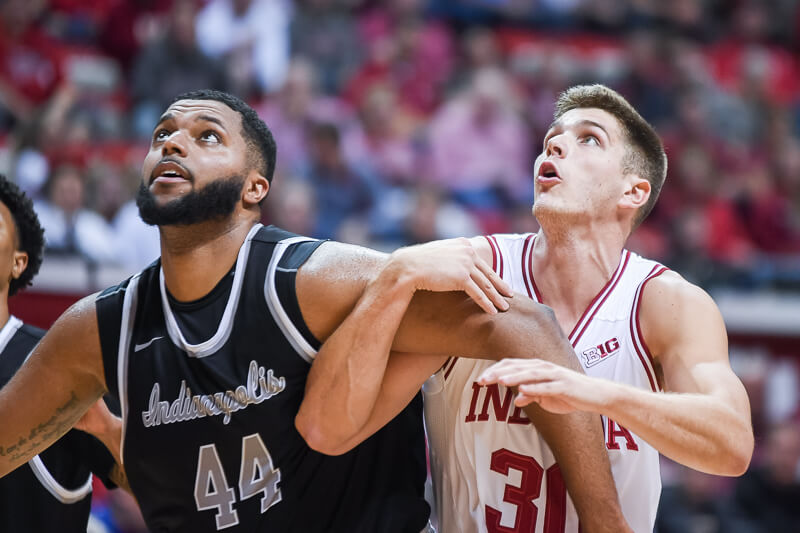 In the final tune-up before Friday's regular season opener, Indiana cruised past Division II UIndy on Sunday afternoon at Simon Skjodt Assembly Hall.
Here's a look at five takeaways from the 74-53 win over the Greyhounds:
· The return of Collin Hartman: The last time Collin Hartman put on a uniform for game action prior to Sunday was over 19 months ago when the Hoosiers lost to North Carolina in the 2016 NCAA tournament.
Hartman, who missed the Hoosier Hysteria scrimmage and first exhibition with an ankle injury, didn't waste any time after checking in at the 13:44 mark of the first half. Hartman hit a 3-pointer less than two minutes after checking in and finished with nine points in 16 minutes.
It was an important step for Hartman, who is expected to play a major role as a leader on Archie Miller's first Indiana team.
"It felt good," Hartman said postgame. "It's been over a year since I've been able to put this jersey on and play against somebody else with these guys. And it really felt good to get the first one under our belt and get the ball rolling."
· Eight turnovers and a turnover percentage below 13: When Miller took the reins in Bloomington in late March, one of the biggest on court challenges he faced was figuring out how to get his players to take care of the ball.
Through two exhibition games, Indiana is headed in the right direction. After turning it over 10 times for a turnover percentage of 13.8 in the first exhibition, the Hoosiers had just eight turnovers against UIndy for a turnover percentage of 12.8.
In his postgame comments, Miller said the goal is to stay under 10 turnovers, but added that shot selection is just as important.
"I think the one thing is the turnover number, eight, is always — anything under 10 is always what we're gunning for," Miller explained. "But if you add in six to eight bad shots in later-down-the-line games against good competition it's going to turn into offense on the other side of the ball. So we have to be a little bit more mindful in shot selection."
· Davis performs in extended minutes: De'Ron Davis wasn't accustomed to playing extended minutes as a freshman, but Indiana needs him to emerge as a 25-30 minute a game player as a sophomore.
Davis logged just 19 minutes in the first exhibition, but played 24 minutes in the win over UIndy. And for the most part, he was effective.
The Colorado native finished with 11 points, seven rebounds, five blocks and two fouls. The 24 minutes were the most he's played in an Indiana uniform.
"De'Ron will be a guy we gotta keep out on the floor," Miller said. "If he's able to play 24, 25 minutes a night, it's probably a good thing for him right now early. If he ever gets to be a guy that can play 30 then I think he's worked himself into game shape. De'Ron has to play in games to get in game shape, and thankfully, like I told those guys, we've got a ton of them coming."
· Johnson breaks out offensively: After scoring just six points on 3-of-13 shooting in last weekend's win over Marian, senior Robert Johnson was better offensively on Sunday afternoon.
Although he settled for a couple of 3s in early shot clock situations and hit just 2-of-7 from distance, Johnson put together an otherwise strong offensive performance.
He finished with a team-high 18 points and hit 5-of-8 on 2s. The Richmond (Va.) native also had just one turnover in 26 minutes.
As we wrote in his player profile last week, Johnson needs to figure out ways to get to the foul line more frequently. In 52 exhibition minutes, he attempted just three free throws.
· Rotation still a work in progress: With as many as 10 or 11 players who saw significant minutes through the two exhibition games, Indiana's rotation is still a work in progress as Friday's regular season opener looms.
The return of Al Durham and Collin Hartman saw Justin Smith, Zach McRoberts and Clifton Moore play less in the second exhibition. Miller said that the coaching staff will look at things this week to get a better idea on the direction forward for distributing minutes.
"I would love to get a little bigger if I could, and I also think it would help us rebounding-wise if we could get a little bigger on the perimeter when Justin is ready or even Zach for a little bit," he said. "But we're going to have to play it by ear here. I think as the game gets moving on, I'm more comfortable right now knowing who I want to put in and keep in and who I need to get out when I need to get out."
Filed to: Collin Hartman, Deron Davis, Robert Johnson, University of Indianapolis Greyhounds