Notebook: IU media day roundup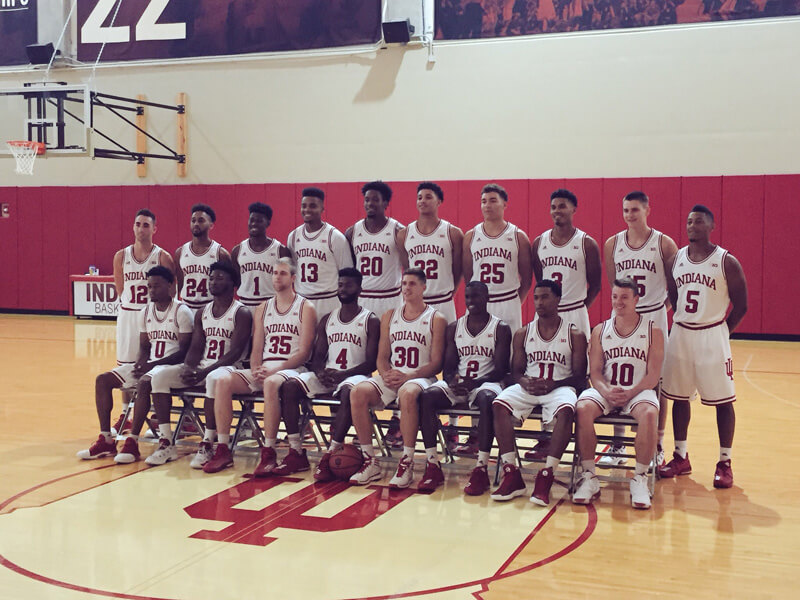 One day before the teams can officially begin practicing for the 2017-18 season, Indiana held its media day at Simon Skjodt Assembly Hall. Head coach Archie Miller was the first person up at the podium, and players soon followed.
Miller spoke for more than 25 minutes, touching on the FBI investigation, team expectations and more:
· Miller commented on the FBI investigation into college basketball, saying he had no knowledge of it prior to Tuesday. Miller is confident that Indiana will not be swept up in the turmoil. Inside the Hall has compiled Miller's complete comments regarding the FBI investigation.
· On Robert Johnson, "I've never seen a guy as motivated physically to be where he's at right now. He's probably the best-conditioned player that I've ever been around, and that's not to say our other guys aren't doing a great job."
· Miller said 75 percent of team workouts are focused on defense, but admitted it's going to take time for the defense to improve. "I don't expect on day one we're going to be the steel curtain, so to speak, but I think we're going to be a team that prides ourself on that. Our guys know that. And individual defenders will improve just like they do on offense."
· Regarding the point guard position, Miller sees Newkirk as the primary one, with three other players getting time: Robert Johnson, Devonte Green and Al Durham.
· Clifton Moore has added 14 pounds since arriving on campus and now weighs in at around 220 pounds. Miller believes Moore can contribute as a freshman, but that he'll have to improve his coordination. "He's like a slippery guy on ice skates out there at times, just getting his footing. But you've seen him go in big, big jumps week to week where he is. From a conditioning level, from a mobility standpoint, he's as gifted as any player I've ever been around, and I think that speaks volumes."
· Miller said he believes the primary scorers will be De'Ron Davis, Juwan Morgan and Robert Johnson.
· With this season's Big Ten schedule condensed and the non-conference slate filled with marquee games, Miller said it, "is probably as challenging of a schedule as anyone has probably ever faced…It's going to put a real tax on the bodies."
· Miller called Devonte Green an "east coast guard" with a lot of "city in his game." Miller said he's trying to tone the style down a bit, but raved about his ability to play both ends of the floor.
· Miller said redshirt freshman Race Thompson has to "rehabilitate, rebuild, and recondition his body," while noting that he has been impressed by Thompson's basketball IQ and passing ability. Miller also is confident that Thompson will become a 3-point shooter.
· As for De'Ron Davis, Miller spoke glowingly about his abilities on the offensive end and his improved conditioning, saying the team is going to make a concerted effort to feed Davis in the post.
Following Miller's presser and the team photo, 15 different players spent time at the podium answering assorted questions from the media (redshirt freshman Race Thompson, walk-on freshman Ethan Lasko and sophomore transfer Vijay Blackmon did not speak):
· Several of the guards stated that Archie Miller's experience as a collegiate point guard has been beneficial.
· Robert Johnson, "I think the energy he has when he comes around us, the fact that he played the game makes it easier, a little bit easier to relate to him."
· Josh Newkirk, " he can actually get out there and show us different things, how he wants it done. So he's real interactive with us on the court. So that means a lot. He played at the college level, so he can teach us a lot."
· Devonte Green, "He has a different kind of basketball IQ because he was a player, and he understands what works and what doesn't in certain situations."
· Junior Quentin Taylor remarked on Miller's emphasis on offensive spacing. "With the speed of the game as fast as it is, if you know guys are in the right spots, you kind of know what to expect.," Taylor said. "When you see the defense shift, you know what plays you should make. So he's teaching spots. That's helping us take care of the ball."
· After spending the 2016-17 season on the sidelines, fifth-year senior Collin Hartman conveyed a desire to be an on-court leader. "I've been through a lot of basketball in my life here at IU, so I know what it takes to win," Hartman said. "I know what winning looks like. So when I get the confidence up in my physical abilities again and get in the flow of the game and everything, then I can translate the vocal leadership to that and keep sharing it to these young guys."
· When Robert Johnson tested the NBA waters last spring, he said NBA scouts told him he needed to play point guard at a high level and become a reliable primary scorer.
· Juwan Morgan said he's seen a boost in confidence De'Ron Davis this summer. "He's more willing to go at people instead of just saying, oh, I'm too tired or just taking a couple plays off," Morgan said.
· Primarily a wing in high school, freshman Clifton Moore says Miller wants him to play more in the post. "In high school, I had free range to do whatever I want, but with Archie's organized system, I just have to learn where to be in the right place and how to run it correctly," Moore said.
Filed to: Archie Miller