An early look at Indiana's 2017-2018 backcourt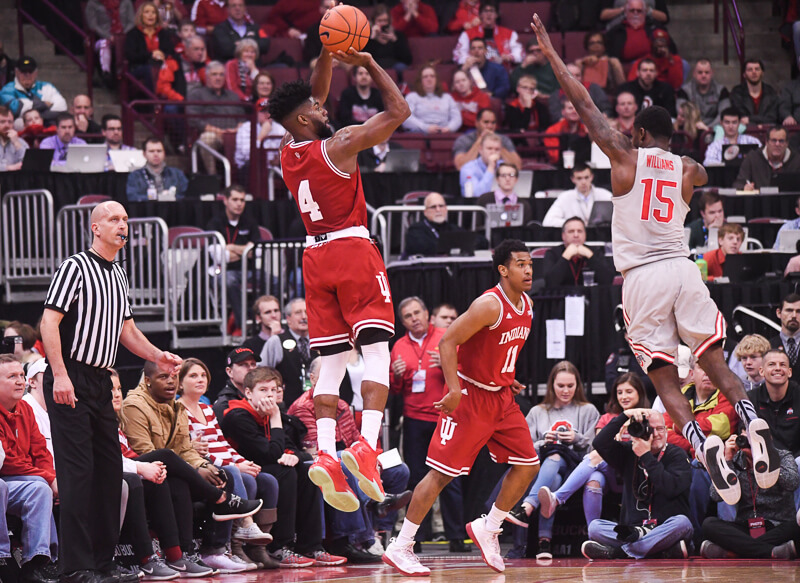 With the official start of practice less than a month away, the 2017-2018 season is growing closer. We'll have comprehensive player-by-player previews next month, but here's an early look at some of the storylines to keep an eye on with this season's backcourt:
· Johnson's time to lead: Robert Johnson arrived in Bloomington in 2014 as a consensus top 50 recruit. He'll surpass the 1,000-career points plateau early this season. He's been a steady presence in the IU rotation going back to his freshman season.
But Johnson is taking on a new role in the IU backcourt as a senior.
After deferring at times to Yogi Ferrell and James Blackmon Jr. over his first three seasons, Johnson will be expected to lead the Hoosiers on the floor in his final season while also adjusting to a new system under Archie Miller.
Over the summer, Miller lauded Johnson's work ethic and focus, which suggests he's ready to embrace his opportunity to lead.
"Through about four weeks, he's probably been about as focused of a basketball player that I've been around," Miller said. "He's all business right now. Really, really impressive kid. To watch him through about a four week summer period, he's really impressive. He's setting himself up to do what he wants to do which is have a great senior campaign for us."
· Will a sophomore break out? Curtis Jones and Devonte Green both had moments of success as freshmen, but weren't counted on to play major roles.
That should change this season with Blackmon Jr. moving on to pursue a professional career. Indiana will have to figure out a way to replace the production vacated by Blackmon Jr., who averaged 17 points in 30.5 minutes per game. Both were team highs.
Jones and Green can score and shoot from the perimeter, but they also have areas in which they'll need to show improvement as sophomores.
For Jones, it's improving his body and becoming much more reliable defensively.
And for Green, it's better decision making as his turnover rate as a freshman (28.8 percent) was the highest on the roster.
· How will Newkirk's role change, if at all? Josh Newkirk was put in an impossible position last season.
Newkirk was not only coming off an injury, but he also was tasked with replacing one of the best Indiana guards in recent history.
Although the Hoosiers did have a significant dropoff going from Ferrell to Newkirk, he improved as the season moved along. Newkirk showed himself to be a capable 3-point shooter (38 percent), but finished with a higher turnover rate than assist rate.
While he's still the incumbent at point guard on paper coming into the season, it's also a new era in Bloomington. Everyone has a blank slate and Newkirk is going to have to prove himself capable of beating out Green, Jones and freshman Al Durham Jr. for minutes.
How can Newkirk differentiate himself? Take better care of the ball, look to shoot less and defend at a higher level.
· Will Durham Jr. push for a rotation spot? If the Hoosiers go with a three-guard rotation regularly, it seems logical that freshman Al Durham Jr. will be a part of it.
But if that isn't the case and IU goes with a bigger lineup regularly, where will that leave Durham Jr.?
It's clear that Miller sees potential in Durham Jr., as he made it a priority to keep him in the fold after taking over for Tom Crean.
As a capable defender with length who can get into the passing lanes, Durham Jr. will have to defend well enough that the coaching staff simply can't afford to not play him.
And even though he's not known for his perimeter shooting, Durham Jr. will bring a different element offensively than IU's other guards. In his final season on the Nike Elite Youth Basketball League (EYBL), he was among the top five players in terms of drawing fouls and getting to the line.
Filed to: 2017-2018 season preview, Aljami Durham, Curtis Jones, Devonte Green, Josh Newkirk, Robert Johnson