Johnson helping to set the tone in IU's summer workouts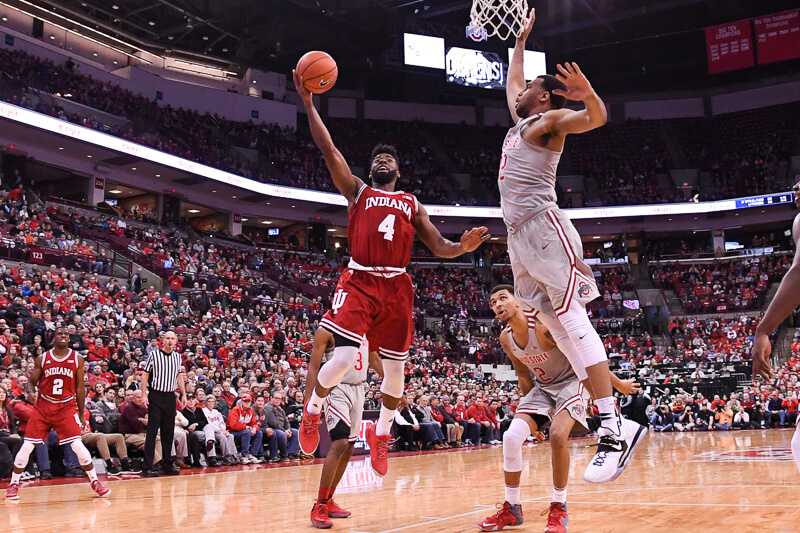 Five Indiana players were on campus for the first summer school session – Robert Johnson, Juwan Morgan, De'Ron Davis, Curtis Jones and Collin Hartman.
The additional returnees were expected back on campus this past weekend with the freshmen arriving on June 13.
By the middle of the month, Archie Miller and the Indiana coaching staff should have their first roster on campus, in classes and working out.
Through the first four weeks of workouts, IU's leading returning scorer is setting the tone for what Miller would like to see from the rest of his players as the summer moves along.
"We're excited for Rob," Miller said on Wednesday at Huber's Winery. "He's been great to work with. I think he's going to be an important deal as we move into the rest of summer as the guys look for somebody to see how we're doing things or how it's been going since they've been gone. He's giving them a great blueprint, I think, for when we start our second summer session."
As a junior, Johnson quietly put together a very solid season statistically. He started 32 of Indiana's 34 games and averaged 12.8 points, 4.4 rebounds and 2.5 assists in 29.4 minutes per game.
The Richmond (Va.) native entered his name in the 2017 NBA draft without hiring an agent and officially withdrew on May 22.
"He wanted the feedback, he wanted the information from people to see what he needed to do to improve," Miller explained. "I think that was his whole plan. I think that's what is really great about the rule. There's certain guys that really take advantage of it. He did."
After spending his first two seasons as a tertiary option in the backcourt and last season as a secondary option to James Blackmon Jr., Johnson will enter his final season in Bloomington as the team's backcourt leader.
Miller joked in his speech at Huber's that assistant coach Bruiser Flint has been trying to get Johnson to talk more and come out of his shell.
"He's one of those guys that sort of just goes to work and bang, he punches the clock and he's gone," Miller said. "He does his job, but we need Rob to step outside of his shell a little bit."
Miller also noted that Johnson has been "about as possessed of a guy" that he's been around the last few weeks and also said he's made an jump as a player "that we haven't seen in a long time."
Playing for the first time in an IU uniform without either Yogi Ferrell or Blackmon Jr. to defer to, Indiana will need Johnson to step forward in a major way as a senior.
"Through about four weeks, he's probably been about as focused of a basketball player that I've been around," Miller said. "He's all business right now. Really, really impressive kid. To watch him through about a four week summer period, he's really impressive. He's setting himself up to do what he wants to do which is have a great senior campaign for us."
Filed to: Archie Miller, Robert Johnson