Recruiting roundup: First July evaluation period in full swing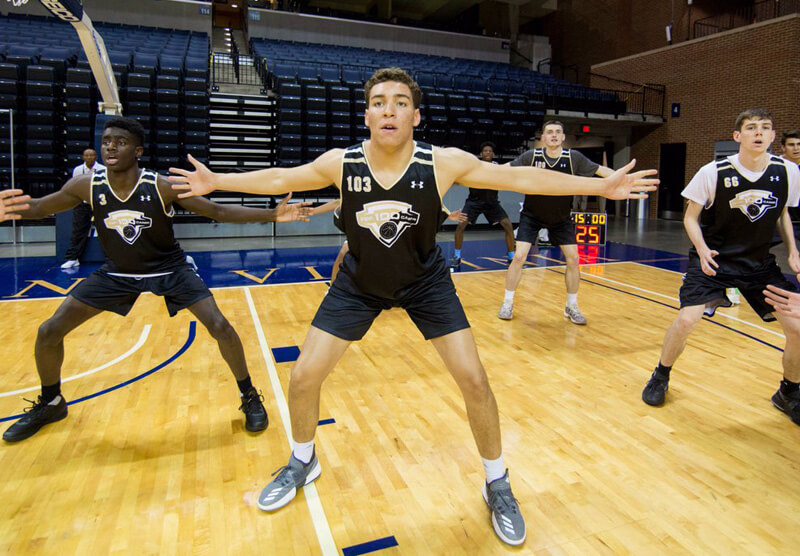 It's been a busy first two days on the recruiting trail for the Indiana coaching staff. Three major shoe circuit events are concentrated in the south (Nike's EYBL Finals at the Peach Jam in North Augusta, South Carolina, the Under Armour Association Finals in Atlanta and the adidas Gauntlet Finale in Spartanburg, South Carolina) and all four coaches have been active watching prospects at those events.
Here's a roundup of everything you need to know from the first day and a half of the first July evaluation period:
· Miller's early focus – adidas Gauntlet Finale: Archie Miller opened the evaluation period on Wednesday night in Spartanburg watching four-star forward Jerome Hunter, who has the Hoosiers in his list of five finalists. While the other four finalists on Hunter's list – Pittsburgh, Ohio State, Michigan and Xavier – were all represented, Miller was the only head coach in attendance.
There's a pre-existing relationship between Hunter and Miller as the versatile forward from Pickerington Central (Ohio) had an offer from Dayton during Miller's tenure there. Hunter was one of several prospects to attend Indiana's team camp in Bloomington last month and the fact that Miller made it a priority to see him on Wednesday night is notable.
On Thursday, Miller was again in Spartanburg where some of the prospects he watched were Robert Phinisee, Romeo Langford, Luguentz Dort, Race Thompson, David Duke and Matthew Hurt.
Phinisee is a well-known commodity to Indiana fans as he's the state's top point guard prospect in the 2018 class and a recruiting target going back to the previous coaching regime. Phinisee and Indiana Elite lost their opener on Wednesday in the adidas Gauntlet Finale to the Arkansas Hawks. Phinisee was just 2-of-9 from the field and finished with eight points, eight rebounds and three assists in 28 minutes.
Thompson, who took an official visit to Bloomington earlier this summer, appears to be closing in on a decision. According to this piece from The Minneapolis Star-Tribune, Thompson has zeroed in on Indiana, Minnesota and Iowa State:
"I'll make my decision sometime after the AAU season, but I'm not sure when exactly," he told the Star Tribune on Wednesday. "I'm not sure if I'll take an official visit to (Minnesota and Iowa State), because I've already been there."

The only official trip that Thompson has made so far is to Indiana in June. He also made an unofficial to Michigan last month. Thompson downplayed the significance of the Hoosiers being the only official so far, but he really was impressed with their campus in Bloomington.

"It was an official just because it was easier," Thompson said. "I wasn't going to take an unofficial and then come back again and take an official. So we just changed it. … That campus is a really nice campus. Good school. Great facilities. I like the new coaching staff a lot. Even with a new coach (Archie Miller) I think they're still going to be a top team in the Big Ten. They're pretty much always tough to beat and have some of the best fans in the country. I don't think the culture will really change. Playing in front of that many people I don't think you can't (be excited)."
On Thursday, Thompson had 10 points as D1 Minnesota beat Karolina Khoas, 73-60. Thompson's teammate and fellow IU recruit target Michael Hurt had 27 points and 11 rebounds in the win.
Langford, fresh off a trip to Cairo, Egypt for USA Basketball's U19 team, played limited minutes on Thursday in a pair of contests. In an early afternoon loss to AC Georgia, Langford had six points in just 11 minutes. Twenty Two Vision rebounded to win later in the afternoon and beat Chuck Hayes Basketball, 53-42. Langford played just 12 minutes and scored five points. Given the rigorous travel schedule this month for the five-star prospect and the fact that he battled a sore back in Egypt, the limited minutes probably shouldn't be a surprise.
Dort and Brookwood Elite rolled to a 92-75 beatdown of Ohio Basketball to open Gauntlet play on Thursday afternoon. The borderline five-star prospect, a native of Canada, had 13 points in the win.
Duke, a four-star point guard prospect, only had two points in seven minutes in a 64-54 loss to the Atlanta Celtics on Thursday.
Later Thursday night, Miller slid over to the UA Association open finals to get a look at Ben Davis forward Aaron Henry, who added offers from Xavier and Nebraska late last night. Assistant coach Ed Schilling watched Henry on Wednesday night and it appears the staff is taking a hard look as it determines whether or not to extend a scholarship offer. Henry and Team Harris, who played on the adidas Gauntlet silver circuit back in the spring, shifted over to play in Under Armour's open finals for the first July evaluation period. That event features teams from various shoe circuits.
Schilling spent Wednesday night in Atlanta where Eric Ayala and Moses Brown are also playing.
· Flint, Ostrom open at Nike EYBL Finals at the Peach Jam: Associate head coach Tom Ostrom along with Bruiser Flint were at the Nike Elite Youth Basketball Finals at the Peach Jam on both Wednesday and Thursday, according to our freelancer Jacob Savage, who is attending the event.
On Wednesday night, Savage spotted the IU coaches at the Bradley Beal Elite vs. PSA Cardinals contest. Bradley Beal Elite features five-star point guard Darius Garland. Adam Zagoria had a comprehensive update on Garland, who appears to be seeking out some package deals for the next level:
Garland says he'd like to play with Jones in college, and the two could theoretically complement each other with Garland as more of a combination guard. In that way, they could be similar to how Duke used Quinn Cook and Tyus Jones, Tre's older brother, who is also here at the Peach Jam supporting his brother.

"I mean, it's a lot of us who are trying to make a package deal out of each other," Garland said.

"Cameron Reddish, Tre Jones, me and Marvin, we played together a few years back so we've been talking about it. Me and Romeo [Langford] have a really good connection, so I'm trying to get him over with me, too. Wherever I go, I want him to come with me."
Indiana did get a mention from Garland in the update along with Duke, Vanderbilt, Kansas and UCLA.
Flint was also spotted on Wednesday night watching Meanstreets (Damezi Anderson), as well as Nike Team Florida (Trendon Watford) vs. Boo Williams.
Ostrom watched Howard Pulley, a Minnesota-based program go head-to-head with MoKan Elite. One name from Howard Pulley to keep an eye on is Gabe Kalscheur, a 2018 shooting guard from the Minneapolis area.
On Thursday, five-star prospect Louis King, who is playing at the nearby Peach Invitational, got an Indiana mention in an update from Zagoria over at Zagsblog.com.
Later Thursday night, Savage spotted Flint at BABC vs. CP3 All-Stars.
There was one notable update Thursday in regards to a highly coveted five-star prospect in the class of 2019. Team Penny's James Wiseman listed the Hoosiers, Kentucky, Kansas and Duke as schools he wants to visit soon:
2019 five-star forward James Wiseman is taking an unofficial to #Indiana this month & wants to visit #Kentucky #Kansas #Duke in the fall.

— Krysten Peek (@KP_Rivals) July 13, 2017
Filed to: Damezi Anderson, Darius Garland, David Duke, James Wiseman, Jerome Hunter, Louis King, Luguentz Dort, Matthew Hurt, Race Thompson, Robert Phinisee, Romeo Langford