Johnson uses NBA draft process as learning experience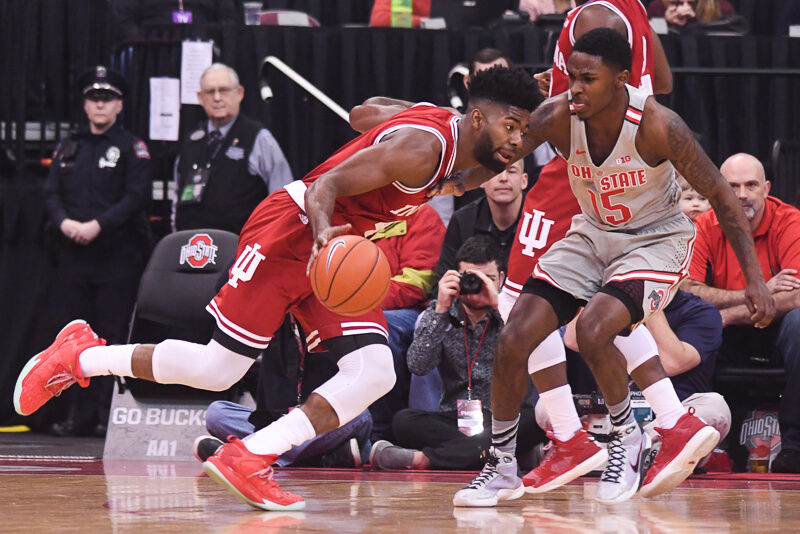 Robert Johnson wanted to hear directly from NBA teams.
In a move that was surprising to some, Johnson declared for the NBA draft without hiring an agent in April before officially withdrawing his name on May 22.
It was a risk-free move that wouldn't have been possible a couple of years ago, but a rule change that took effect in the spring of 2016 now allows players to test the NBA waters without risking their eligibility.
And that's exactly what Johnson did.
"I think I got a lot of good feedback as to what I need to work on, things I need to show going forward," Johnson said Tuesday in his first public comments since withdrawing his name from the draft process. "So I think it's just good to have those things in mind as you try to progress."
Johnson, who averaged 12.8 points, 4.4 rebounds and 2.5 assists per game as a junior, has helped set the tone this summer as Archie Miller builds his first Indiana team.
In late May, Miller said that Johnson was "probably been about as focused of a basketball player that I've been around," and commended the senior guard for his decision to seek feedback from the NBA.
"He wanted the feedback, he wanted the information from people to see what he needed to do to improve," Miller said. "I think that was his whole plan. I think that's what is really great about the rule. There's certain guys that really take advantage of it. He did."
The next step for Johnson is taking the feedback and implementing it into his game. One question that Johnson needs to answer in the eyes of the NBA: Can he play point guard?
It's a question that he hasn't answered over his first three seasons as Yogi Ferrell held those duties his first two seasons and Josh Newkirk was the primary point guard last season.
"A couple things that they talked about was they wanted to see if I could play point guard at a high level," Johnson said Tuesday. "And have the ability to run a team, and just be more consistent throughout the year."
The consistency piece will be important for Indiana next season as the Hoosiers seek to replace three players who left early for theNBA. Johnson will be the team's leading returning scorer.
As a junior, he finished second on the team in scoring average and was also second in assists. But he also tied for a team-high in turnovers at 2.3 per game.
The Hoosiers have struggled with turnovers in recent seasons, but will look to reverse the trend under Miller. Several Indiana players acknowledged on Tuesday that cutting down the turnovers has already been a major focus in offseason workouts.
And Indiana will need Johnson to be one of the leaders in that regard.
"I think it just all comes down to decision making," he said. "Making the simple play right when it's available and just doing that over and over again."
Filed to: Robert Johnson