Indiana "hitting the home stretch" in finalizing non-conference schedule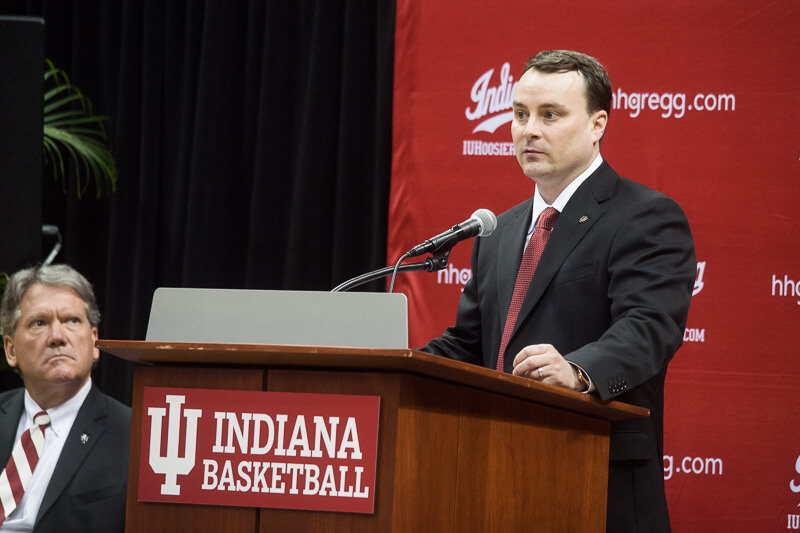 Nearly 50 schools have announced their complete non-conference schedules for the 2017-18 season. It appears Indiana will soon join the list.
On Tuesday, Indiana coach Archie Miller said the program is "hitting the home stretch" in terms of finalizing the non-conference slate for next season.
Scheduling for next season is a challenge for Big Ten programs with the conference tournament moving up one week and two conference games being played over three days in early December.
In addition, Miller and his staff inherited a blank slate and weren't able to get a start until late March.
Besides games already scheduled with Louisville and the Crossroads Classic as well as the Big Ten-ACC Challenge and the Gavitt Games, Indiana had as many as nine games to schedule.
"When you look at the early stretch, we're really going to be taxed by a three or four week period," Miller said. "Not only are we going to be jamming games away, but we're not going to be home as well. So it's going to be very, very taxing in terms of getting through November and early December.
"It will be as many games played at a high level for us in that period of time, maybe upwards of five, to six, seven games played against top 15 or top 25 teams. So we're going to know where we are heading into December and then we've got to jam some more in."
The addition of the two Big Ten games in early December means that Indiana could play 15 games by the start of the new year. The first date of competition for next season is Friday, November 10. The NCAA is considering moving up the start of the season by a couple of days in future seasons.
The other challenge Miller must address is what to do with the time off between the end of the Big Ten tournament, which will be played February 28-March 4 at Madison Square Garden, and the NCAA tournament.
The first round of the NCAA tournament begins on Thursday, March 15 next season. Big Ten teams that make the NCAA tournament will have at least 10 days off between games.
Based on Miller's comments on Tuesday, it does not sound like Indiana will schedule a game between the Big Ten tournament and postseason play.
"I think a lot of things have been thrown out, like whether you save one of your exhibition games and play somebody so you stay sharp or save a non-conference game at that point in time. There is so much risk as you're heading into postseason play. I think the Missouri Valley has done it here for a while, and the Wichita States of the world take that week off. They sharpen themselves up and improve and try to get as fresh and healthy as you can. I don't think that's all bad either.
"I think as we look at it for the first time here, that week in between or whatnot, we use it as a time to regroup, refresh, and hopefully get a little better at a time of the year when you don't get much."
—
Confirmed games for Indiana's 2017-18 schedule
· vs. Howard at Assembly Hall on Sunday, Nov. 12
· Gavitt Tipoff Games: at Seton Hall on Wednesday, Nov. 15
· vs. South Florida at Assembly Hall on Sunday, Nov. 19
· vs. Arkansas State at Assembly Hall on Wednesday, Nov. 22
· vs. Eastern Michigan at Assembly Hall on Friday, Nov. 24
· Big Ten-ACC Challenge: Duke at Assembly Hall on Wednesday, Nov. 29
· vs. Louisville at KFC Yum! Center on Dec. 9
· Crossroads Classic: vs. Notre Dame at Bankers Life Fieldhouse on Dec. 16
· vs. Youngstown State at Assembly Hall on Friday, Dec. 29
Filed to: 2017-2018 non-conference schedule, Archie Miller