Down 20 pounds, De'Ron Davis making "excellent" offseason progress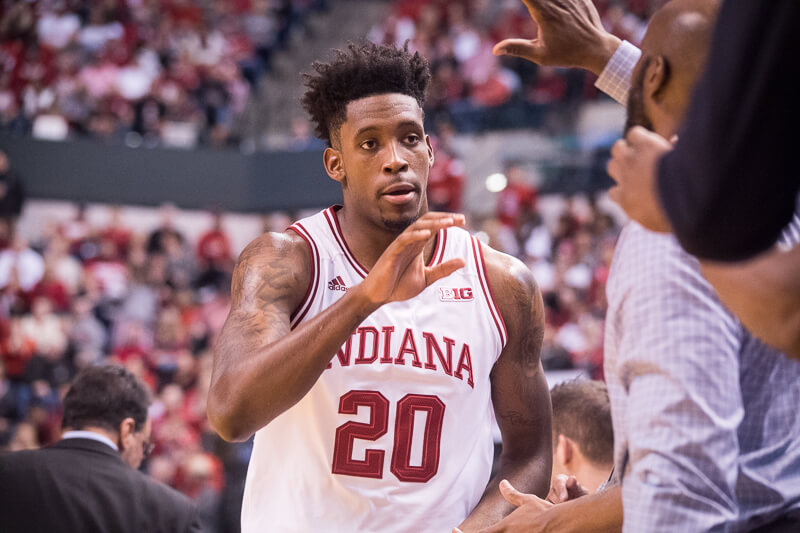 De'Ron Davis will have a new look to unveil to Indiana fans when he takes the floor in Simon Skjodt Assembly Hall next fall.
The 6-foot-10 forward, who weighed 271 pounds at the beginning of the offseason, is down 20 pounds. He committed to spending the summer in Bloomington, a move that is paying off.
"Excellent progress," Archie Miller said Tuesday. "He's done a great job in the classroom. He's done a great job in terms of when we first started we have to get a couple things done before we can start talking about basketball, and that was conditioning and his body. And he's done a fantastic job there."
Miller added that Davis is currently "right where he should be" in terms of the offseason plan that was talked about back in late April.
With the help of Clif Marshall, IU's director of athletic performance for men's basketball, Davis is reshaping his body this offseason. His teammates commented Tuesday that Davis is more agile and lighter on his feet. Miller said he's moving and jumping "as good as he ever has."
The transformation has come as a result of Davis changing his diet and also staying injury free.
"Been a lot of struggles, but in the long run it's helped my body," Davis said. "I feel good. I don't have any injuries right now. I feel really good on the court, I feel light and explosive, and I'm just ready for the regular season to start."
Davis said he hopes to play next season at a weight between 247 and 250 pounds. He played his senior season at Aurora High School at 245 pounds.
The improved diet for Davis has also rubbed off on teammates like Juwan Morgan, who said it wasn't always a focus previously.
"A lot of us have made changes with him," Morgan explained. "I know myself, I probably eat bad three out of the seven days a week. Then I saw what De'Ron was doing with his body and said, why not? And just joined along with him."
As a freshman, Davis had the highest usage rate on the roster, but his minutes were limited because of the presence of Thomas Bryant, his conditioning and his inability to play without fouling.
According to Ken Pomeroy's advanced statistics, Davis averaged seven fouls per 40 minutes last season. He acknowledged Tuesday that some of the fouls were a result of fatigue.
Davis also hopes that losing weight will help eliminate some of the smaller injuries that he battled as a freshman.
"I'm able to get up and down the court faster," he said. "I've been working on my conditioning, trying to help me stay in games longer, play more minutes. It just makes me feel better. It takes away a lot of the injuries that I had last year. So me being 20 pounds lighter, those injuries — those little knickknack injuries, you don't see too much."
Filed to: Deron Davis