Hartman takes next step in rehab with clearance for contact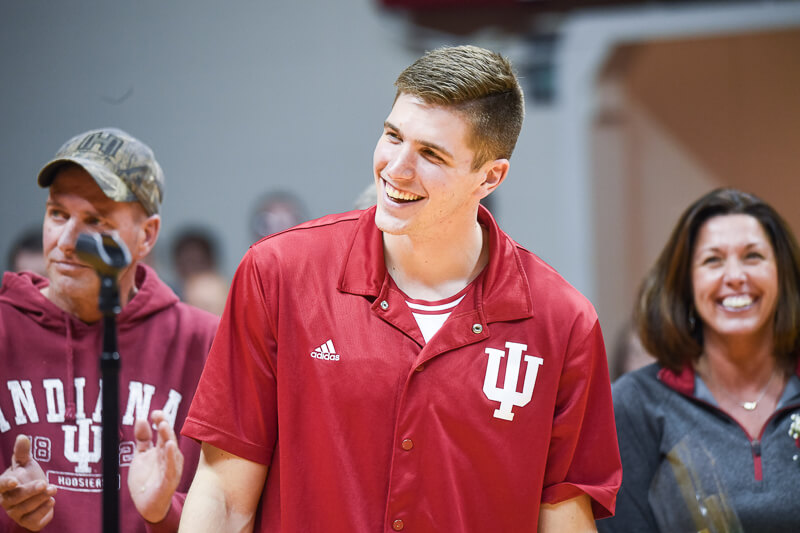 Collin Hartman took the next step in returning to the floor this fall in Bloomington when he was cleared for contact earlier this week by the IU medical staff.
Hartman missed the entire 2016-17 season after suffering a non-contact right knee injury in a workout last September. His absence was a major blow to Indiana's frontcourt depth as well as the team's leadership last season.
"As we approach these team workouts we'll be very, very smart with him," Archie Miller said Tuesday. "There is no real reason to speed him up. But I think confidence-wise, mentally and physically, he feels as good as he's felt in a long, long time."
This is the second major injury Hartman has rehabbed from during his Indiana career. Hartman tore his left ACL following his freshman season.
"We have taken this process somewhat slowly," Hartman said. "We have been very diligent in the rehab and really staying safe, taking the time that we have. There is no need to push into contact and risk a third injury. It has been good to take those steps forwards and see the progress."
Thus far, Hartman said the primary contact he's taken has been against pads in workouts. Indiana is undergoing full team workouts this week in Bloomington.
With the start of practice still several months away, the plan is to continue bringing Hartman along slowly.
"We'll continue to take him slow, but he's ahead of schedule just in terms of where he's supposed to be," Miller explained. "Doing what he's going to do, and the way he's handled things in this off-season, he's given himself a chance to kick off October, November, full go."
Hartman, who has averaged 4.1 points and 2.7 rebounds in 83 career games, acknowledged that there will be an adjustment period over the coming weeks and months as he gets back on the floor with his teammates.
"I have to think about other people now when I do contact," Hartman said. "Throughout rehab, and I've done this twice now, you're not thinking about anybody else. You control your own body movements and that's it.
"But after you get in contact, you have to be get back into the physicality of the game and you have to think about other people's movements and read them and that's not all just based off you now. So it's really reactionary and reprogramming my body and my muscles to be able to react and be more explosive."
Filed to: Collin Hartman