Five-star class of 2019 forward Trendon Watford talks recruiting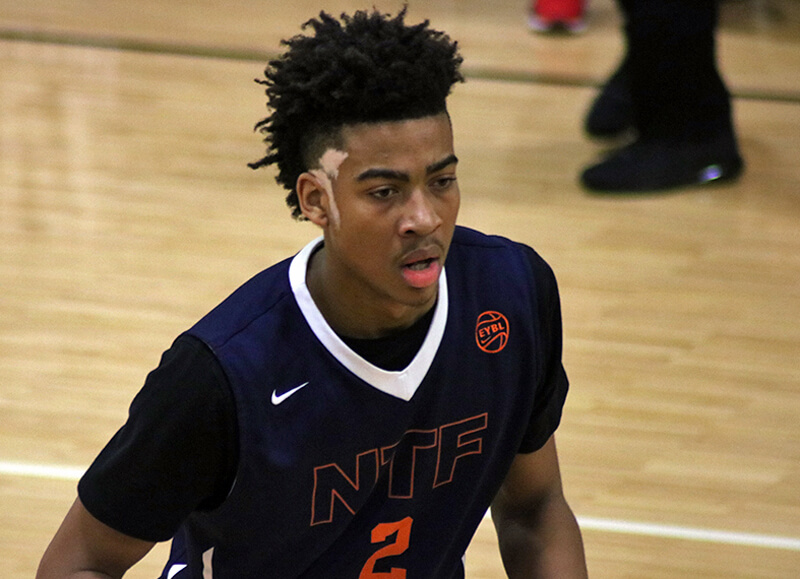 WESTFIELD, Ind. – Class of 2019 Mountain Brook (Ala.) forward Trendon Watford is back on the Nike Elite Youth Basketball League (EYBL) circuit this year with a new team.
After playing on the circuit last season with the Alabama Challenge, Watford, the younger brother of former IU forward Christian Watford, is suiting up this spring and summer with Nike Team Florida.
Through the first two EYBL sessions, Nike Team Florida is 4-4 and has some work to do to solidify a spot in July's EYBL finals at the Peach Jam.
"This is only our second event playing with each other," Watford said on Saturday following a narrow loss to Expressions Elite. "I feel like we're going to gel together and go from there."
As a sophomore at Mountain Brook, Watford was the runner-up for Mr. Basketball in Alabama. In eight EYBL games this spring, he's averaging 11.5 points, 3.9 rebounds and 1.5 assists per game.
At 6-foot-8 and 215 pounds, Watford is a versatile forward who can take smaller opponents inside and also handle the ball and shoot from the outside. The 247Composite ranks him as the No. 12 player overall in the 2019 class and a five-star prospect.
Indiana, which Watford said was not previously involved in his recruitment, reached out following the coaching change in March.
"They reached out to my brother about me a couple of weeks ago," Watford explained. "When Archie Miller first got hired."
Christian Watford and Victor Oladipo were both at the EYBL on Saturday evening at the Grand Fieldhouse watching Watford and Nike Team Florida. Oladipo played for Team Takeover, another EYBL program.
If the Hoosiers are going to become a serious player in his recruitment, there's ground to make up.
Alabama has been involved with Watford for several years and is the school the family grew up following. Kentucky, Arizona, Kansas and North Carolina were the other four schools he mentioned on Saturday.
"We're just enjoying it right now," Watford said of his recruitment. "We're just trying to see which school is going to be the best fit for me."
The Crimson Tide have a strong recruiting class coming in next season, headlined by Alabama Mr. Basketball John Petty and five-star guard Collin Sexton. Their coaching staff is making Watford a clear priority in 2019.
"They were the first school to recruit me, basically," Watford said. "If I'm ready to commit right now, I can. Coach Avery (Johnson) and coach (Antoine) Pettway, they're always on me."
Per NCAA rules, schools can't reach out directly to class of 2019 prospects until June 15.
"I haven't cut a list yet. I'm just enjoying the process right now," he said. "I'm open to any school that wants to recruit me. Just seeing how I can come in and impact a school, that's the biggest thing. Just seeing how I can affect a program and which school can help get me to the next level."
Filed to: Trendon Watford