Four-star forward Cole Swider breaking out in EYBL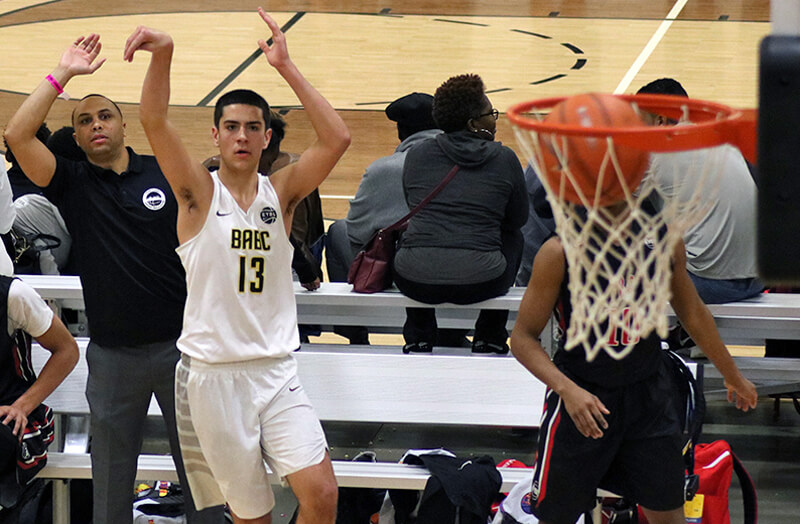 WESTFIELD, Ind. – Four-star 6-foot-8 small forward Cole Swider was far from one of the most recruited players entering this year's Nike EYBL Circuit, but it didn't take long for him to make a name for himself.
The Barrington, Rhode Island native is ranked 143 in the 247Sports composite for the class of 2018. Swider shot the lights out at session one of the Nike EYBL Circuit in Hampton, where he hit over 50 percent of his attempts from three and averaged over 20 points a game. As a result, major schools began to take notice.
But Swider isn't just a prolific shooter for Boston Amateur Basketball Club. Through eight games of the EYBL, he's averaging six rebounds, 1.9 steals, 0.8 blocks in 27.8 minutes per game.
The four-star forward has been on the radar of those in the Rhode Island area for awhile, but it wasn't until recently that most began to take notice. Since the conclusion of the first EYBL session, Swider has earned offers from Texas, Florida and Indiana.
"Archie Miller called my dad. He saw me play last weekend and thought I played really well," Swider said. "He talked to my dad for like 20 minutes and then my dad handed the phone over to me. Archie said 'I loved your game and I loved your toughness, I'd like to offer you a scholarship.'"
Swider says Miller has texted him daily since offering him. With there being as many as six seniors on the 2017-18 Indiana team, Miller believes Swider can be a crucial part of his first true recruiting class.
"(Miller) wants me to come in and be the foundation for what he's going to be at Indiana," Swider said. "2018 is his first class, he said we're going to bring in 5 or 6 guys and he wants me to be the centerpiece."
But with Miller just over a month into the job, he's forced to play catch-up on Swider's recruitment.
Swider plans to cut his list down to 10 or fewer schools within the next week, with only schools that have been texting him daily making the cut.
"A place where I can come in and play right away," Swider said of what he's looking for in a school. "A place that can develop me and help me get to that next level. Where I'm really comfortable with the coaching staff."
Right now, Xavier appears to be one of his early favorites. The Musketeers were one of the first schools outside of the east coast to offer Swider, and he speaks glowingly of the program.
"Every day," Swider said of his contact with the Xavier staff. "Since JP (Macura) and Trevon (Bluiett) are going to graduate, I would get to come in and play right away. It's great to hear, I mean, they made it to the Elite 8 this year."
As for the recruiting process in general, Swider is doing his best to embrace all of the new attention he's receiving.
"It's stressful sometimes, but I wouldn't have it any other way," Swider said.
Filed to: Cole Swider