"A better finish" the goal as Hartman continues to work toward return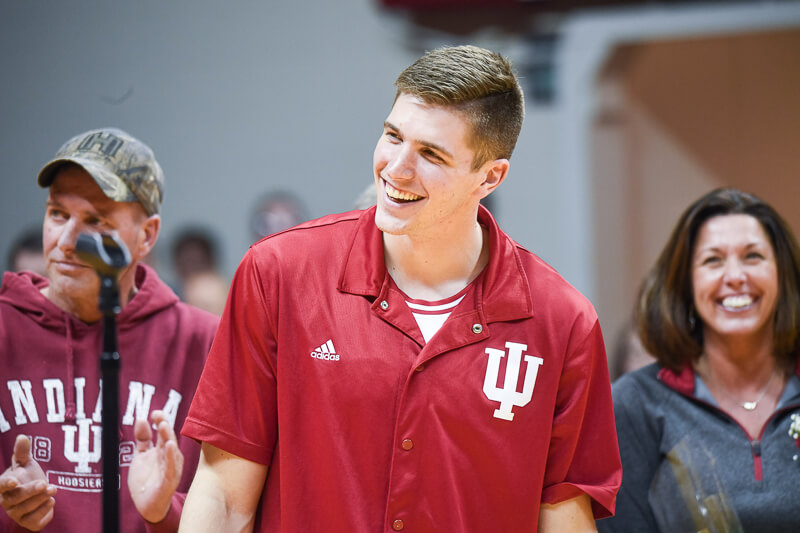 Indiana could have as many as six seniors on next season's roster, but one player will stand above the rest in terms of experience: Collin Hartman.
The Cathedral product announced last month that he will return to Bloomington for a fifth season after missing the entire 2016-17 campaign with a knee injury.
A member of Indiana's 2013 recruiting class, Hartman will be the only member of that six-man group to exhaust all of his eligibility in Bloomington.
For Archie Miller, retaining a player with the experience level and talent of Hartman was a major coup. As a junior, Hartman started 24 of IU's 35 games and averaged five points and 3.1 rebounds per game.
"Everything that stands out, everything that was told to me about him as a person, as a leader, he's a key cog in the program's wheel was true," Miller said on Tuesday. "It didn't take long to figure out what he's about, what he's been through, and what he wants to be about now is, I think, a better finish. An opportunity to help establish something here on the front end where he can be attached to something new."
Hartman suffered a right knee injury last September in a workout, his second major injury during his time in Bloomington.
Following his freshman season, Hartman suffered a torn left ACL in a workout. He also battled a right wrist injury down the stretch during Indiana's 2015-16 season. He played three 2016 NCAA tournament games with a fractured wrist, including a 73-67 win over Kentucky.
Hartman dressed for Indiana's home finale last season against Northwestern and also participated in shooting drills prior to several home games during Big Ten play.
The 6-foot-7 forward, who got engaged during his senior night speech on February 25, has been a participant in workouts with the new coaching staff this spring.
"He participated in workouts this spring," Miller said. "He didn't miss one. He was available for every workout. He's sort of on an every other day approach, not an everyday approach. We limited all contact in the spring. He was basically in a functional basketball workout setting, no competition. I'm not in a rush. I don't think anyone's in a rush to put him in a situation. The goal will be for him in November to feel as good as he can when we get ready to start the season."
Staying focused through rehab is nothing new for Hartman or his mom, Melissa Compton. Last fall, Hartman said that he frequently speaks to his mom, who has undergone seven knee surgeries of her own, about tips to get through the process.
According to Miller, Hartman's rehab process remains on track, but there's also a long way to go.
"He's chosen to stay here all summer and continue to rehab and stay on campus with our staff," Miller said. "So I think that's going to be a big, big help for us as we continue to build towards the summertime when everybody's here. He's going to have a really good feel for what we're doing."
Filed to: Archie Miller, Collin Hartman