Four-star forward Race Thompson talks new Indiana interest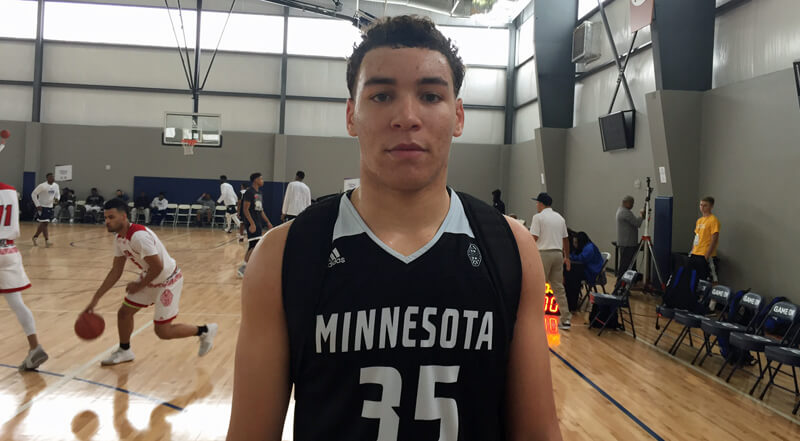 FORT WORTH, Texas – Indiana has entered the mix with a four-star forward from the Minneapolis area.
Race Thompson, a 6-foot-8 forward who plays for D1 Minnesota on the adidas Gauntlet circuit, was visited recently by new assistant coach Tom Ostrom.
Ostrom, a University of Minnesota graduate, has strong ties to the area and recruited the state's 2017 Mr. Basketball, McKinley Wright, while at Dayton under Archie Miller.
"They came and saw me at school the other day," Thompson said. "He's a good guy. I like him. It was a quick talk so I didn't get to know him that well yet."
In terms of his familiarity with Indiana, Thompson said he's just beginning to learn about the program given that they're the most recent school to enter his recruitment.
"I don't know a lot about it yet," he said. "I know they've got a good atmosphere and good fans. They always have a good program. That's the main thing, really."
Over four games at the first adidas Gauntlet stop at GameOn Sports, Thompson averaged 13.3 points, seven rebounds and 2.8 assists per game. He was watched several times by the Indiana coaching staff.
Thompson is the No. 73 prospect nationally according to the 247Composite and a four-star prospect. He has a strong list of high major offers, which includes Minnesota, Marquette, Iowa State and several others.
Many schools are recruiting Thompson because of his ability to stretch the floor as a four-man.
"Being able to stretch the floor out (is a strength)," Thompson said. "Being able to take the ball up the court. And they tell me I'm a good passer, I see the court really well, I think. That's the main thing is just being versatile, pretty much.
"I think that's one of the biggest parts of my game, being able to stretch the floor out."
Thompson said he plans to make a decision sometime in the fall, but will narrow his list of schools to four or five before doing so. His father, Darrell, is a former NFL running back who played football at the University of Minnesota.
He told reporters at the Gauntlet that right now Minnesota is "the same with everybody else" in terms of their standing in his recruitment.
The versatile forward said he'll take several factors into consideration when evaluating schools, but a family atmosphere will be important.
"I want to fit in the style of play," Thompson said. "I want to feel like I'm at home. That's the main thing. Feel like I'm at home and like a family in the locker room."
Filed to: Race Thompson