That's A Wrap: De'Ron Davis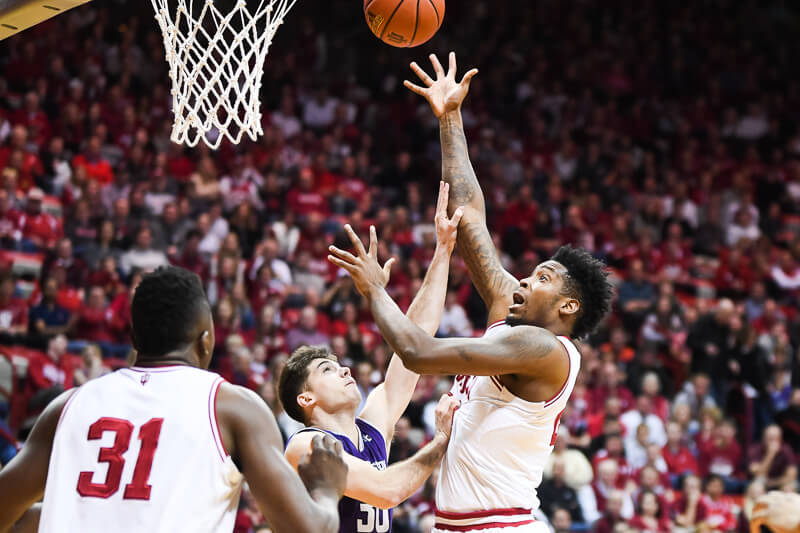 Welcome to "That's A Wrap," our player-by-player recap of the 2016-2017 Indiana Hoosiers. Up next: De'Ron Davis (Previously: Devonte Green)
Davis (34 games): 5.9 points, 3.1 rebounds, 0.7 blocks, 48.8% FG, 75.6% FT in 13.9 minutes per game.
De'Ron Davis was playing catchup from the start of his freshman season in Bloomington.
The Aurora (Colo.) product didn't arrive on campus until late August as he finished up academic requirements back home to become eligible. Fellow freshmen Grant Gelon, Devonte Green and Curtis Jones had the benefit of spending the summer on campus getting acclimated to college life and working out. That extra time is typically a major benefit to incoming players.
Things didn't get easier from there for Davis. He battled nagging injuries into the fall that had him in and out of practice, according to Tom Crean.
But despite missing the summer and the injury setbacks he had to work through, Davis was a force in the paint for the Hoosiers when he was on the floor as a freshman.
In the season opener against Kansas, Davis scored just four points in seven minutes, but knocked down a pair of crucial free throws with 42 seconds left in overtime to give the Hoosiers a four-point lead. In a loss to Wisconsin at home on Jan. 3, Davis was the primary reason Indiana was able to keep things close in the second half. Ethan Happ had no answer for him defensively as he scored 12 points in 18 minutes.
And in IU's Big Ten tournament blowout victory over Iowa, Davis went a perfect 7-of-7 from the field on his way to a career-high 15 points.
Davis scored in double figures just six times, but he used the highest percentage of possessions of any Hoosier while on the floor at 24.1. While there may have been a narrative advanced by some that IU didn't utilize the post enough under Tom Crean, the numbers show that touches weren't a problem for Davis. His efficiency in post-up possessions, according to Synergy Sports, was solid as he scored 78 points in 101 possessions, but is certainly a mark he can improve upon as his career moves along.
Offensive rebounding is another strength for Davis as he finished the season with an offensive rebounding percentage of 13.8. He didn't have the minutes to qualify, but that number would have ranked as the fifth best among Big Ten players. According to Synergy, Davis scored 1.31 points per possession on offensive rebounds. That number ranked in the 83rd percentile nationally.
The good news for new coach Archie Miller is that Davis appears to be committed to seeing things through in Bloomington. His high school coach, Danny Fisher, said Davis plans to remain in Bloomington. Having a potential All-Big Ten player and former top 50 recruit on the roster will be a huge boost for Miller in building his first IU roster.
Bottom Line: Davis should benefit from having a full offseason in Bloomington to improve upon his conditioning as he enters his sophomore season. His minutes were at times referenced to as "hockey shift" as a freshman because he simply wasn't in the shape to play for extended stretches. He'll also need to work on defending without fouling as his fouls per 40 minutes (7) were the highest on the roster. Ultimately, the upside for Davis should excite IU fans for his future. He's already one of the most polished post players in the Big Ten and has the potential to quickly develop into an All-Big Ten type of player.
Quotable: "He's very, very hard to guard, and he's got great feet, great hands, great eyes. He can pass the ball. We want him to do a lot of passing now and we're not doing enough cuts to get those passes." – Crean on Davis following IU's loss to Michigan on Feb. 12 in Bloomington.
Filed to: Deron Davis