Coaching search profile: Chris Holtmann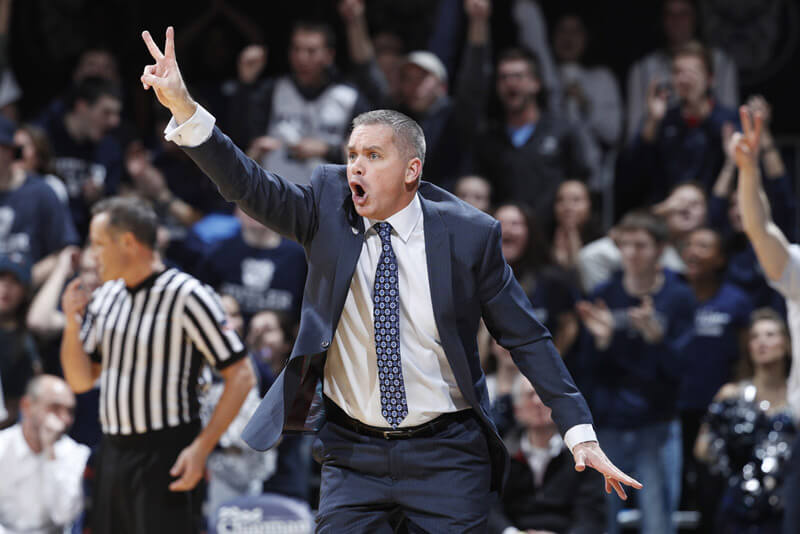 After nine seasons in Bloomington, Tom Crean is out as Indiana's head coach and the search for his replacement is underway.
Inside the Hall will profile some of the candidates who are being discussed for the job over the coming days. Our seventh profile takes a closer look at Butler coach Chris Holtmann.
While he was snubbed on a few national coach of the year award finalist lists, there's no disputing the work Chris Holtmann has done this season at Butler. He's done a remarkable job.
The Bulldogs went 23-7 in the regular season and earned a No. 4 in the South Region of the NCAA tournament. Holtman was named Big East coach of the year for his efforts.
With just one McDonald's All-American (Tyler Lewis) on the roster, Butler had no problem competing in one of the nation's premier leagues. The Bulldogs beat Northwestern, Arizona and Vanderbilt in November. Butler followed up those wins with a victory over Cincinnati on Dec. 10 and a win over Indiana in later in the month at Bankers Life Fieldhouse in the Crossroads Classic. It was a loss that started the downfall for the Hoosiers as Big Ten play approached.
In league play, Butler beat defending national champion Villanova twice and is now in the Sweet Sixteen. On Friday, Butler will have a shot at No. 1 seed North Carolina in Memphis.
A native of Nicholasville, Kentucky who played at Taylor University, Holtmann took over for Brandon Miller in the October of 2014 on an interim basis. He was named the permanent head coach in January of 2015. Butler hasn't skipped a beat since. The program faltered briefly under Miller, but Holtmann has restored much of what had Butler rolling under Stevens.
Before coming to Butler as an assistant coach, Holtmann spent three seasons at Gardner-Webb and was named Big South coach of the year in 2013. His name has come up with other openings, but Holtmann seems happy at Butler.
The program has high expectations based on its recent success, but given the foundation built before him under Stevens, Butler is a program that can compete nationally and recruits very well to a system.
The Bulldogs are now in the Big East, enjoy great fan support and have a great facility in Hinkle Fieldhouse. The question is: Would Holtmann turn down big money if it's offered to leave Butler? As good as that job is, the compensation isn't nearly what a top 15 job would pay.
In terms of recruiting, moving to Indiana would be a step up for Holtmann. Would he be able to bring in the five-star talent that Hoosier fans expect year-in and year-out? It's a fair question.
Final Analysis: Holtmann is young enough at 45 that he could be a long term solution if he were interesting in making the jump to Bloomington. And there's a segment of fans who would like to see the "Butler Way" replicated in Bloomington.
Filed to: Chris Holtmann