Leadership key in Indiana's 95-73 Big Ten tournament win over Iowa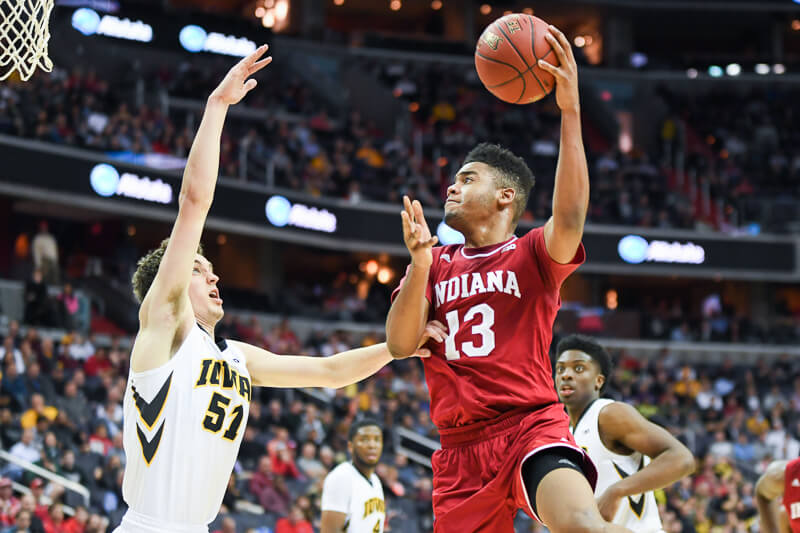 WASHINGTON – In its first taste of tournament play this season, Indiana didn't flinch.
The Hoosiers (18-14) played arguably their most complete game in months on Thursday night, a dominating 95-73 win over Iowa to advance to Friday's quarterfinals of the Big Ten tournament.
Indiana has often looked out-of-sync this season. That was not the case Thursday. Passes were crisper, defensive rotations were sharper and communication was evident on the court.
The poor ball movement on offense and lack of defensive intensity seen in prior weeks all but vanished. In its place was an Indiana team that played with a sense of purpose and togetherness not seen since the Jan. 21 victory over Michigan State.
"All the older guys in the group – Rob (Johnson), James (Blackmon), Josh (Newkirk) – they just all brought us together and just said alright enough is enough," Juwan Morgan said after the game. "We have to come together and do this if we want to make this run."
It wasn't a players-only meeting that did the trick, according to Morgan. Instead, it was a concentrated effort to correct the issues that Indiana has been facing for months.
"Every now and again at practice, we just called a huddle and went 'look, we've gotta get this together right now,'" Morgan said. "Or even in the game, I know at the beginning of the game my head wasn't in it and Rob just pulled me to the side and said 'look we need you, you've gotta do this, this and this.' We just got it together."
As a result, Indiana thoroughly defeated the Hawkeyes (18-14). The game was close at points, but unlike previous contests, Indiana never faded. The Hoosiers led for more than 30 minutes, including the final 17:12 of the game.
The entire backcourt rotation couldn't be stopped from behind the arc, as James Blackmon Jr., Robert Johnson, Devonte Green and Curtis Jones combined to shoot 10-for-14 on 3-pointers.
Indiana's offense was especially potent in the second half, when they put up 52 points on 68 percent shooting.
"We're making shots that we have at times missed this year, but it was never a question that we were not a good shooting team," Tom Crean told reporters after the game. "It's a matter of making sure that the ball is moving."
Inside the paint, Indiana's frontcourt managed to stay out of foul trouble, allowing them to have a field day. All of the big men had productive games, but it was freshman De'Ron Davis that provided the biggest spark.
Davis knocked down all seven of his attempts from the field and recorded only three personal fouls. When Davis was on the court, Indiana was a +21.
"I've seen him improve so much from the start of the season, when he was just huffing and puffing up and down and the court." Thomas Bryant said of Davis. "Now I see him, he's going out there and making plays – scoring, passing the ball – he has great footwork down in the low post as well. I've seen him starting to be more aggressive and have more confidence in his game."
It wasn't just the offense, either.
The defensive display put on by Indiana was on a level rarely seen this season. The Hoosiers held Iowa to a mere 6-of-10 from the free throw line and 0.96 points per possession, marking just the fourth time they've held an opponent under a point per possession in conference play.
The performance was all the more impressive considering what happened when these teams met just over two weeks ago. On that night, Iowa went 39-of-47 from the line and scored at a rate of 1.16 PPP in an overtime victory in Iowa City.
"We were more connected as all five instead of trying to play five games of one-on-one," Juwan Morgan said after the game. "When (Peter) Jok would get away from someone, the whole team would see it and we'd switch off. Next thing you know, someone else was on him. Then they would hold their own until the guy we had planned to be on him got back on him. Just that connectedness really helped us throughout the whole game."
The hot shooting on offense and collaboration on defense allowed Indiana to pull away from Iowa despite turning the ball over 17 times.
Team health improving
Indiana has been banged up all season. Now, with postseason play underway, the team is beginning to heal.
Morgan, who injured his left foot when he collided into an official in a game against Rutgers back on Jan. 15, said postgame he's beginning to get close to full health.
"I feel like this is the healthiest I've been since that game," Morgan said. "It feels more fluid out there. Just listening to the training staff and doing everything they're telling me to do in terms of treatment and how hard to go at certain times, because they see that something is paining me. Just listening to them."
Freddie McSwain has been trying to find a rhythm on the floor since recovering from offseason surgery.
On Thursday, McSwain scored four points and didn't commit a foul. It was the first time McSwain didn't pick up a personal since the triple-overtime game against Penn State on Feb. 1.
"My knee is still hurting a little bit, but I'm glad I'm getting healthier and healthier every game," McSwain said after the game.
Filed to: 2017 Big Ten tournament