Five takeaways from Indiana's win over Iowa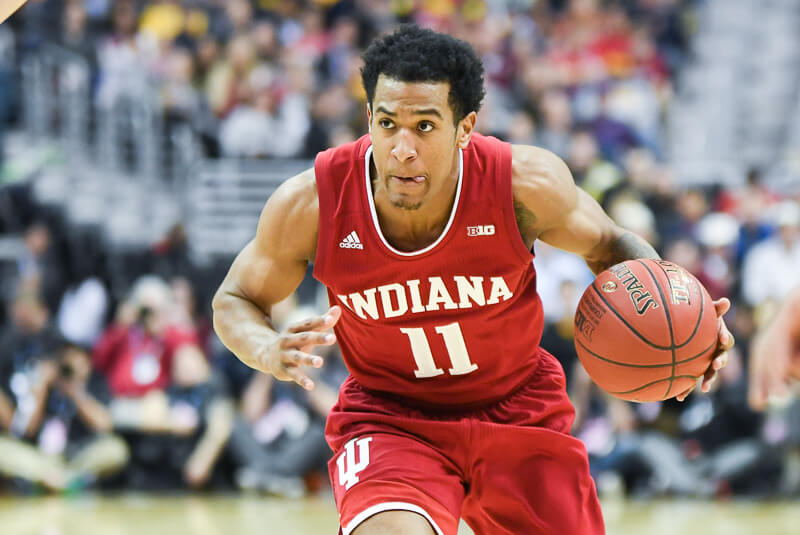 WASHINGTON – Indiana won for the third time in its last four games on Thursday night with a convincing rout of Iowa. The Hoosiers easily dispatched of the Hawkeyes, 95-73, to set up a Friday quarterfinal matchup against Wisconsin.
Here's a look at five takeaways from the win over Iowa:
· A second half offensive explosion: Through 20 minutes, it appeared Indiana would be locked into a battle with another team fighting for its postseason life in Iowa.
Instead, the Hoosiers crushed any NCAA tournament hopes the Hawkeyes had by scoring 52 points after halftime. Indiana shot 67.9 percent in the second half and hit six of its eight 3-point attempts. It was the third time in the last five games that Indiana scored 90 or more points.
Junior James Blackmon Jr. scored 18 of his team-high 23 points in the second half and now has 45 points over IU's last two games.
After its offense sputtered through most of February, Indiana has found new life recently at the most important time of year. The Hoosiers followed up last Saturday's 1.3 points per possession performance in Columbus with 1.25 against the Hawkeyes.
"As long as the ball is moving, we're ready to shoot and we're playing through the paint or the post," Tom Crean said postgame. "Those are when good things are happening."
· Indiana controls the free throw battle: Indiana's trip to Iowa City in late February resulted in a hard fought, 96-90 overtime loss. Despite holding a double-digit lead in the second half of that contest, the Hoosiers struggled because they couldn't keep Peter Jok and the Hawkeyes off the foul line.
Thursday night was a different story as Indiana adjusted to how the game was being officiated and made Jok uncomfortable all night.
The first team All-Big Ten guard finished with just nine points on 4-of-11 shooting. He didn't attempt a free throw after taking 23 in the first meeting between the two teams.
"They were really keyed in the whole game," Jok said postgame. "I wasn't trying to force anything. I was just letting the game come to me. I was trying to find other ways to get involved on offense other than just shooting. They were always there when I caught the ball."
· Freshmen rise to the occasion in first taste of tournament play: Indiana's bench accounted for just three of its 96 points in last weekend's win at Ohio State.
On Thursday, the IU bench scored 35 points and the freshmen were a major part of the equation.
De'Ron Davis stayed out of foul trouble and scored 15 points on 7-of-7 shooting. Devonte Green played 20 minutes because of foul trouble for Josh Newkirk and had 10 points, including 2-of-2 from behind the 3-point line. And Curtis Jones, who didn't even play in Columbus, hit a pair of 3s and finished with six points in 13 minutes.
The three freshmen combined for just one turnover in 47 minutes.
· Morgan delivers another solid performance: Sophomore Juwan Morgan has been banged up for a majority of the season. But he's getting healthy at the right time as the season nears the final stretch.
Morgan followed up an 11-point game at Ohio State with nine points, eight rebounds and three blocked shots against Iowa. He did have six turnovers, but having Morgan healthy is a difference maker for Indiana. His length, along with that of Thomas Bryant's (five blocks), gave the Hawkeyes problems at times in the paint.
"He was really big," Newkirk said of Morgan. "On the defensive end, he blocked a lot of shots, got a lot of rebounds. He's an energy guy. He gave us the energy that we needed."
· Hoosiers keep NCAA tournament hopes alive: Indiana still has work to do to get back into serious consideration for the NCAA tournament, but moving past Iowa gives the Hoosiers a chance to do just that on Friday.
As of late Thursday night, ESPN bracketologist Joe Lunardi had the Hoosiers as the second team on his "next four out" list. The teams ahead of Indiana: Rhode Island, Kansas State, Houston, California and Georgia.
A few weeks ago, Indiana's viability for an NIT bid was up for debate. Now the Hoosiers are comfortably in that field, but can make things interesting if they keep advancing in the nation's capitol.
Filed to: 2017 Big Ten tournament