Ferrell hits nine 3-pointers, scores 32 as Dallas wins fourth straight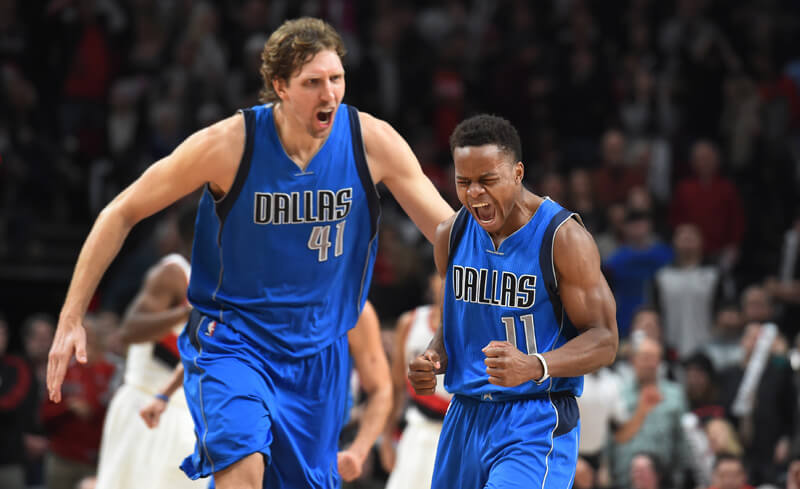 Former Indiana point guard Yogi Ferrell is making quite an impression in Dallas.
Just hours after Mavericks owner Mark Cuban, an IU alumnus, said that the franchise planned to keep Ferrell for the remainder of the season, he went out and put on a show in Portland.
Ferrell tied a franchise rookie record with nine 3-pointers and finished with a game-high 32 points in a 108-104 victory over the Trail Blazers. Ferrell was 11-of-17 from the field in 39 minutes.
Dallas signed Ferrell, who was playing with the Long Island Nets in the Development League, to a 10-day contract on January 28. He's started all four games he's appeared and is averaging 17.8 points, five assists and three rebounds in 37.5 minutes per game.
The Mavericks have won every game Ferrell has appeared in, a stretch that includes San Antonio, Cleveland, Philadelphia and Friday's win over Portland. It's the first four-game winning streak of the season for the Mavs.
Ferrell appeared in 10 games early this season with Brooklyn, but was waived on Dec. 8. He had been in the Development League with the Nets since. With Deron Williams and Devin Harris both injured, Dallas had a need for a point guard and signed the Indianapolis native.
In his debut with the Mavs, he scored nine points and dished out seven assists in a 105-101 win at San Antonio. The following night, Ferrell scored 19 points and added five assists, four steals and three assists in a 104-97 win at home over Cleveland.
Ferrell had a poor shooting performance (3-of-13) in his third game with Dallas, a 113-95 win at home over Philadelphia, but caught fire last night in front of a national TV audience at Portland.
IU's all-time assists leader had 22 points in the first half and outplayed NBA all-star Damian Lillard. His 3-pointer with 19 seconds to go gave Dallas a 105-101 lead.
"We've got a special group, a special group of guys and they really welcomed me into the team. I was thankful for that," Ferrell said postgame, according to the Associated Press. "That doesn't happen often. It happened very quickly, so I'm just out there having a lot of fun and living the dream."
According to Shams Charania of Yahoo! Sports and the Vertical, Ferrell is expected to sign a two-year contract with the Mavericks on Tuesday.
"I'm pretty sure that's what will happen. It won't be my final call," Cuban told the Star-Telegram. "It'll be coach (Rick Carlisle) and Donnie's (Nelson). It's not a money issue, and so it'll be up to them."
The 20-30 Mavericks are 2.5 games out of the eighth and final playoff spot in the Western Conference. Dallas plays next at Denver on Monday.
(Photo credit: Steve Dykes-USA TODAY Sports)
Filed to: Yogi Ferrell