Five takeaways from Indiana's win over Penn State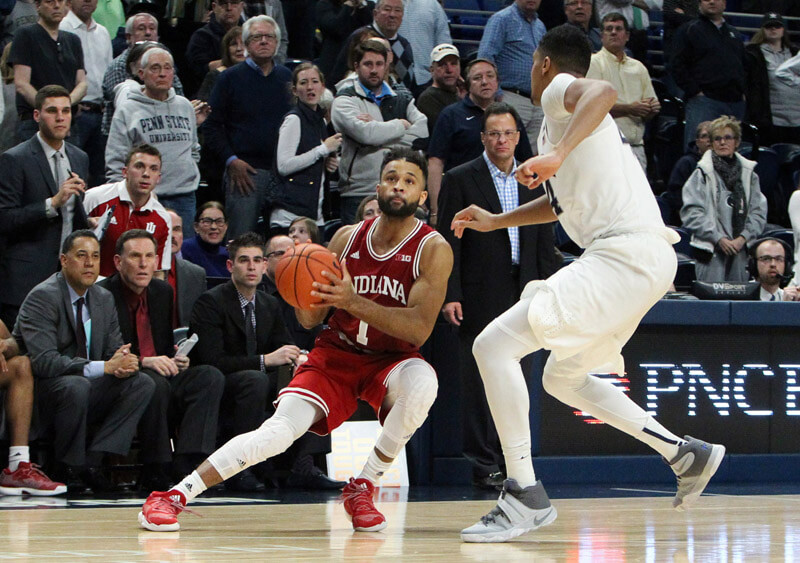 Indiana improved to .500 in Big Ten play on Wednesday with a thrilling 78-75 win at Penn State. The victory moved the Hoosiers to 13-6 overall.
Here's a look at five takeaways from the win over the Nittany Lions:
· Blackmon Jr. comes up big in the clutch: After blowing a 14-point second half lead, a short handed Indiana looked destined for overtime in Happy Valley.
But the Hoosiers, as shaky as things were in the game's final stretch, didn't fold. With 4.6 seconds remaining, Blackmon Jr. received a pass from Zach McRoberts and dribbled the length of the floor past a screen from Thomas Bryant to the right wing. With Julian Moore a bit off balance, Blackmon Jr. rose up with a sliver of space and knocked in the game winner.
"We knew exactly the play they were going to run because we saw it while scouting," Penn State coach Pat Chambers said. "We drew it up in the huddle and we knew it was coming, but James hit a tough shot."
The shot lifted Indiana to just its second win away from Bloomington this season. And in a game the Hoosiers desperately needed to win, it might have been a season saving play.
· Guard play carries Indiana to a win: The shot by Blackmon Jr. is obviously the headline, but the guard play throughout the contest was crucial to pulling out the win.
Blackmon Jr. and Robert Johnson each finished with 17 points and combined to shoot 8-of-17 on 3s. Both players also had strong rebounding games as Johnson tied a season-high with seven and Blackmon Jr. had five.
"It wasn't easy, but they earned the victory and it would have been a shame if we wouldn't have gotten this win," Tom Crean said. "They earned it and Penn State is very good, no doubt about that."
· Hoosiers overcome a significant loss: Indiana's injuries have been a storyline dating back to September when Collin Hartman went out with a knee injury.
The Hoosiers were also without Juwan Morgan on Wednesday, who injured his foot in Sunday's win over Rutgers. Things got even worse on the injury front when OG Anunoby, who had six points and three rebounds in 15 minutes, went down with a knee injury in the closing seconds of the first half. Anunoby couldn't walk off on his own power and didn't return to the bench at any point in the second half.
But even without two players who are integral pieces, the Hoosiers found a way to prevail.
"We dealt with a lot of adversity tonight," Crean said. "And when you have a player like OG who means so much not only to the basketball team, but to the basketball family, it's hard on everybody."
· Despite turnovers, an improved performance by Thomas Bryant: We wrote about the dip in efficiency for Thomas Bryant so far this season earlier this week, but the sophomore finished much better on Wednesday night.
Bryant made seven of his nine 2-points attempts on his way to 17 points. Bryant also responded to Crean's comments earlier in the week about his lack of rebounding with nine rebounds.
It's been an up and down season for Bryant, but his play on Wednesday was a major reason Indiana was able to escape with a win.
· Bench comes up big: Without Morgan for the entire game and Anunoby out for the second half, Indiana needed its bench to step forward and perform.
And that's exactly what happened.
Walk-on Zach McRoberts didn't score, but had two rebounds, two assists, two steals and two blocks in 15 minutes. Devonte Green (five points), who seems to be gaining confidence, had another great transition pass to Thomas Bryant.
Freddie McSwain had a crucial follow for a dunk and two rebounds. Curtis Jones, despite missing two front ends of one-and-ones late, had four points and is never lacking in confidence.
And De'Ron Davis had seven points, four rebounds, a block and a steal in 14 minutes. With Anunoby's future uncertain, Indiana is going to need strong bench play for the foreseeable future.
(Photo credit: Matthew O'Haren-USA TODAY Sports)
Filed to: Penn State Nittany Lions