What's behind the dip in Thomas Bryant's efficiency?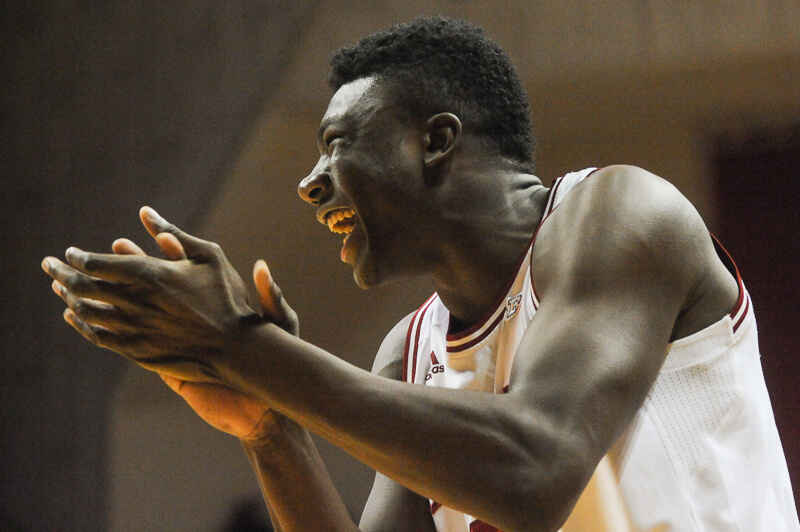 One of our offseason storylines posts back in July focused on the efficiency of Thomas Bryant as a freshman. Coming into the season, Bryant was the most efficient post player returning in the Big Ten.
Our hypothesis prior to the season was that Bryant would be able maintain his efficiency and overcome the losses of Yogi Ferrell, Max Bielfeldt, Nick Zeisloft and Troy Williams. Why? Because the Hoosiers would again have a talented stable of players to surround him with.
Here's what we wrote in late July:
As Bryant enters his sophomore season, the challenge for Crean and his staff will be to figure out a way to utilize him more without experiencing too much of a dip in efficiency.

The Hoosiers lost plenty in terms of perimeter firepower with Yogi Ferrell, Troy Williams, Nick Zeisloft and Max Bielfeldt all moving on, but the remaining mix of talent should allow Bryant to continue operating with space in the post.

One of the keys in both Zeller's 2012-2013 season and Bryant's 2015-2016 was Indiana's ability to surround each player with an efficient four-man. In Zeller's case, it was Christian Watford, who splashed in 48.4 percent of his 3s as a senior.

And with Bryant last season, it was often Troy Williams, a great slasher and finisher who could also knock down the occasional 3 despite some erratic decision making. And even when the Hoosiers went to the bench, there was Collin Hartman, OG Anunoby and Juwan Morgan, all of whom could keep opposing defenses honest.

This year's Indiana team returns Hartman, Anunoby and Morgan and also adds De'Ron Davis, who has a reliable mid-range game that makes him less likely to clog the paint if he plays alongside Bryant.

Provided the Hoosiers don't fall off too much with their perimeter shooting, a more mature Bryant should take another step forward and solidify himself as the Big Ten's best post player as a sophomore.
Eighteen games into the season, Bryant's efficiency numbers have taken a dip from his exceptional freshman campaign. After shooting 70.7 percent on 2s last season, he's down to 54.1 percent this season.
Unlike the Cody Zeller-Christian Watford tandem in 2012-2013 and last season's stable at the four which included a mix of Williams, Bielfeldt, OG Anunoby and Juwan Morgan, Indiana is getting poor perimeter shooting from the four position.
Anunoby is hitting just 31.8 percent of his 3s and Morgan is hitting just 23.5 percent. De'Ron Davis, who has played alongside Bryant at times, hasn't attempted a 3-pointer. And Hartman is out indefinitely (and likely for the season) with a knee injury.
But this doesn't tell the entire story.
According to Synergy Sports, Bryant is actually handling double teams in the post more effectively this season than he did as a freshman. Last season, Bryant scored just .84 points per possession (25 possessions all season) on hard double teams in the post. This season, he's at 1.04 points per possession (23 possessions). So the pressure is coming more often and Bryant is handling it fine.
And when the pressure comes and Bryant is forced to look out of the post, there hasn't been a huge dip in efficiency, either. Indiana is scoring 1.19 points per possession when Bryant catches the ball in the post and is then forced to get it back out to a teammate. That's down from 1.41 last season, but still ranks in the 62nd percentile nationally.
So what's the issue?
Bryant's overall post-up numbers have taken a major dip, which says he's finishing far less effectively. The charts below, via Synergy, show Bryant's numbers by possession type (six most common) for 2015-16 and 2016-17:


There are a few notable takeaways here: Bryant is posting up less and is less efficient scoring in those situations. He's getting less action off of cuts and is less efficient in those situations (the lack of a playmaking point guard is surely a factor here). And his usage in spot up situations is up with some solid results.
But the post up drop off is the story here.
A deeper dive into the numbers shows that Bryant is posting up more often on the left block this season than he did a season ago. And the results haven't been good:


Bryant's efficiency on the right block is nearly identical to last season. The large drop off is on the left block, where he's scoring 20 percent less of the time on his opportunities. He's also flashing to the middle far less and when he does, has been less efficient.
Indiana's potential in 2016-17 was largely predicated on Bryant maintaining his efficiency and finding a suitable replacement for Ferrell. Neither has happened consistently and, combined with a suspect defense, the Hoosiers are 12-6 and facing an uphill battle the rest of the way.
Filed to: Thomas Bryant