The Minute After: Rutgers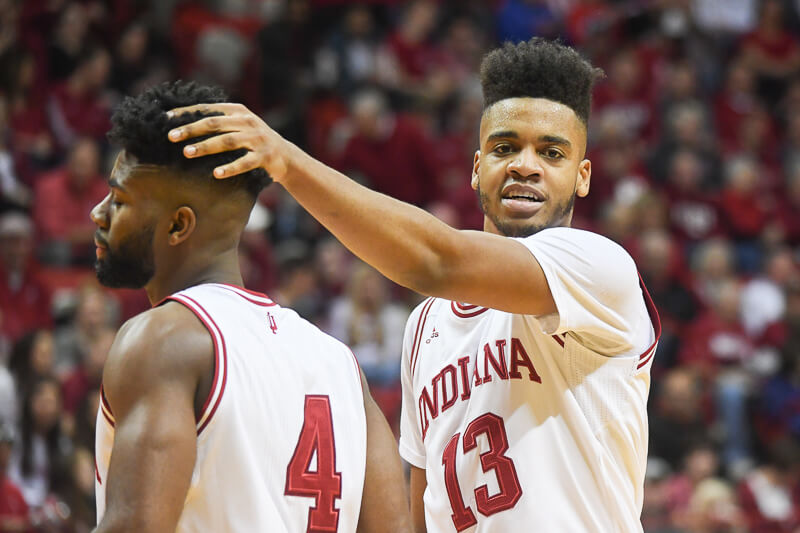 Thoughts on a 76-57 win over Rutgers:
Indiana's defense has been a large factor in it failing to live up to expectations so far this Big Ten season. But in its win this afternoon against Rutgers, it was a strength.
Did Indiana start poorly on the defensive end? Yes. It helped Rutgers bust out to a nine-point lead at the 14:26 mark (15-6). But once the Hoosiers settled in — and particularly when they started turning Rutgers over — the lead for the Scarlet Knights was erased, never to return. Indiana played the passing lanes well and racked up a season-high 14 steals leading to a number of easy looks on the fast break. OG Anunoby had seven of those 14, the most from an Indiana players since Michael Lewis in 1999.
At half, Indiana had outscored Rutgers 17-3 in the points off turnovers department. By game's end, that ballooned to 33-10, as Indiana continued to steal the ball, even when Rutgers wised up and tried going back door on IU. The Scarlet Knights turned the ball over on 28.2 percent of their possessions, the worst turnover percentage for an Indiana opponent this season. Conversely, the Hoosiers turned it over on just 14.8 of their possessions — a season-best. Rutgers also shot just 12-of-26 from the line.
Juwan Morgan played a particularly inspired stretch of rim-protecting defense to start the second half before going out with an apparent foot injury at the 14:50 mark. Add it all up and Rutgers scored just .77 points per possession, below their season average of .82.
Indiana's defense helped make up for a game in which its offense floundered at times. The Hoosiers shot just 4-of-22 from distance. James Blackmon Jr. missed all eight of his 3-point attempts. Curtis Jones (2-of-2) and Robert Johnson (2-of-5) were the only two Hoosiers to connect from beyond the arc this afternoon. Indiana's offensive rebounding, about the only consistent strength of this team game in and game out, wasn't there today. The Hoosiers rebounded just 17.6 percent of their misses against Rutgers, a season low, which meant just four second-chance points.
Devonte Green's 15 minutes were the most he's played in a Big Ten game so far this season, and some were wondering why he didn't get more run in the second half after some good minutes in the first. Tom Crean appears to be cultivating a growing trust for his freshman — who just might be the most skilled pure passer on the roster — but the end of the game may have evaporated some of that good will. Green tossed up an alley-oop to Freddie McSwain on the last possession of the game, a pass which McSwain mishandled as time expired. Crean stormed out onto the court and screamed at Green after going for the highlight reel play with the game already in hand.
Beyond his seven steals, Anunoby played a nice balanced game, adding 11 points (4-of-8) and three rebounds. Josh McRoberts hit two mid-range jumpers with no hesitation on his way to a four-point outing. Thomas Bryant was just 3-of-9 from the floor and continues to struggle 1-on-1 in the post.
The Hoosiers now head on the road for three of their next four games, and depending on how things shake out, it could be a season-defining stretch.
Filed to: Rutgers Scarlet Knights