Five takeaways from Indiana's win over Rutgers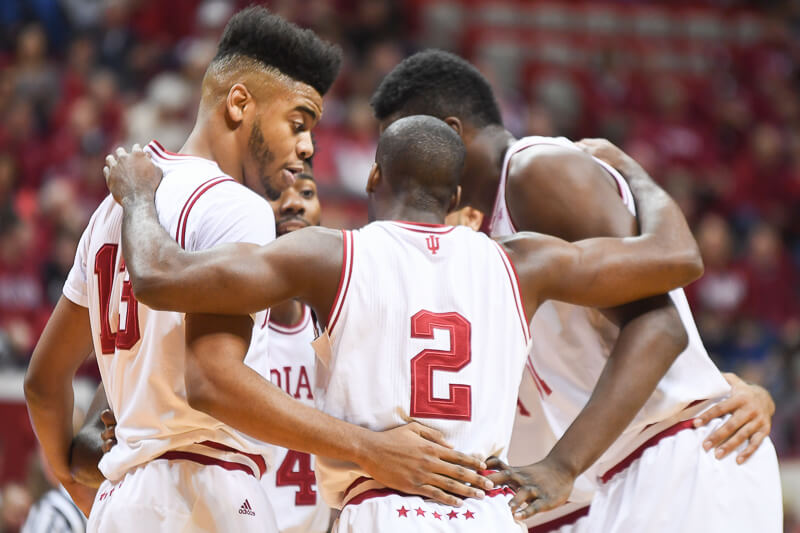 Indiana improved to 12-6 overall and 2-3 in Big Ten play on Sunday afternoon with a 76-57 win over Rutgers at Simon Skjodt Assembly Hall.
Here's a look at five takeaways from the win over the Scarlet Knights:
· Green provides first half spark: Freshman Devonte Green didn't play at all in losses to Louisville and Wisconsin, but has shown signs lately that he may be deserving of more minutes.
The latest example was Sunday's first half, when Green played 10 minutes and scored four points, dished out two assists and had a steal. The Hoosiers were having a tough time containing Corey Sanders early on, but Green came in and slowed down the sophomore point guard.
The Long Island native only logged five minutes in the second half and angered Tom Crean in the game's closing seconds when he tried to throw an alley oop to Freddie McSwain. His strong first half, however, is something Indiana may be able to build upon.
"Like we talked about yesterday," Crean said. "Impact the game with your energy, impact the game with being in the right spot, move the ball. And just come in and literally play hard."
· Indiana's defense locks up Rutgers: The Scarlet Knights entered Sunday's game with the Big Ten's worst offense (0.82 points per possession).
Indiana held Rutgers below that average, surrendering just .77 points per trip. It was progress defensively for a group that hadn't held a high major opponent under a point per possession since late November.
The Hoosiers forced a season-high 21 turnovers and scored 33 points off of those Rutgers miscues.
· An active Anunoby: OG Anunoby struggled in Tuesday's 75-72 loss at Maryland, but the sophomore forward quickly put that subpar performance behind him.
Anunoby had seven of Indiana's season-high 14 steals in the win and also added 11 points, three rebounds, two assists and a block. He also had no turnovers in 25 minutes.
"We tried to jump the gaps and be aggressive with our hands," Anunoby said postgame.
If Indiana is going to turn things around and win games with any consistency, it needs more of the Anunoby that showed up Sunday on Branch McCracken Court.
· Indiana overcomes a poor shooting performance by taking care of the ball: Indiana, which is typically reliant on strong perimeter shooting to win, hit just 4-of-22 of its 3s against Rutgers and still won by 19.
How? It took care of the ball. Indiana had a season-low turnover percentage of 14.5 and finished well in the paint. Indiana was 25-of-40 on 2s for 62.5 percent. That's the third time in five Big Ten games that the Hoosiers have shot better than 60 percent on 2s.
"That's what we work at every day, making simple plays," James Blackmon Jr. said. "And that's when simple plays turn into big plays for us."
Also of note: Indiana won comfortably despite rebounding only 17.6 percent of its missed shots, which was a season low.
· Bryant's struggles at the rim continue: It's been a season of regression for Thomas Bryant in terms of finishing plays at the rim.
Sunday was no different. Bryant was 3-of-7 on 2s, bringing his season average to 54.1 percent inside the arc. Last season, Bryant shot 70.7 percent on 2s, which ranked fourth nationally. He's also regressed in conference games as he shot 67.9 percent on 2s in league play as a freshman and is 53.1 percent so far this season.
Combine Bryant's struggles with the inconsistencies of Anunoby and it's not hard to see why the Hoosiers have been so up and down through 18 games.
Filed to: Devonte Green, Rutgers Scarlet Knights