The Minute After: Maryland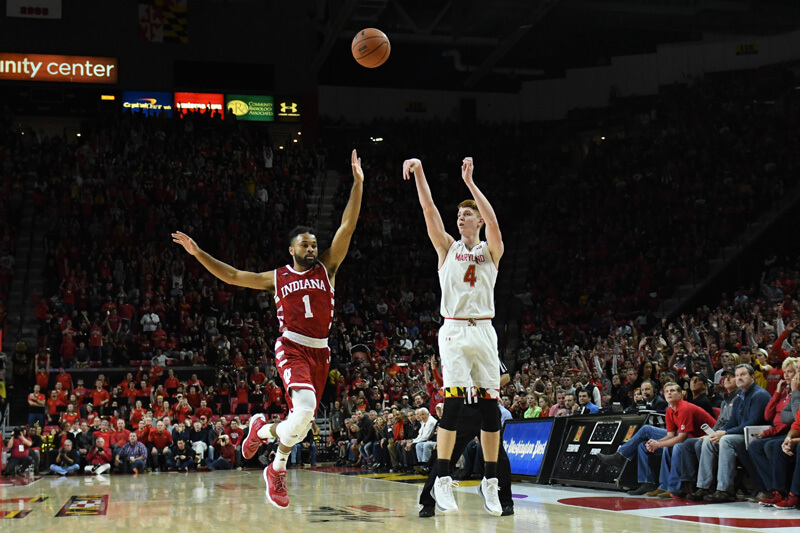 Thoughts on a 75-72 loss to Maryland:
The slow starting Hoosiers were at it again.
The silly turnovers raged. Damonte Dodd was blocking seemingly everything at the rim.
But this one didn't play out with Indiana getting blown out in its first Big Ten road contest of the season. It didn't prove to be another disappointing performance.
With Nick Zeisloft and Yogi Ferrell sitting a row behind the bench, the Hoosiers showed some veteran moxie. They calmed down. They hung their hat on their continued dominance of the offensive boards and it allowed for eight more shot attempts in the first half than Maryland and nine second-chance points. Off the bench, Curtis Jones knocked down two 3-pointers. Devonte Green banged in one of his own. On his way to a tremendous offensive night, James Blackmon Jr. was 4-of-7 for nine points in the first half. At half, Indiana trained by just one, 39-38.
At times in the second half, it felt like Indiana had this one in just enough control to close it out. The Hoosiers led for almost a 10-minute stretch in the middle of the half (17:09-7:15). During that stretch, Indiana's guards came up big as they did all night. Robert Johnson, Blackmon Jr., Devonte Green and Josh Newkirk — along with some help from OG Anunoby and Juwan Morgan — led the scoring charge.
Newkirk has been criticized as much as any Hoosiers this season, but he was great tonight on his way to nine points on 4-of-6 shooting. Newkirk had just one turnover and was about the only Hoosier in the first half to not have trouble getting the ball to the rim around the Maryland defense. Blackmon Jr. hit some huge shots reminiscent of the Kansas game on his way to a game-high 22 points. The junior hit 4-of-8 from distance and 9-of-15 overall. Johnson made 3-of-7 and scored 13 points. Where Indiana's 3-point shooting has failed them at times this season, it was a strength tonight as the Hoosiers connected on 10-of-23 (43.5 percent) from deep.
Down the stretch, Maryland did just enough to eek this one out. After two Morgan free throws put the Hoosiers up two, Kevin Huerter got free from Blackmon Jr. on a screen for a 3-pointer to put the Terps up one. A missed shot from Anunoby on the other end allowed Anthony Cowan to leak out and get free on the other end. Huerter found him with the pass and he scored to put Maryland up three (73-70) with 1:13 to go. Indiana's next possession found Thomas Bryant trying to do too much. His drive off the baseline and around to the other side of the rim was blocked by — you guessed it — Dodd.
It was another troubling take from Bryant in a season filled with ones showing hesitation and little in terms of lift off the ground.
Still, a steal by the Hoosiers on the ensuing Terps possession and a ridiculous dunk by Anunoby had the Hoosiers down just one with 8.2 seconds to go. Melo Trimble was fouled on the inbounds and hit two at the line to put Maryland up three.
Indiana's last possession of the game found Johnson with a really good look on the left wing to tie the contest. It didn't fall and the buzzer sounded.
"We would take that shot again, no matter what," Tom Crean said after the contest.
The problem with losing home games to Nebraska and Wisconsin to start the Big Ten season? Road games in a hostile environment against a talented squad like the Terrapins — who have been great in close games so far this season — are no longer chalked up as tough, tolerable road losses. Games you can live with losing.
They've essentially become must wins if Indiana wants to keep pace in the Big Ten race or atone for its early home losses.
The margin for error is smaller now, and with each loss, Indiana's chances at a Big Ten title or a high tournament seed became less likely.
(Photo credit: Tommy Gilligan-USA TODAY Sports)
Filed to: Maryland Terrapins