Big Ten Power Rankings: January 2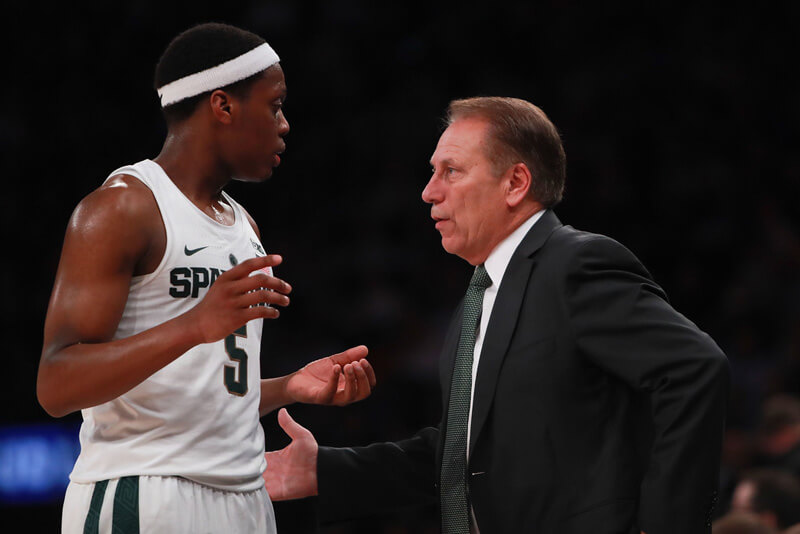 The Inside the Hall Big Ten Power Rankings are back following a wild first week of conference play, and almost nothing is the same. Only 12 conference games have been played, yet 11 teams have already lost at least one conference game. 
Every team slotted between 2 and 6 in last week's rankings took a loss this week while teams between 7 and 13 all recorded at least one win. Expect these rankings to change significantly in the weeks to come. As for now, here's a look at where each team stands:
(Editor's note: Points per possession numbers are full season. Once more conference games are played, conference-only numbers will be used.)
14. Rutgers (11-4, 0-2; 1.01 points per possession, 0.89 points per possession allowed; KenPom – 134, Sagarin – 109, RPI – 87) (Last Week: 14)
Death. Taxes. Rutgers in the Big Ten cellar.
13. Penn State (9-6, 1-1; 0.99 PPP, 0.94 PPP allowed; KenPom – 95, Sagarin – 87, RPI – 96) (Last Week: 12)
The Nittany Lions best wins of the season have come at home against Georgia Tech and on the road at St. John's. Nothing else is even remotely impressive.
12. Ohio State (10-4, 0-1; 1.05 PPP, 0.89 PPP allowed; KenPom – 48, Sagarin – 50, RPI – 92) (Last Week: 6)
An underwhelming season for Thad Matta's Buckeyes continued Sunday, as a lethargic first half led to a loss at Illinois even with JaQuan Lyle scoring a season-high 26 points.
The Buckeyes need to find at least one victory over an upcoming brutal three-game stretch (Purdue, at Minnesota, at Wisconsin) to avoid an 0-4 start to conference play.
11. Illinois (11-4, 1-1; 1.03 PPP, 0.97 PPP allowed; KenPom – 70, Sagarin – 68, RPI – 30) (Last Week: 9)
You could put all teams slotted 6-11 in just about any order and I'd be hard pressed to argue otherwise.
The Illini are 7-1 since a three-game skid early in non-conference play, with four of those wins coming against KenPom top 100 teams, including a home win against Ohio State. Not much, but after missing the postseason last season, it's certainly progress.
10. Iowa (9-6, 1-1; 1.07 PPP, 0.99 PPP allowed; KenPom – 75, Sagarin – 76, RPI – 173) (Last Week: 11)
25 points from Peter Jok lifted the Hawkeyes past Michigan in overtime on Sunday, helping ease the pain of a 22-point loss to Purdue.
Iowa hit 11 of 19 threes against the Wolverines, with Jok making four of seven shots from deep. Jok has been the bulk of the Hawkeye's offense all season, and Sunday marked the eighth game where he's scored at least 20 points. The senior from West Des Moines is shooting a career high 41 percent from behind the arc this year. Iowa will need Jok to be his usual self Thursday in order to beat the streaking Cornhuskers.
9. Michigan (10-4, 0-1; 1.15 PPP, 0.93 PPP allowed; KenPom – 32, Sagarin – 29, RPI – 70) (Last Week: 4)
The Wolverines were just one in a long line of Big Ten teams to lose a late lead. With 9:46 remaining in Iowa City on Sunday, John Beilein's squad lead by seven. A quick 7-0 Hawkeye spurt in a 2:15 span tied the game, allowing Iowa to force overtime.
Michigan is now 3-4 against KenPom top 100 teams and 0-3 against KenPom top 50 teams. The last time the Wolverines put together a complete performance against a quality team was a three-point home win against Texas nearly a month ago.
8. Maryland (13-2, 1-1; 1.06 PPP, 0.93 PPP allowed; KenPom – 59, Sagarin – 56, RPI – 18) (Last Week: 10)
Mark Turgeon's Terps had a .500 week, trouncing Illinois before becoming the Cornhuskers latest victims. Melo Trimble, normally reliable in the clutch, faltered in the waning seconds of the loss, their first defeat to Nebraska since joining the Big Ten.
Much like Michigan, the Terrapins are a tough group to assess. Maryland is 4-2 against KenPom Top 100 but has yet to face a single Top 30 team. That will change on Jan. 10 when they host Indiana.
7. Northwestern (12-3, 1-1; 1.07  PPP, 0.91 PPP allowed) KenPom – 43, Sagarin – 42, RPI – 47) (Last Week: 5)
The Wildcats began their contest in East Lansing, scoring just nine points in the first 13 minutes, trailing by 19 before the game ever really began.
The anemic offense displayed on Friday can be fixed, but the lack of size can't. The Wildcats have just one player over 6-foot-8, and against the Spartans, they were outrebounded by 16 while managing to block only a single shot.
The good news for Chris Collins' bunch? Wins over Minnesota and Nebraska could put the Wildcats back on track to receive their first NCAA Tournament berth in school history.
6. Nebraska (8-6, 2-0; 0.98 PPP, 0.99 PPP allowed; KenPom – 81, Sagarin – 86, RPI – 69) (Last Week: 13)
The suddenly red hot Cornhuskers are the highest movers in our rankings, jumping up 7 spots after posting road upsets over both Indiana and Maryland.
Tai Webster and Glynn Watson Jr. scored a total of 80 points over the two wins, reviving an offense that was left for dead after a home loss to Gardner-Webb.
Now, just two weeks later, the tables have turned. A somewhat soft schedule ahead gives the Huskers a chance to build even more momentum.
5. Indiana (10-4, 0-1; 1.16 PPP, 0.92 PPP allowed; KenPom – 24, Sagarin – 24, RPI – 134) (Last Week: 2)
Much like Nebraska, the Hoosiers' stock has taken a drastic turn. Unfortunately for the Hoosiers, it's in the exact opposite direction.
After a loss against Nebraska where Indiana turned it over a staggering 19 times, the Hoosiers were ice cold from the field in Indy on Saturday, shooting just 32 percent and looking flustered in a loss to Louisville.
If Indiana can't get back on track, the Hoosiers could be out of the running for a second consecutive regular season crown before the students even return from winter break.
4. Minnesota (13-2, 1-1; 1.02 PPP, 0.87 PPP allowed; KenPom – 40, Sagarin – 33, RPI – 17) (Last Week: 7)
The Gophers proved they belong in the upper echelon of the conference by putting up two solid performances in thrilling overtime affairs. After blowing a 13-point halftime to Michigan State at home, Minnesota flew into West Lafayette and shocked Purdue behind 31 points from junior Nate Mason.
The real catalysts for Minnesota's incredible turnaround from a disastrous 2015-16 season, though, are its handful of freshmen and transfers. Amir Coffey may not be a go-to scorer, but his perimeter defense, explosiveness, and willingness to facilitate have given the Gophers stability. Illinois State transfer Reggie Lynch has given their interior defense a presence it hasn't had since Trevor Mbakwe.
3. Purdue (12-3, 1-1; 1.15 PPP, 0.86 PPP allowed; KenPom – 15, Sagarin – 11, RPI 45) (Last Week: 3)
The Boilermakers followed up a beatdown of the Hawkeyes with an overtime loss to the Gophers, falling behind by 13 early and never being able to fully recover despite another 20-20 game from Caleb Swanigan.
A recent area of concern for the Boilers is their carelessness with the basketball, as they turned it over 14 times in each of their first two conference contests. Failure to value possessions this week could lead to humbling results against Ohio State and Wisconsin.
2. Michigan State (10-5, 2-0; 1.01 PPP, 0.95 PPP allowed; KenPom – 46, Sagarin – 42, RPI – 39) (Last Week: 8)
Never doubt Tom Izzo.
Since being upset by Northeastern in East Lansing, the Spartans have won three straight, all against KenPom top 100 teams. When Miles Bridges finally returns to the lineup, he won't be forced to carry the offensive load. That's because fellow freshmen Nick Ward and Cassius Winston have grown exponentially in the seven games Bridges has been absent. Winston's career high was nine before Bridges went down but is averaging 10.9 per game since, while Ward has scored in double-figures in each while shooting 64 percent from the floor.
1. Wisconsin (12-2, 1-0; 1.14 PPP, 0.86 PPP allowed; KenPom – 11, Sagarin – 12, RPI – 49) (Last Week: 1)
The Badgers only played once last week, thrashing Rutgers back on Dec. 27. Greg Gard's team will come to Simon Skjodt Assembly Hall on Tuesday riding an eight-game winning streak and with a full week of preparation.
(Photo credit: Michael Reaves/Getty Images North America)
Filed to: Big Ten Power Rankings