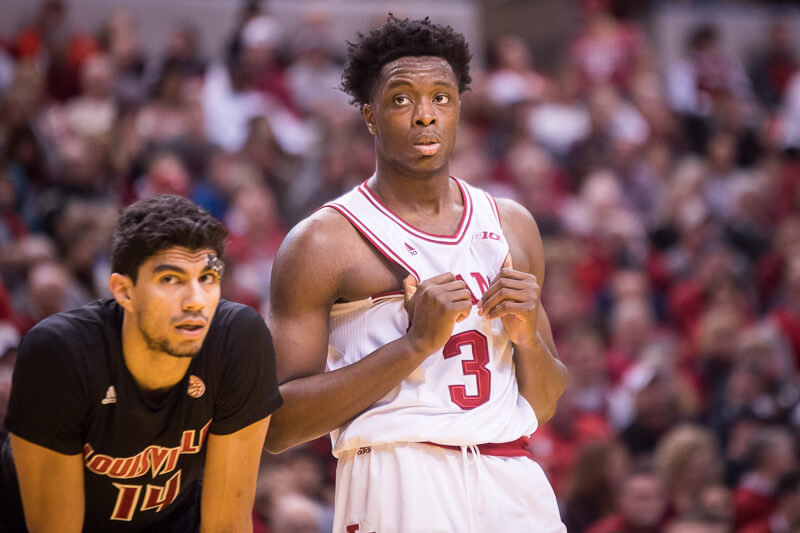 Thoughts on a 77-62 loss to the Cardinals:
This game goes down in the books as a loss. There was plenty of alarmingly bad play for the Hoosiers — particularly in the first half.
Still, the feeling after this one is much different than Wednesday's loss to Nebraska. Despite it being a home game against a conference opponent, Indiana came out flat and didn't play with proper intensity, focus or effort against the Cornhuskers. That simply wasn't the case this afternoon. Despite a woeful job taking care of the ball (30.7 TO%) and a lackluster shooting performance (29.3 eFG%) in the first half, Indiana made up for it in the hustle categories. The Hoosiers were a terror on the offensive boards, rebounding 45.5 percent of their misses to come up with 13 second-chance points. Indiana also found its way to the line a good clip (41.4 free throw rate) and it converted at a high rate there (10-of-12).
But the early poor shooting and carelessness with the ball — some no doubt inflicted by Louisville's elite defense — was just too much to overcome for Indiana, despite a much better second half. The Hoosiers turned it over just three times over the final 20 minutes of the contest and shot it better (41.6 eFG%). Robert Johnson had a rough shooting performance from the field (1-of-13), but his aggressiveness on the drive in the second half helped Indiana's offense to a more efficient performance. He also got himself to the line and converted (7-of-9). Josh Newkirk added in some late buckets at the basket off the drive (3-of-4, six points). OG Anunoby threw down a ridiculous posterizing dunk on Anas Mahmoud. The Hoosiers were able to make a game of it midway through the second half and trailed by just six with 12:20 to go, but it was as close as they'd get the rest of the way, as a career performance by Donovan Mitchell (25 points) helped keep the Hoosiers at bay.
Louisville outscored the Hoosiers by just three points in the second half.
Indiana's 3-point shooting at Bankers Life Fieldhouse was rough this season. In its two games in Indianapolis in the non-conference, the Hoosiers shot just 10-of-42 from distance (23.8 percent). This afternoon Indiana made just 4-of-21 (19 percent). Louisville's length and size contributed to the poor performance in some ways, but Indiana also missed a host of wide open 3-pointers in both halves. Had Indiana made just a handful more, this game would have been more a fight to the finish. But Indiana simply isn't good enough in the rest of its offensive and defensive profile to shoot just 19 percent from distance against an elite team and expect to win the contest. 3-point shooting is too big a part of what the Hoosiers do.
Back-to-back losses is disappointing, but the reality is Louisville (KenPom No. 9) is a better team than Indiana with the best defense in the country. When you dig yourself a hole against a team like this, a loss is often going to be your reality.
The silver lining in this one? If the Hoosiers are able to give this kind of effort instead of the kind they gave against Nebraska, they'll give themselves a better chance against Wisconsin at home on Tuesday night and for their Big Ten schedule going forward.
Filed to: Louisville Cardinals