Five takeaways from Indiana's win over Delaware State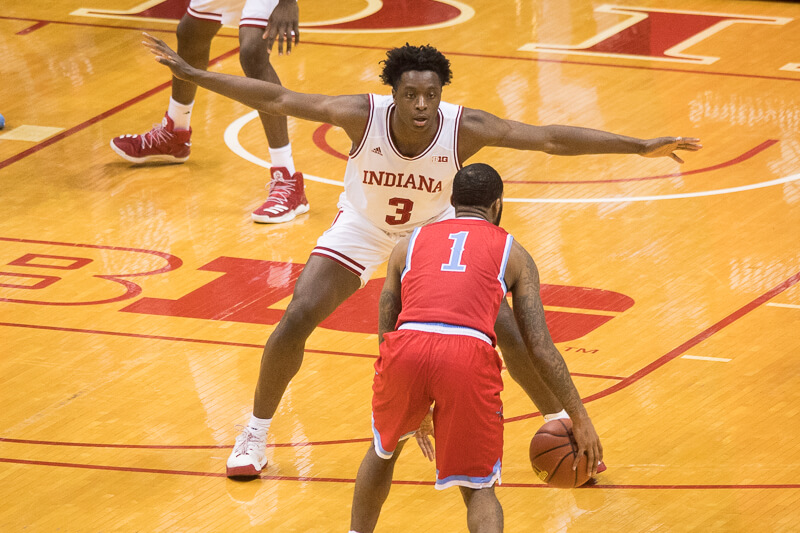 Indiana bounced back from Saturday's loss to Butler in the Crossroads Classic with an easy 103-56 win over Delaware State on Monday at Simon Skjodt Assembly Hall.
Here's a look at five takeaways from the win over the Hornets:
· Anunoby looks much more comfortable: Sophomore OG Anunoby didn't start against Delaware State, but he was far more effective than he was on Saturday against Butler.
The 6-foot-8 forward finished with 19 points, nine rebounds, four blocked shots and two steals in 19 minutes. Anunoby made all eight of his 2-point field goal attempts. And he was very active in terms of challenging shots with his hands.
Postgame, he stopped short of calling himself 100 percent healthy, but did say that he's "getting better." With the start of Big Ten play just nine days away, Indiana needs Anunoby to continue rounding back into form after the amount of time he missed with an ankle injury. Monday night was a solid first step.
· Turnovers beginning to come down: Indiana's turnover percentage for the season, through 11 games, is 21.4 percent. But in four of their last five games, the Hoosiers have posted a turnover percentage of 18.9 percent or less.
Monday was another solid performance in terms of taking care of the ball as IU turned it over just 11 times for a turnover percentage of 16.3. It was the second lowest turnover percentage of the season.
"The ball just moves quicker," Tom Crean said postgame. "And we're still trying to throw a few home runs. We want to play fast. When you're playing fast, there's going to be a few. It's got to move one dribble sooner, and when it's moving one dribble sooner, even without the dribble, that's a big part of it."
· Another efficient night for Blackmon Jr. and Johnson: Indiana's guard tandem of James Blackmon Jr. and Robert Johnson is beginning to build consistency offensively.
The duo combined to shoot 14-of-25 from the field on Monday and finished with 34 points. Blackmon Jr. hit 4-of-7 3-pointers while Johnson dished out six assists.
Through 11 games, Johnson has the 42nd best effective field goal percentage in the country and Blackmon Jr., a higher usage offensive player, is 116th. Both are shooting above 40 percent on 3-pointers, a trend Indiana needs to continue in order to maintain an elite offense.
· Ridiculous 2-point shooting continues: Indiana made close to 53 percent of its 2s on Saturday against Butler. On Monday, the Hoosiers shot 83.8 percent on 2s against Delaware State.
For the season, IU is third nationally in 2-point field goal percentage at 59.2. It's being driven by paint touches, which is something Crean said he wants to continue to see increase.
"The ball touched the paint the other day against Butler, we were at 66 percent with the ball going through the paint," Crean said. "Tonight we were 84 percent in the second half alone. That's key. That we just keep understanding how the ball has got to touch that lane, whether it's a post-up or whether it's a drive. And the more we reverse it and stay true to our spacing, the better we are."
· Defense better, but not great: Delaware State, one of the bottom 40 offensive teams in the country, scored 56 points in 67 possessions against Indiana. That's .83 points per possession. For some context, it was the fourth worst offensive output for the Hornets.
But what Indiana is looking for is more performances like the ones against Liberty, North Carolina, Southeast Missouri State and Houston Baptist. Each of those teams posted season lows in points per possession against the Hoosiers.
"I thought the energy was really good," Crean said. "I loved the fact that we got better as the game went on. I think the last 26 minutes of the game they shot 11 percent from three. They shot 27 percent or so from the field. Those are all positive things, because we wanted to really focus on us tonight."
Filed to: O.G. Anunoby, Robert Johnson