The Minute After: Delaware State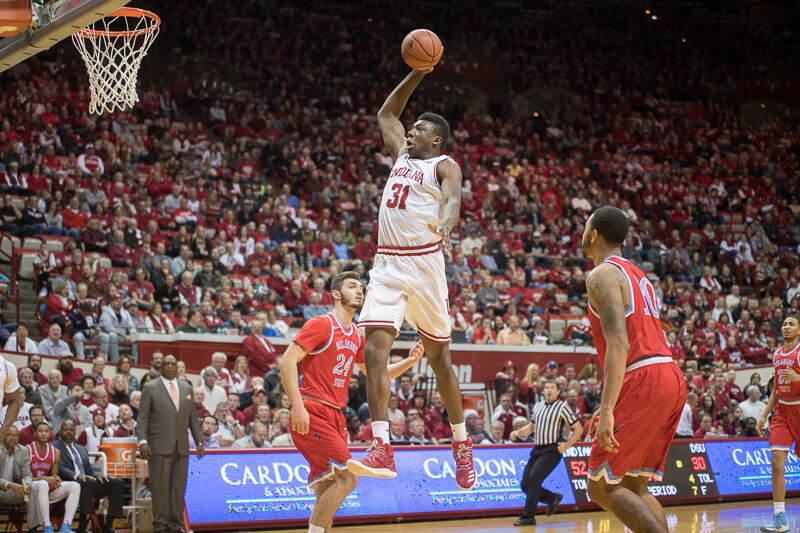 Thoughts on a 103-56 win over Delaware State:
On a quick turnaround after Saturday's loss to Butler, Indiana absolutely blew the doors off Delaware State back inside Assembly Hall.
The numbers impress. According to Indiana basketball's Twitter account, the 32 points the Hoosiers ripped off in the first 10 minutes of the contest were the most ever in the Tom Crean era. At half, Indiana averaged 1.46 points per possession, sported an eFG percentage of 83.9 and hit 8-of-13 from distance (61.5 percent). Four players scored in double figures including OG Anunoby (15 points), Thomas Bryant (12 points), James Blackmon Jr. (11 points) and Robert Johnson (11 points).
After his illness and ankle injury, Anunoby returned to how he looked in earlier games this season, scoring from both the perimeter and at the rim on his way to a hyper-efficient 9-of-11 performance and a game-high 19 points.
It wasn't just that the Hoosiers were hot to start the contest and pretty much carried it through the whole game. It was how Indiana got those looks. It started with the ball finding the paint on drives from the likes of Robert Johnson and then kicking it out for 3-pointers where the Hoosiers were able to step in and rise and fire. Indiana has been less than elite this season from behind the arc, so it was a good sign to see the team tick up over 40 percent this evening (11-of-26, 42.3 percent). The Hornets also utilized a zone for periods of the game, but Indiana had no problem moving the ball and scoring against it with ease.
There were a number of memorable dunks in this one. An Anunoby tipback slam early in the first half. Bryant's take-a-couple-steps-from-the-free-throw-line throwdown on the break. The Josh Newkirk to Juwan Morgan alley oop in the second half. The double pump from the right side from Anunoby a couple possession later.
By game's end, the Hoosiers posted a season-high 1.53 points per possession. And while their defense wasn't that sharp to start, Indiana eventually ended up holding the Hornets to just .83 points per possession. As Jon Crispin noted on the broadcast after a chat with Tom Crean, the Hoosiers made it a point of emphasis to get hands up on shooters after failing to do it at times against Butler. It led to a couple 3-point shooting fouls, maybe not the worst result as they try and shore that area up on D.
Alex mentioned Johnson as a standout performer in At The Buzzer and his 17 points, seven rebounds and six assists in 28 minutes were another positive sign. A more engaged, assertive Johnson on the offensive end — both in getting up some more shots and driving to feed his teammates — just makes this team better.
We're getting to the point in the season where this guarantee game are wearing a little thin and there's not a whole lot to be gained from another cakewalk. Just one more remains Thursday against Austin Peay before they're gone for good this season.
Despite its losses to Fort Wayne and Butler, the trajectory for the Hoosiers this season hasn't changed. They are still a talented, athletic bunch of kids with a high ceiling and plenty of time to keep getting better as the conference season looms in just over a week.
Filed to: Delaware State Hornets