Five takeaways from Indiana's loss to Butler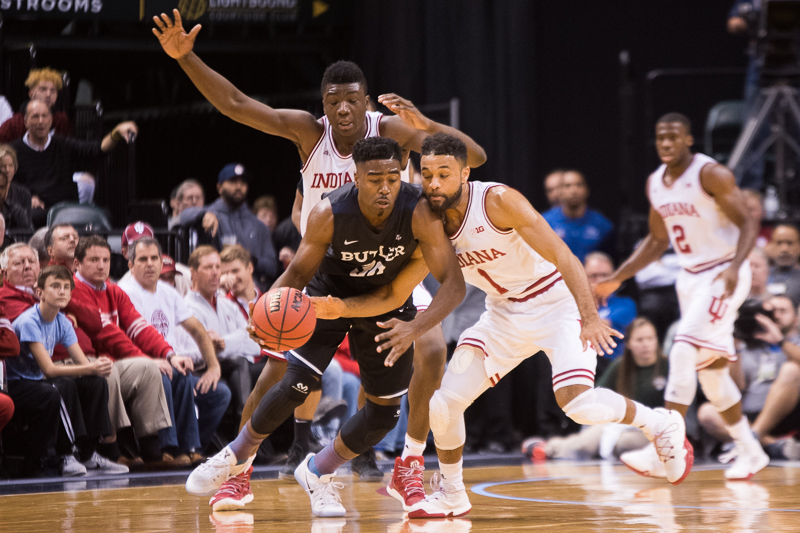 INDIANAPOLIS – Indiana couldn't overcome a disastrous first half performance on Saturday and fell 83-78 to Butler in the Crossroads Classic at Bankers Life Fieldhouse.
The loss dropped Indiana to 8-2 this season and 3-3 overall in the Crossroads Classic. Here's a look at five takeaways from the loss to the Bulldogs:
· Indiana's defense was atrocious: Did Butler make some tough, contested shots? Absolutely. The Bulldogs deserve credit for that.
But Indiana's defensive performance was by far its worst of the season. Indiana had allowed just one opponent, Kansas, to score over 1.1 points per possession this season prior to Saturday. The Jayhawks scored 1.12 points per trip against the Hoosiers in Hawaii to open the season. Butler carved Indiana up for 1.18 points per trip on Saturday.
A lot of the damage was done by Butler junior Kelan Martin, who was 9-of-16 from the field and scored 28 points. Martin hit five of his nine 3-point attempts. Indiana did little to knock him off balance or force him to give up the ball once he got rolling.
"We've got to get our hands up, and I'd like to tell you that it's a lot deeper than that or that it's a lot more schematically involved than that, or it's a lot more detailed than that," Tom Crean said postgame. "We've got to get our hands up and we've got to communicate our switches, and when we've done that, we've beaten some really good teams, and when we haven't, we have an outcome like today."
· OG Anunoby struggles and so does IU: The importance of production from OG Anunoby to Indiana's success is becoming clear.
Anunoby was sick in the Fort Wayne game and played 13 ineffective minutes. On Saturday, he went scoreless in the first half before scoring seven in the second half.
In the five wins Anunoby has played in, he's averaging 15 points, seven rebounds, 1.6 blocks, 1.2 assists and a steal in 27.8 minutes per game on 61.4 percent shooting. In two losses, he's averaging 3.5 points, four rebounds, two assists and a block in 19.5 minutes per game. He's shooting just 22.2 percent in IU's two losses.
· Too many mistakes from Josh Newkirk: It wasn't a good afternoon for redshirt junior Josh Newkirk. He had the third highest usage rate of any IU player and easily the worst offensive rating.
In 28 minutes, Newkirk was 3-of-11 from the field for nine points. Several of the missed shots were wild drives to the rim with nowhere to go. Crean said postgame that Newkirk "wasn't very good."
"We wanted him to attack," Crean explained. "It's a fine line with that because he's very — he needs to play faster, right; he needs to build his stride. There's times he plays very short stepped, very short legged, and he's not, and we want him to play downhill."
It's one thing to attack aggressively, but Newkirk is going to need to make better decisions moving forward when driving into traffic. He hasn't proven himself to be a good finisher (40 percent at the rim this season), so if he's going to get into the lane, it should be more for the purpose of driving and kicking or dumping the ball off to Thomas Bryant or De'Ron Davis.
· Strong offensive performances from Blackmon Jr., Bryant and Johnson: There were three offensive bright spots for the Hoosiers in the loss: James Blackmon Jr., Thomas Bryant and Robert Johnson.
Blackmon Jr. hit some huge shots and finished with 26 points on 9-of-15 shooting from the field. Johnson was 4-of-5 from the field and there's a case to be made that he needs to start looking for his offense more often.
Bryant was involved early, was active around the rim and finished with 15 points on 6-of-11 shooting with a 3-of-4 performance from the line.
· 3-point shooting becoming a concern: Indiana's offense is still considered elite, but the sample size may now be big enough to call this a solid, but not elite 3-point shooting team.
The Hoosiers hit just 6-of-21 of their 3-point attempts against Butler and are shooting 37.9 percent for the season, which is 73rd in the country. The last two seasons, Indiana was 4th and 6th in the country in 3-point shooting.
The question is, if Indiana continues to trend in the direction of being above average rather than an elite shooting team, will the defense be able to make up for it? The Hoosiers have plenty of improved metrics to point to so far defensively, but yesterday's game was a perfect example of why Indiana can be beaten by plenty of teams when it can't make 3s and fails to defend.
Filed to: Butler Bulldogs, Crossroads Classic