The Minute After: Butler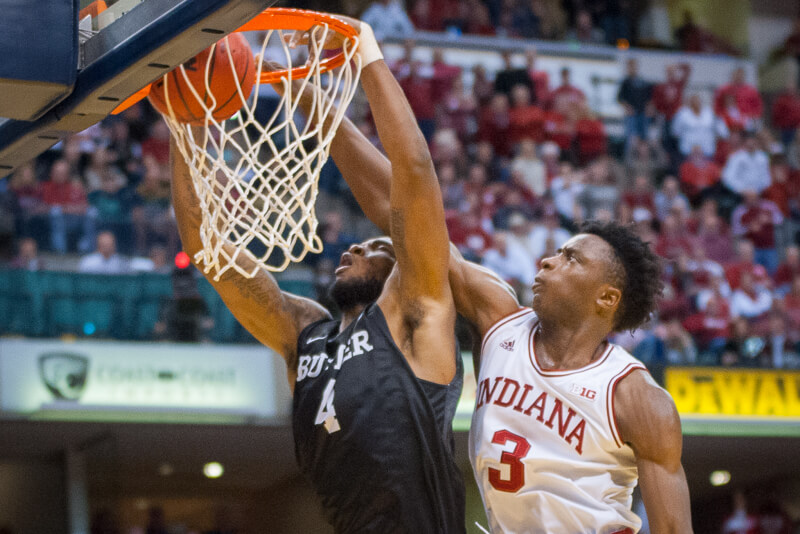 Thoughts on an 83-78 loss to the Bulldogs:
Why did Indiana lose this one?
Let us count the ways.
1) The Hoosiers allowed 1.18 points per possession, their worst defensive performance of the season. Did Butler hit some tough shots? Sure. A healthy amount of them, in fact. But Butler torched Indiana on a number of out of bounds plays. Indiana's lack of awareness hurt them at other times. A key play at the end of the game tells this tale. Trailing by two with 15 seconds to go and the game on the line, Thomas Bryant lost Tyler Wideman on an inbounds play. He dunked it home, which essentially put the game away.
Elsewhere, Kelan Martin went bananas in the first half and at the start of the second half (game-high 28 points) — with Indiana doing little to force the ball out of his hands. Andrew Chrabascz was a steady presence and hit 7-of-10 at the line and finished with 16 points. The Bulldogs also hit 47.6 percent (10-of-21) of their 3-pointers against the Hoosiers, who came into the game with the best defensive 3-point field goal percentage in the country.
Add it all up and despite a nice second half comeback from the Hoosiers to cut a 16-point deficit to just two, the hole ended up being just a little too big. The Bulldogs was able to enforce their style a bit more on the ball game, and it led to their victory.
2) Turnovers. Did Indiana best its season average? Yes, it did. Its turnover percentage of 18.9 percent is better than the 22.2 percent its been averaging so far this season. But the Bulldogs were absolutely masterful with the ball in their hands this game, turning it over on just 8.6 percent of their possessions. Point guard Tyler Lewis had no turnovers and six assists in 27 minutes. They had just six for the game as opposed to Indiana's 13. Those 13 Indiana turnovers became 17 points for the Bulldogs whereas Indiana scored eight off of Butler's six miscues.
Advantage Bulldogs.
3) Cold shooting to start the contest. The Hoosiers missed all eight of their 3-point shots in the first half and entered the break scoring just .82 points per possession. Josh Newkirk went 0-for-6 in the first half. Juwan Morgan, OG Anunoby, Curtis Jones, De'Ron Davis and Devonte Green were a combined 0-of-7.
Now, despite some key areas the Hoosiers fell short in, they didn't fold and let Butler win this one going away. You got the feeling that if this game went another five minutes, Indiana maybe, just maybe, would have found a way to finally get over the hump and snatch a lead. The Hoosiers almost did it in the closing minutes. Despite racking up a team-high four turnovers, James Blackmon Jr. also scored a team-high 26 points on 9-of-15 shooting and helped Indiana get back into the game with his offense in the second half. Though he probably forced a 3-pointer too early in a possession with 58 seconds to go which could have tied the contest.
Thomas Bryant's size and athleticism was a lot for Butler to handle. After just four field goal attempts in Indiana's last two contests, he went 6-of-11 from the floor for 15 points. He also grabbed seven rebounds. Though his emotions boiled over a bit too much at times, shades of his freshman season in the cream and crimson. Juwan Morgan had a career-high four blocks and also snagged 10 rebounds, though Martin really got it going against him during his stretch of scoring in the second half.
This is a frustrating loss, to be sure. But Butler is also a very good basketball team and Indiana, for whatever reason, has had issues at times in Bankers Life Fieldhouse.
Indiana has one more game at the Fieldhouse later this month against Louisville — a team currently with the best defense in the country, per KenPom. If Indiana isn't knocking down shots in the first half against the Cardinals?
Its hole could be even bigger next time around.
Filed to: Butler Bulldogs