Bryant emerging as a leader as Indiana preps for Butler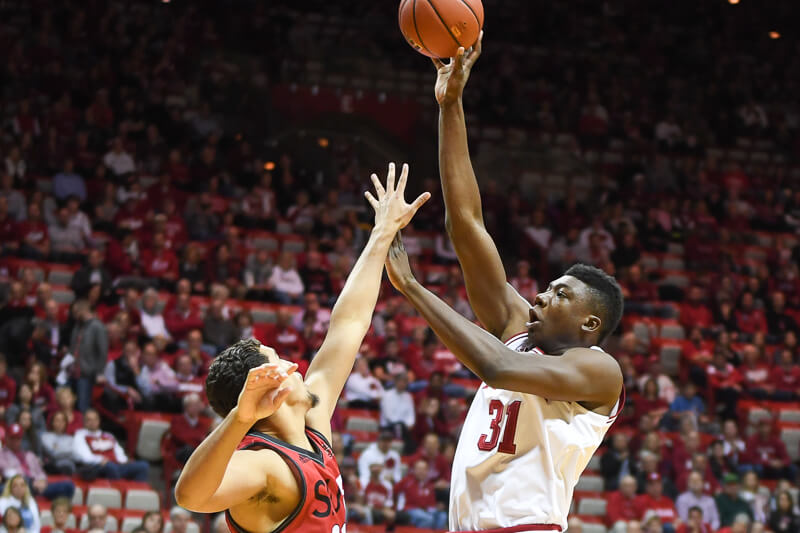 The fall semester is over, the majority of the cupcakes have been eaten and the roster is at full strength (minus Collin Hartman). It's time to see what the Hoosiers are made of.
Indiana will need to consistently play at a high level if they want to come out of the next three weeks unscathed. Between Dec. 17 and Jan. 3, the Hoosiers face three AP top 20 teams.
First up is a meeting with the Butler Bulldogs at the Crossroads Classic in Indianapolis. Although the event prevents Indiana from using the weekend to schedule out-of-state blue bloods, the competition is always tough.
In fact, all four teams in this year's Classic are currently ranked in the AP top 25. Before No. 9 Indiana battles No. 18 Butler at 5 p.m., No. 15 Purdue will face No. 21 Notre Dame at 2 p.m.
"It's a great atmosphere, it always is," head coach Tom Crean said Friday. "You've got four teams that are really really efficient offensively and are getting better all the time defensively."
Saturday will mark the fourth time the Hoosiers will face Butler under Crean, with Bankers Life Fieldhouse hosting for the third consecutive time.
The Hoosiers have faced some strong Butler teams over the past decade, but Crean says this year's iteration is unmatched offensively.
"Of all the Butler teams we've seen or played against, this is the best ball movement team," Crean said. "(The ball) just constantly moves because they can play through everybody."
Bryant quickly becoming a leader
Thomas Bryant has always been one of the most expressive players on the floor for the Hoosiers, but Crean says over the last few weeks, he has become a true leader of the team.
"I'm not sure that I have in 18 years as a head coach, if I look at the three-week span of coming back from Fort Wayne, that I've had a guy that's improved his overall leadership consistency as much as he has," Crean said. "I don't say that as proclamation, I say that as a fact for me in my coaching life."
The loss at Fort Wayne appears to have not only been a turning point for the team but for Bryant individually.
Crean says Bryant took the loss to the Mastodons personally, and it seems Bryant has used that to fuel his recent stretch of play. In the five games since the Hoosiers' only loss of the season, Bryant has averaged 10.4 points, 9.2 rebounds, 1.4 assists, 2.8 blocks and 1.6 steals per contest.
Yet over that same span, Bryant has taken a total of 28 shot attempts, less than six a game. Throughout the season, Crean has stated his intentions of feeding the big man more.
"We've definitely shown him where there are opportunities to flash (in the post)," Crean said. "We're playing a lot of random basketball right now. When you've got a guy like (Bryant) that can move around, you've gotta find those random moments where you fly back inside. We've definitely spent time (working on that). He's aggressive. We need to throw it there a little bit more. There have been a couple times that he's been open that we didn't get it there. But really, it needs to be a connection of him getting open and us finding him."
For his part, Bryant doesn't seem to mind the lack of shots.
"I'm not worried about the shot selection, I'm just here for the team," Bryant said. "You don't always have to score points. You've gotta rebound, gotta be a good leader, gotta assist, block shots, do everything out there. The points come from everybody."
Return of Anunoby
OG Anunoby will return to game action Saturday for the first time since spraining his left ankle in IU's win over North Carolina on Nov. 30 in the Big Ten-ACC Challenge.
Anunoby did not play in the win over Houston Baptist last Saturday but did participate in shootaround and warm-ups, and the left ankle did not appear to hinder the sophomore.
OG Anunoby's left ankle looks to be in pretty good shape, at least according to my untrained eye #iubb pic.twitter.com/9stvcQDVPI

— Josh Margolis (@MargolisNews) December 10, 2016
As for how many minutes Anunoby will log, Crean says he still doesn't know for sure.
"We'll just see how the day goes," Crean said.
Anunoby will likely be vital to the Hoosiers' chances Saturday, especially when it comes to the defensive end. Crean will count on Anunoby to preclude the Bulldogs from having the kind of efficient offensive night they're accustomed to.
"There is really nobody that you'd be uncomfortable putting (Anunoby) on," Crean said. "It's just a matter of consistency with him on that. Athletically, with all the intangibles, he's got all that. There is really no defensive plan that you could put in that he wouldn't be a part of."
Even though Crean wouldn't say how much Anunoby will play against the Bulldogs, Bryant believes he's prepared for a large workload.
"He's ready," Bryant said. "I can tell."
Filed to: Butler Bulldogs, Crossroads Classic, Thomas Bryant