What to Expect: Butler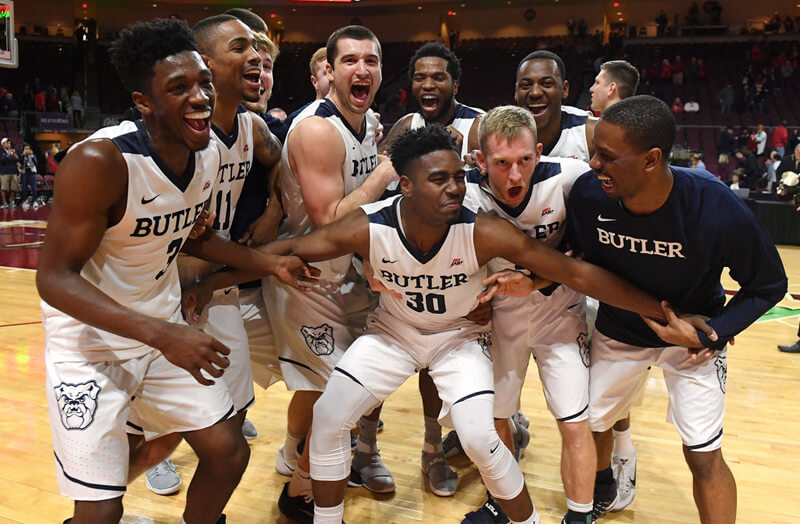 Following a six-day layoff, Indiana returns to the floor on Saturday against No. 18 Butler in the Crossroads Classic at Bankers Life Fieldhouse in Indianapolis.
The Bulldogs are 9-1 and are coming off a 75-65 win over Cincinnati last Saturday at Hinkle Fieldhouse. The game will be broadcast at 5 p.m. ET on the Big Ten Network with Brian Anderson and Shon Morris on the call:
The Crossroads Classic, now in its sixth season, will feature four ranked teams for the first time. It's a complete sellout and the atmosphere should be terrific in one of the best venues anywhere for hoops.
The Hoosiers have had plenty of ups and downs in the Crossroads Classic, but are looking for their third straight win in the event. Two years ago, Indiana was excellent down the stretch in a nine-point win over Butler. Last season, Indiana overcame a 16-point deficit to beat Notre Dame, a win that was viewed by many as a turning point in the season.
With wins over Kansas and North Carolina already in the bag, Indiana is looking for another non-conference win that will matter come March. Butler already owns wins over Northwestern, Arizona, Vanderbilt, Utah and Cincinnati and a win over the Hoosiers would make its current resume even stronger heading into Big East play.
MEET THE BULLDOGS
Two Butler players average in double figures – Kelan Martin and Andrew Chrabascz – but it's clear who the primary offensive option is. Martin, a 6-foot-7 junior from Louisville, had a very good sophomore season, but has struggled a bit this season.
He's a high usage, average efficiency player who is streaky. Martin's 17.7 points per game leads the team, but his splits aren't overly impressive right now. He's making 34.9 percent of his 3s and 48.7 percent of his 2s. Here's a graphic on the five possession types that are most common for Martin through Butler's first 10 games:

The question with Martin isn't if he's going to score (he's been in double figures every game), but rather how many shots he's going to take to get there. He's shot 50 percent or better just three times in 10 games and has three games below 40 percent.
The other pieces of the Butler offense are what makes this a top 20 offense a third of the way through the season. The aforementioned Chrabascz, a 6-foot-7 senior, is the second Bulldog averaging in double figures at 11 points per game.
Chrabascz is taking over 42 percent of his shots at the rim and he's finishing 53 percent. He's hitting just 34.2 percent of his 2-point jumpers, but 55.6 percent of his 3s. In 22 post-up possessions, he's scored 21 points, which is good but not great. The Rhode Island native does a nice of getting to the line with a free throw rate (FTA/FGA) of 54 percent. Chrabascz is shooting 78 percent from the foul line.
Tyler Wideman, a 6-foot-8, 240 pound junior, primary operates offensively in three areas: post-ups, as the roll man in pick-and-roll and cuts to the basket. Of his 65 offensive possessions, 45 of them fall into those three categories. Over 79 percent of his shots are coming at the rim and he's making 77.1 percent. He's also Butler's best offensive (11.6 OR%) and defensive (19.7 DR%) rebounder.
Rounding out the frontcourt rotation is Nate Fowler, a 6-foot-10 sophomore. In limited attempts, Fowler is shooting 73.9 percent on 2s and has made three of his four attempted 3-point shots. Freshman Joey Brunk, a former Indiana recruiting target, isn't in the rotation at this point.
Butler's backcourt is strong despite the losses of Roosevelt Jones and Kellen Dunham. Tyler Lewis, a McDonald's All-American who transferred from North Carolina State, is in his second season at the point for Chris Holtmann. Lewis is 35th in the country in assist rate (36.5 percent) and has been Butler's most efficient player so far. He's making 47.4 percent of his 3s, a ridiculous 72.4 percent of his 2s and 72 percent from the foul line.
Freshman Kamar Baldwin started against Cincinnati, but typically comes off the bench. Baldwin has scored efficiently, but doesn't get many assists nor does he get to the foul line. He's turnover prone (24.5 TO%), but an excellent defender. The 6-foot Baldwin is fourth in the country in steal percentage.
Avery Woodson, a graduate transfer from Memphis, is a capable 3-point shooter (41.8 percent) who doesn't turn it over (4.8 TO%). Sean McDermott, a 6-foot-6 redshirt freshman from Pendleton Heights, is hitting 44 percent of his 3s in a low usage role. McDermott is using less than 12 percent of possessions while on the floor.
Kethan Savage, a 6-foot-3 guard who sat out last season as a transfer from George Washington, has appeared in just six games after an illness sidelined him to begin the season. His effective field goal percentage (23.1 percent) is the lowest of any player in the rotation.
TEMPO-FREE PREVIEW

There are plenty of similarities on the profiles of Indiana and Butler, but there are two clear areas worth watching.
Turnovers are a problem for Indiana on both ends. The Hoosiers are committing them at a high rate and aren't forcing many on defense. Butler, meanwhile, is one of the top 20 teams in the country in terms of taking care of the ball and is in the top 25 in terms of turnovers forced.
Where Indiana has a chance to really hurt Butler is on the glass. Indiana is an elite offensive rebounding team and above average on the defensive glass. The Bulldogs are above average on the defensive boards as well, but are just 220th nationally in offensive rebounding.
WHAT IT COMES DOWN TO
The KenPom projection is Indiana by 1 with a 53 percent chance of a Hoosier win. Sagarin likes Indiana by 2.5 and the Vegas line won't be out until Friday afternoon.
OG Anunoby is expected to play, which should give Indiana a major boost defensively and with the different lineups it will be able to deploy. With Anunoby healthy, the Hoosiers have four legitimate frontcourt bodies to mix and match and a significant size advantage up front.
Butler will likely try to play at a slower pace, so it's important for Indiana to start well to avoid a grind it out halfcourt game. While it's not as simple as "take care of the ball and win" for the Hoosiers, the turnover numbers will play a significant factor. That's not to say that IU can't turn it over 20 times and still win, but the Hoosiers would likely need a hot shooting performance to do so.
From the Butler perspective, finding ways to get Martin open looks will be crucial. Indiana will probably rotate Anunoby, Juwan Morgan and Robert Johnson on him throughout the game. The Bulldogs also need to keep Indiana off of the offensive boards, which few teams have been able to do.
With just 12 days until the start of Big Ten play, this is a prime opportunity to learn more about the progress the Hoosiers have made over the last couple of weeks, which have been made up primarily of practice and getting Anunoby healthy.
(Photo credit: Ethan Miller/Getty Images North America)
Filed to: Butler Bulldogs, Crossroads Classic