Five takeaways from Indiana's win over Mississippi Valley State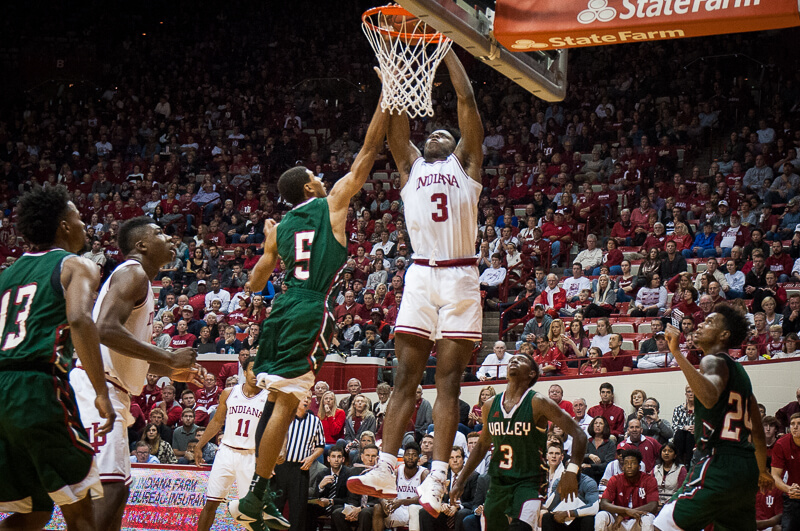 Indiana picked up its fourth win of the season on Sunday afternoon as it easily defeated Mississippi Valley State, 85-52, at Simon Skjodt Assembly Hall. It was the 20th straight home win for the Hoosiers.
Here's a look at five takeaways from the win over the Delta Devils:
· Indiana's offense doesn't run as smoothly without James Blackmon Jr.: Defensive flaws aside, Indiana's offense is at its best with James Blackmon Jr. on the floor.
Blackmon Jr. sat out on Sunday with a minor left knee injury suffered in the Fort Wayne game, a setback that isn't expected to be a long term issue. However, after watching Blackmon Jr. struggle against Fort Wayne in IU's loss and then watching the Hoosiers for a full game without him, it's clear that he's the most vital piece to the offense.
We wondered in the preseason how Indiana would replace the dynamic playmaking ability of Yogi Ferrell and Troy Williams, two guys who could go make a play with the shot clock winding down. In the season opener against Kansas, Blackmon Jr. showed that he was capable of filling some of the void. Beyond Blackmon Jr., Indiana doesn't have a go-to-guy offensively. With North Carolina looming on Wednesday, getting Blackmon Jr. back appears critical to IU's chances to protect home court.
· Indiana is staying out of foul trouble, but the Hoosiers aren't forcing any turnovers: Through five games, there's some good and there's some bad when it comes to evaluating Indiana's defense.
On the plus side, the Hoosiers are keeping teams off of the foul line with a free throw rate allowed of 25.6 percent. Through Sunday's games, that ranks 28th in the country.
But Indiana is struggling to create turnovers, which is a concern given the length and athleticism of this group. The Hoosiers only forced 11 turnovers against Mississippi Valley State. For the season, Indiana ranks 331st nationally in forcing turnovers. Compared to where it finished last season, Indiana's opponent turnover percentage is down by more than four. The sample size is still too small to draw any conclusions, but it's a trend through five games that needs to be reversed.
· Bounce back game for Anunoby: After failing to score in 13 minutes at Fort Wayne, OG Anunoby had a career-high 21 points on Sunday afternoon.
Anunoby still appeared to be a bit sluggish in terms of his conditioning, but it didn't matter against an inferior opponent. The Delta Devils had no answer for Anunoby.
"We just need to let him play. That's what he did today," Tom Crean said postgame. "He played, I thought he really worked through it because he was winded and there's no question that he had lost some of his conditioning and things like that from being sick."
· The primary ball handling duties are still a work in progress: As Ryan pointed out during the game last night on Twitter, Indiana is lacking a consistent dribble penetrator to facilitate offense:
What's missing from Indiana's offense right now is a consistent dribble penetrator who makes the right read when the D collapses. #iubb

— Ryan Corazza (@ryancorazza) November 27, 2016
So instead of guys shooting open 3s off of dribble penetration in rhythm, they're just launching semi-contested 3s with defense near. #iubb

— Ryan Corazza (@ryancorazza) November 27, 2016
Josh Newkirk has shown some flashes of solid play, but his turnover percentage is currently north of 30. Robert Johnson currently owns the team's best assist rate, but has seven turnovers in the last two games.
Indiana is just 16-of-49 on 3s in its last two games and Corazza's point about the quality of looks is a valid one. Tom Crean pointed out after the Fort Wayne that Indiana is a drive and dish team, but right now, the Hoosiers aren't generating the good looks needed to be an elite offensive team.
· Indiana needs even more from Juwan Morgan: Through five games, Morgan has been Indiana's best offensive rebounder from a percentage standpoint. He's also handled some of the team's ball handling and playmaking duties.
Offensively, it's time for Morgan to become more assertive. Among the regulars in the rotation, Morgan has just the seventh highest usage rating. He's been efficient at drawing fouls and getting to the line, but Morgan needs to get the rest of his offensive game going. He's 0-of-6 on 3s this season, but is also Indiana's least turnover prone player so far.
Most of Morgan's offense is likely to come on the offensive glass, but given his ability to draw fouls and convert at the line, Indiana would be well served to create a few more opportunities for Morgan to make plays in the paint.
Filed to: James Blackmon Jr., Juwan Morgan, O.G. Anunoby